Meeting Needs in Rare Disease Takes More than Medicine
By Alex Schuman, Head of Corporate Social Responsibility, Alexion Pharmaceuticals and President of The Alexion Charitable Foundation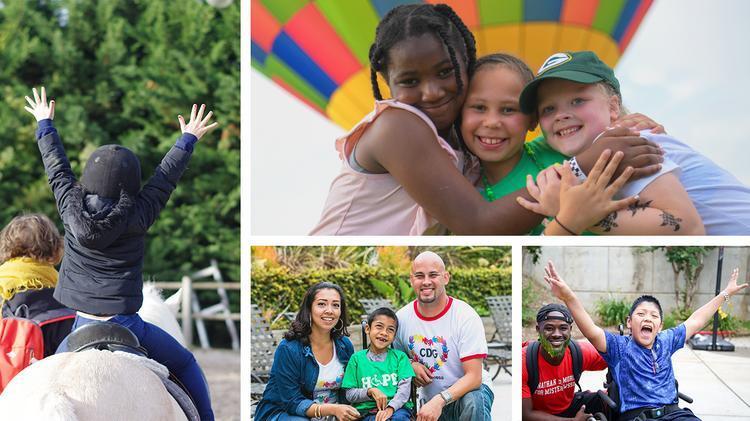 Organizations like Global Genes and SeriousFun Children's Network provide mental health and wellness services for the global rare disease community. Photos courtesy of ACF Grantees SeriousFun Children's Network and Global Genes
This article was originally published in the Boston Business Journal.
The Covid-19 pandemic has had a major effect on all of our lives. For many, the pandemic and ensuing social distancing measures have increased feelings of loneliness, stress, worry and other strong emotions putting mental health in the spotlight. As a result, many business and community leaders are placing a greater emphasis on emotional health and well-being.
While awareness of mental health has been brought to the forefront because of the pandemic, stigmas, financial expense and limited access still often prevent those most in need from getting help. One of the populations that is directly impacted is the rare disease community.
According to the National Institutes of Health, there are 7,000 known rare diseases and one in 10 people in the United States are affected by one. Beyond the physical aspect of living with a rare disease, for many there is an emotional well-being and mental health component. Studies show that people living with a rare disease are more likely to experience depression and anxiety.
Having a rare disease can be isolating for patients and their families who may feel like there are few people who understand what they are going through. Additionally, there are often frequent doctor visits and travel which can trigger stress. There can be a fear and uncertainty in obtaining a diagnosis — on average it takes a rare disease patient 4.8 years and 7.3 specialists to receive an accurate diagnosis, according to The Journal of Rare Disorders. And, family members and other care takers are often balancing work with the care of a loved one.
Taking a holistic approach to health
In light of all of this, the Alexion Charitable Foundation (ACF) believes it is critical to take a full-brain approach to health that considers the physical, emotional and social factors that influence personal well-being. This holistic approach is core to the work of ACF, which through its Rare Belonging suite of funding priorities supports disease-agnostic organizations with national and global programs specifically focused on helping with the nonmedical challenges faced by the rare disease community. For example, with funding from ACF, Rare Belonging grantee Global Genes provided critical services like telehealth psychosocial counseling, special education and distance learning, home schooling tools and resources, and career counseling to more than 4,300 people. Additional Rare Belonging grantees include organizations like National Organization for Rare Disorders (NORD), Ronald McDonald House Charities, SeriousFun Children's Network and others that provide mental health and wellness services for the global rare disease community.
The work of ACF in supporting mental well-being also extends beyond the rare disease community into the local communities where we work and live. For example, in Boston, ACF is working with organizations such as Big Sister Association of Greater Boston and The Boston Arts Academy Foundation to advance emotional well-being among students and their families.
The impact of living with a rare disease goes far beyond the disease itself. It affects families and caregivers and has broad reaching implications in terms of mental health, education, and even job security. Through the Alexion Charitable Foundation, we are proud to work with disease-agnostic nonprofits that prioritize emotional health and alleviate the challenges that medicines can't address, especially for those living with or affected by a rare disease.
The Alexion Charitable Foundation is a 501(c)(3) organization dedicated to providing promise and a sense of belonging, particularly for people affected by rare disease. The Alexion Charitable Foundation provides funding through two programs: Rare Belonging and local needs grants. To learn more about these programs, please visit the Alexion Charitable Foundation website.
This article was originally published in the Boston Business Journal by Alex Schuman – Head of Corporate Social Responsibility, Alexion Pharmaceuticals and President of The Alexion Charitable Foundation.