Alexion Charitable Foundation Commits an Additional $250,000 to Americares COVID-19 Relief Efforts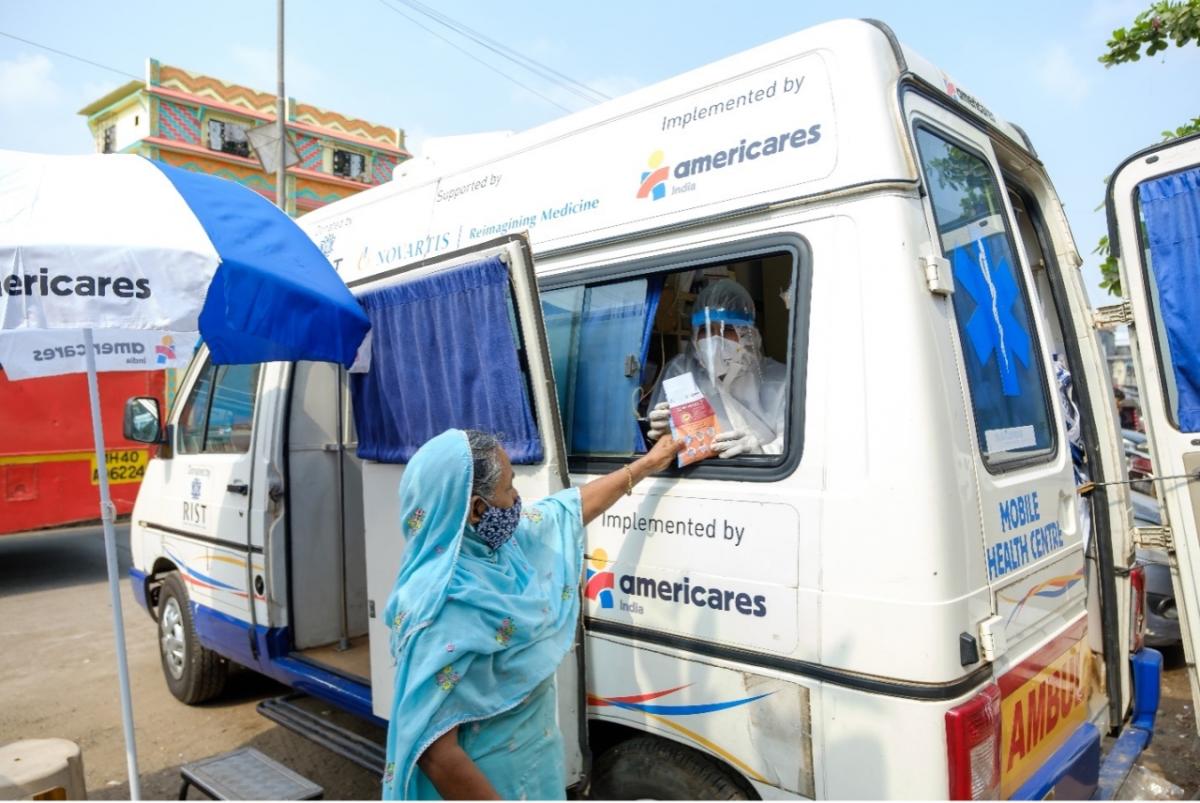 Americares staff providing mobile health care and information regarding COVID-19 in India. Photo credit: Americares
As the global fight against COVID-19 continues, the Alexion Charitable Foundation (ACF) has increased its commitment to emergency relief efforts. In early May, ACF committed an additional donation of $250,000 to the Americares COVID-19 Relief Fund in response to the surging number of cases around the world.
Americares is a health-focused relief and development organization that saves lives and improves health for people affected by poverty or disaster. From the beginning of the pandemic, the organization has been on the frontlines across the globe, providing critically needed protective gear, training and emotional support for frontline health workers to ensure they can continue their lifesaving work.  ACF's contribution to the Americares Global COVID-19 Relief Fund helps to provide the flexibility to fill gaps and address areas of greatest need as they evolve and shift during this acute phase of the pandemic and during the recovery phase that will follow. To date, Americares COVID-19 response has reached 34 countries and supports ongoing efforts in epicenters like India. Americares is currently working with local officials in 10 states in India to support 50 hospitals with lifesaving equipment including oxygen concentrators and ventilators. Since the start of the pandemic, the organization has provided more than 15 million supplies for health workers worldwide as well as training for over 35,900 participants in disaster preparedness, infection prevention and control and other topics.
Funding by ACF in 2021 will help Americares to provide key assistance in the following areas:
Health center resilience and continuity of care operations and services
Mental health support for health workers and disproportionately affected communities
Continued access to supplies and medicines
Vaccines readiness and education
Curbing the spread of COVID-19 through data-driven information and public health campaigns
Through its grantmaking, the Alexion Charitable Foundation is pleased to continue supporting the mission of Americares as the organization provides critical COVID-19 relief across the globe.
To learn more about the impact of Americares COVID-relief efforts, please visit their website.
--
The Alexion Charitable Foundation (ACF) is an entity distinct from Alexion Pharmaceuticals. The mission of ACF is to offer promise and cultivate a sense of belonging, particularly for people affected by a rare disease. Visit the ACF webpage or contact ACF@Alexion.com to learn more.