Habitat for Humanity
Corporate Social Responsibility (CSR), Sustainability and Cause News & Media
Habitat for Humanity
Campaigns
Habitat for Humanity has local organizations throughout the regions affected by the storms. With their help, we are assessing the shelter and housing needs and developing response options. Long-term plans will be determined after our evaluations and will depend on the level of support we...

Learn how you can join the Home is the Key cause by sharing and participating on social media using the hashtag #HomeIsTheKey.https://www.habitat.org/support/home-is-the-key/join-the-cause

Working toward a world where everyone has a decent place to live.Read Habitat Stories here: http://www.habitat.org/
Habitat for Humanity ON SOCIAL MEDIA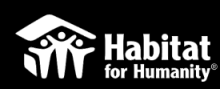 Driven by the vision that everyone needs a decent place to live, Habitat for Humanity began in 1976 as a grassroots effort on a community farm in southern Georgia. The Christian housing organization has since grown to become a leading global nonprofit working in nearly 1,400 communities throughout the U.S. and in more than 70 countries. Families and individuals in need of a hand up partner with Habitat for Humanity to build or improve a place they can call home. Habitat homeowners help build their own homes alongside volunteers and pay an affordable mortgage. Through financial support, volunteering or adding a voice to support affordable housing, everyone can help families achieve the strength, stability and self-reliance they need to build better lives for themselves. Through shelter, we empower. To learn more, visit habitat.org.