Habitat for Humanity and Quicken Loans to Transform Three Communities in Second Annual Quicken Loans Neighborhoods Week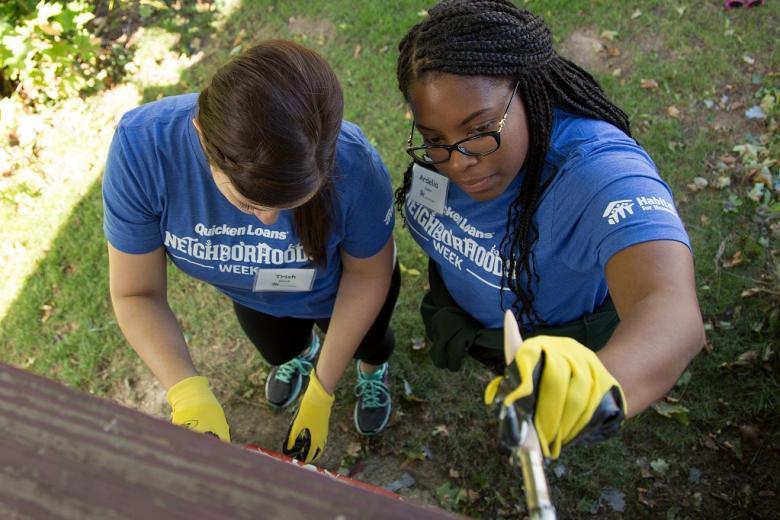 Quicken Loans team members volunteer with Habitat for Humanity for the second year during Quicken Loans Neighborhood Week.
ATLANTA, September 22, 2017 /3BL Media/ – Habitat for Humanity is again partnering with Quicken Loans in three cities across America during Quicken Loans Neighborhoods Week. Team members from the Quicken Loans Family of Companies will work alongside homeowners and residents to help strengthen their communities.
Continuing through October, activities will take place in Charlotte, Cleveland and Phoenix. The projects will include new home construction and home repairs in Cleveland and Phoenix, and a neighborhood garden project in Charlotte.
"Last year was incredibly successful as our volunteers helped transform neighborhoods across the country," said Bill Emerson, vice chairman, Quicken Loans. "These communities have rich histories and have been extremely resilient to constant change. Our goal is to help strengthen and revitalize each neighborhood, remaining faithful to their histories, while establishing strong relationships along the way."
"We are grateful to have the continued support of Quicken Loans and its team member volunteers," said Colleen Finn Ridenhour, senior vice president of development, Habitat for Humanity International. "Through this partnership, we are able to serve more homeowners and communities, helping them to achieve independence and a brighter future." 
Habitat and Quicken Loans partnered in 2016 for Neighborhoods Week, during which nearly 1,000 Quicken Loans volunteers gave more than 5,400 hours to help 459 families build or improve a place they call home. This year, more than 1,200 Quicken Loans Family of Companies employees are expected to volunteer during the weeklong events across all three cities.
"Providing our team members opportunities to help their communities is paramount to our 'for-more-than-profit' philosophy," explained Emerson. "It's why we offer every team member paid volunteer time. Our goal is to keep our volunteer hours rising to help as many lives as possible in Quicken Loans' neighborhoods."
About Habitat for Humanity
Driven by the vision that everyone needs a decent place to live, Habitat for Humanity began in 1976 as a grassroots effort on a community farm in southern Georgia. The Christian housing organization has since grown to become a leading global nonprofit working in more than 1,300 communities throughout the U.S. and in more than 70 countries. Families and individuals in need of a hand up partner with Habitat for Humanity to build or improve a place they can call home. Habitat homeowners help build their own homes alongside volunteers and pay an affordable mortgage. Through financial support, volunteering or adding a voice to support affordable housing, everyone can help families achieve the strength, stability and self-reliance they need to build better lives for themselves. Through shelter, we empower. To learn more, visit habitat.org.
About Quicken Loans
Detroit-based Quicken Loans Inc. is the nation's second largest retail home mortgage lender. The company closed more than $300 billion of mortgage volume across all 50 states between 2013 and 2016. Quicken Loans moved its headquarters to downtown Detroit in 2010, and now more than 17,000 team members from Quicken Loans and its Family of Companies work in the city's urban core. The company generates loan production from web centers located in Detroit, Cleveland and Scottsdale, Arizona. The company also operates a centralized loan processing facility in Detroit, as well as its San Diego-based One Reverse Mortgage unit. Quicken Loans ranked "Highest in Customer Satisfaction for Primary Mortgage Origination" in the United States by J.D. Power for the past seven consecutive years, 2010 – 2017, and highest in customer satisfaction among all mortgage servicers the past four years, 2014 – 2017.
Quicken Loans was ranked No. 10 on FORTUNE magazine's annual "100 Best Companies to Work For" list in 2017, and has been among the top 30 companies for the past 14 consecutive years. The company has been recognized as one of Computerworld magazine's "100 Best Places to Work in IT" the past 13 years, ranking No. 1 for eight of the past 12 years, including 2017. The company is a wholly-owned subsidiary of Rock Holdings, Inc., the parent company of several FinTech and related businesses. Quicken Loans is also the flagship business of Dan Gilbert's Family of Companies comprising nearly 100 affiliated businesses spanning multiple industries. For more information and company news visit QuickenLoans.com/press-room.