Online Home Furnishings Retailer The Mine Makes a Commitment to Habitat for Humanity ReStores Valued at $1 Million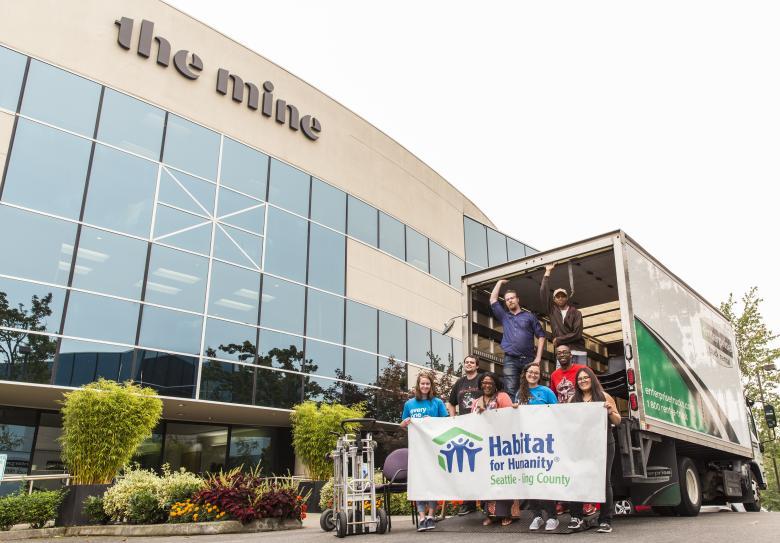 The Mine commits to donating products to Habitat for Humanity ReStores for the fourth year.
ATLANTA and SEATTLE, September 20, 2017 /3BL Media/ – Online home furnishings retailer The Mine continues its commitment to Habitat for Humanity for the fourth year through product donations with a retail value of $1 million to Habitat for Humanity ReStore resale outlets.
The Mine, previously ATGStores.com, has donated products to Habitat ReStores as part of its Friends of Mine philanthropy program, which the company began in 2014, with a focus on local volunteer and donation campaigns. The donations will consist of unused returned products, which will be sold at Habitat ReStores across the country. Proceeds from the sales of the donated items help support Habitat's vision of a world where everyone has a decent place to live.
"We are grateful for the continued support of The Mine," said Sue Henderson, vice president, U.S. and Canada, Habitat for Humanity International. "It is because of partnerships like this we are able to help more families achieve strength, stability and self-reliance through shelter."
The Mine offers retail and commercial customers a designer-curated selection of furniture, lighting and decor with a Personal Concierge program that provides complimentary one-on-one design and shopping services.
"The Mine is thrilled to support Habitat for Humanity for our fourth year. When we launched our charity efforts in 2014, they were one of our original partners and our long-term relationship helped inspire our new Friends of Mine initiative," said The Mine Company President Michelle Newbery. "It's important for The Mine to support our customer's communities and to help people love their homes."
The Mine donated products to Habitat for Humanity ReStores with a retail value of $1 million in 2016, $500k in 2015 and $500k in 2014, totaling over $2 million since the partnership began.
Since The Mine began its philanthropy program in 2014, Friends of Mine has completed over 27 local projects with Habitat and other nonprofit organizations.
Habitat ReStores are nonprofit home improvement stores and donation centers that sell building materials, appliances, new and gently used furniture, and home accessories at a fraction of the retail price. With nearly 900 Habitat ReStores across the U.S., proceeds allow Habitat to help more families build and improve their homes.
About Habitat for Humanity
Driven by the vision that everyone needs a decent place to live, Habitat for Humanity began in 1976 as a grassroots effort on a community farm in southern Georgia. The Christian housing organization has since grown to become a leading global nonprofit working in more than 1,300 communities throughout the U.S. and in more than 70 countries. Families and individuals in need of a hand up partner with Habitat for Humanity to build or improve a place they can call home. Habitat homeowners help build their own homes alongside volunteers and pay an affordable mortgage. Through financial support, volunteering or adding a voice to support affordable housing, everyone can help families achieve the strength, stability and self-reliance they need to build better lives for themselves. Through shelter, we empower. To learn more, visit habitat.org.
About The Mine
The Mine is a premier online destination that makes it easy to get the home you crave by offering every customer exceptional customer care, a unique selection of high-quality home furnishings and fresh inspiration from leading designers around the country. We combine a killer selection in lighting, furniture, decor and more with one-on-one Personal Concierge service to take your design dream from concept to completion. The Mine is operated by Allied Trade Group, LLC, a subsidiary of Lowe's Companies, Inc. All references to the "company" are references to Allied Trade Group, LLC. Visit The Mine or email questions to 
press@themine.com
.