Capital Institute
Corporate Social Responsibility (CSR), Sustainability and Cause News & Media
Capital Institute
Campaigns
Never in the history of the world has there been such a concentration of investment power under the direction of such a relatively few institutions. This is the opportunity. Pensions, endowments, foundations, and sovereign wealth funds, by virtue of their size, purpose, and investment horizons,...
Pages
Capital Institute ON SOCIAL MEDIA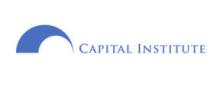 Capital Institute is a non-partisan think tank launched in 2010 by former JPMorgan Managing Director John Fullerton. Its mission is to explore and effect the economic transition to a more just, regenerative, and thus sustainable way of living on this earth through the transformation of finance.  Through its thought leadership, storytelling, and activating projects it illuminates how the financial system can operate as a restorative, even regenerative agent, supporting a new way of living on this earth that promotes a shared social, economic, and ecological prosperity.