Acre
Corporate Social Responsibility (CSR), Sustainability and Cause News & Media
Acre
Campaigns

The Corporate Responsibility & Sustainability (CRS) Salary Survey, brought to you by Acre, Carnstone and Flag, has been developed to provide a comprehensive insight into the salaries & benefits, responsibilities and backgrounds of people working in the CRS sector – both in-house and...

For many company boards, tackling the unmet needs of society is an aspiration that can be delegated to Corporate Social Responsibility teams. They see government as primarily responsible for addressing challenges such as climate change and mental illness, leaving boards to focus on shareholder...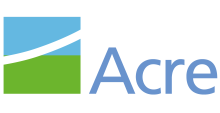 Sustainability & EHS Recruitment and Talent Development

Acre connects forward thinking organisations with purpose driven professionals. We work with functions which focus on resolving systemic challenges that impact society and the environment at a global level. These functions include; Sustainability and CSR, Corporate Affairs, ESG and Sustainable Finance, EHS as well as Energy and Clean Technology.