Time for 'Bold Action': A Conversation About Diversity at Cannes Lions
Primary tabs
Time for 'Bold Action': A Conversation About Diversity at Cannes Lions
Highlights from an industry-leading panel discussion led by HP's Chief Marketing Officer Antonio Lucio, with Thandie Newton, Edward Enninful and Tiffany R. Warren.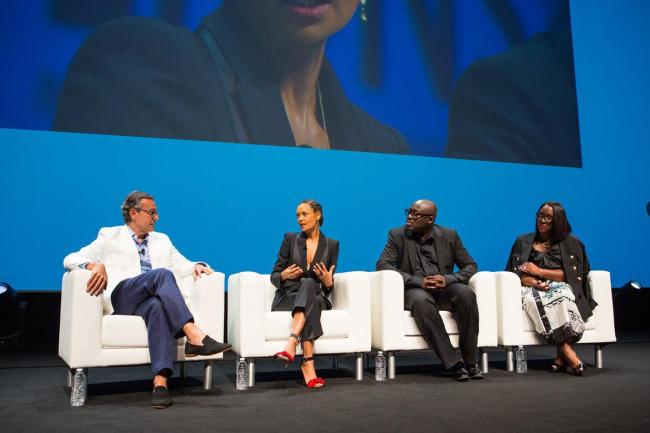 tweet me:
Learn about the #MoreLikeMe initiative for racially + ethnically diverse talent, and new partnerships @HP unveiled at @Cannes_Lions http://bit.ly/2zP2pbU #diversity #inclusion
Wednesday, July 18, 2018 - 4:25pm
At the Cannes Lions International Festival of Creativity, the annual gathering of creatives and advertising elite, HP Chief Marketing Officer Antonio Lucio recounted a meeting with famed Civil Rights leader, politician and Baptist minister Rev. Jesse Jackson.
Lucio asked Jackson what lessons from the Civil Rights Movement could apply to today's cross-industry push for diversity in the arts, journalism, business and technology. Jackson answered: "During the Civil Rights Movement, beautiful and inspiring words were always followed by bold action," Lucio recalled.
Jackson's words had left an impression.
As he kicked off a panel on the topic of "Diversity: A values issue and a business imperative," Lucio drew a parallel to the reckoning happening in newsrooms, on movie sets and in boardrooms across America.  "What we are here to do today is talk about bold action," he said in front of an audience of nearly 2,000 people on the Cannes Lions Mainstage.
The panel included "Solo" and HBO's "Westworld" star Thandie Newton, Edward Enninful, the first black editor-in-chief of British Vogue, and Tiffany R. Warren, chief diversity officer for Omnicom and founder of ADCOLOR , a space she created to celebrate diversity in the advertising, marketing, PR and entertainment industries.
"Be patient with me, I'm a little star-struck right now," Lucio said, before heading into weightier topics.
The panelists themselves each shared how they had taken their own "bold action" to add to the movement and stir discussion.
Newton, longtime champion for on-screen diversity, said she benefited from when HBO said earlier this year it would pay male and female leads equally, but she was surprised at how the move toward parity unveiled her own internalized biases.  
"When I first discovered how much they were offering, it made me realize, 'Oh, my god, men have been paid so much more," she said. "Every year I go into a new production or a new season of "Westworld," and I didn't even think to ask for more because I just feel so grateful to be working. But we need to expect more for ourselves."
Newton urged women to demand equal pay, whatever their profession. "We need pressure, we need to disrupt, it's part of change and growth," she said.
British Vogue's Enninful broke ground at the iconic magazine by featuring nine diverse faces on its May cover. He said it shouldn't be remarkable for an editor to publicly commit to making his magazine more diverse in the fashion world.
"We are all here doing our best, but we're not doing enough," Enninful said. "It will never be done, until we're not having this conversation anymore, until we're not talking about diversity anymore, until it's just a given."
In the business world, both HP's Lucio and Omnicon's Warren stressed that diversity wasn't just a moral imperative. They've seen firsthand that it's good for business. In fact, at HP, which just completed a year-long mission to increase its gender diversity in ad campaigns, Brand Monitor showed a 6-point increase in purchase intent.
Both companies have some of the most diverse boards of directors in their respective industries, making them standouts among the advertising and tech companies that have been in the spotlight for their paltry ranks of women and people of color.
"We have to make sure we have representation, not only on the cover of magazines and in movies, but also on teams," Warren said. "Because that representation on teams has an impact on business. When teams are diverse, diverse ideas can happen."
Although all the panelists hailed from different industries, they had one thing in common, according to Lucio. "For all of us, diversity is deeply personal."
Lucio, who was born in Spain, raised in Puerto Rico and now lives in San Francisco, said he believes "diversity is a fundamental human truth."
"It's defined my life," said Newton, whose mother is from rural Zimbabwe and whose father is from the U.K. Growing up in Cornwall, she said, "I was one of the only brown-skinned people. My life really has defined breaking down the walls of ignorance."
Warren similarly recalled a poignant moment as a ten-year-old sitting in the audience watching the Boston Ballet perform, "and not seeing one single African American ballerina," she said. "That moment had an impact on me. Representation matters."
Learn more about HP's #MoreLikeMe initiative, a pilot mentoring program designed to build and strengthen diverse creative talent. 
More From HP, Inc.
Wednesday, May 22, 2019 - 10:15am
Tuesday, May 21, 2019 - 2:00pm
Monday, May 20, 2019 - 3:25pm