Spinning Straw into (Packaging) Gold in China
Spinning Straw into (Packaging) Gold in China
By recycling leftover straw from wheat harvests to make shipping pallets, HP is helping halt deforestation, reduce air pollution and create new jobs for farmers.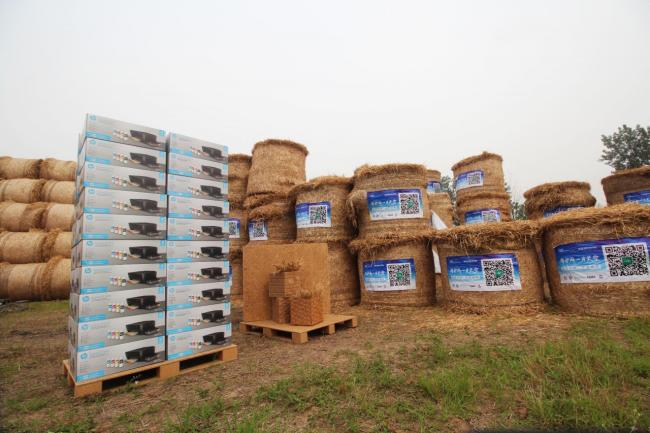 tweet me:
By #recycling leftover straw from wheat harvests to make shipping pallets, HP is helping halt deforestation, reduce air pollution and create new jobs for farmers. http://bit.ly/2NxXGgm via @HPSustainable
Monday, October 8, 2018 - 11:30am
After the wheat is harvested in farming communities in parts of rural China, the air is often so thick with smoke that roads become impassable and it's hard to breathe. Farmers, inundated with leftover straw, typically torch the excess crop to dispose of it.
In these pyres of burning straw, HP saw an opportunity, thanks to an innovative program that collects and recycles it into pressed shipping pallets that protect printers and PCs as they are sent around Asia.
Call it a triple-win: The recycling of straw into pallets reduces air pollution by eliminating the burning of the some 600 million tons of excess straw produced each year that cannot be re-sold; reduces deforestation by not cutting down trees to make wood shipping pallets; and finally, creates jobs for Chinese farmers by having them collect the straw after the harvest.
"Straw is not new to HP," says Daniel Zhu, HP's program manager for straw-based packaging in Shanghai. Indeed, HP was the first IT company to replace wood pallets with natural straw ones. Over the last two years, HP's pallet supplier, RenewMaterial, has repurposed non-hazardous forestry waste into about 80,000 eco-friendly pallets, used for transporting HP's inkjet printers along the Yangtze River from where they are manufactured in Chongqing, to retailers, e-tailers and consumers.
Reducing deforestation, a leading cause of climate change, is a major focus of HP's sustainable impact efforts. Among the compay's goals is to ensure all HP brand paper and paper-based packaging comes from recycled and certified sources.
Why straw is better
Pallets made of straw instead of wood are pesticide-free, weigh less than wood and are cheaper to ship. And unlike the millions of wood pallets (some treated with chemicals) that end up in landfills each year, straw pallets can be reused up to 10 times. Better still, reusing excess crop straw requires no trees to be cut. 
Next year, HP will double its sustainable pallet inventory used to ship product in Asia-Pacific with partner RenewMaterial, which employs 120 workers at its factory in Jiangsu Province, about a two-hour drive from Shanghai.
And with more pallets to be made, HP expects to create more straw-collecting jobs on Chinese farms, as the price of wood continues to rise and straw becomes the cheaper option. "Right now, China is relying on importing because of its lack of wood," Zhu explains. Straw and wood pallets cost the same to make, but that's about to change given the country's rapid deforestation rate. "You will see in the next few years that wood pallet costs will rise," he says.
As an incentive to farmers, the government has started to subsidize those who collect, rather than burn, straw. One wheat farmer in Anhui Province told HP in June that the payout is roughly the equivalent of $17 per farmed acre. He explained that this season, each acre yielded six bales of straw, an amount down by half from previous years because of the bad weather and reduced sunlight tied to climate change.
"When you burn straw, you cannot drive on the road," the farmer adds. "And you cannot see anything when you walk, except heavy dust and smoke." 
Giving communities (and consumers) better choices
Earlier this year, China pledged to address its air pollution with the goal of "building a Beautiful China" by 2035. The straw-pallet program, along with other HP supply chain initiatives designed to reduce greenhouse gas emissions, is helping the Chinese government to reach that goal. 
A team of HP employees and other partners spent a week in the fields in June, collecting 23,000 tons of straw to mark World Environment Day.  The event was among the efforts that Stuart Pann, HP's chief supply chain officer, described in the Supply Chain Navigator as part of HP's commitment to address "socioeconomic and humanitarian issues within both the global supply chain and the communities in which we operate."
HP is developing ways to advance sustainable solutions on all fronts. "It is a result of this focus that our packaging teams come up with many projects each year," says Erik Troelsen, HP's director of packaging design and procurement. One new packaging idea on the horizon: replacing those expanded foam plastic cushions that encase your new PC or printer with a fiber-based alternative.
As more consumers, specifically millennials, make conscious decisions to buy goods based on ethical business practices, HP's packaging design will let them make more Earth-friendly purchases.
Learn more about HP's Sustainable Impact programming.
See how HP is turning plastic garbage into ink cartridges in Haiti.
More From HP, Inc.
Thursday, December 5, 2019 - 4:40pm
Thursday, November 7, 2019 - 11:55am
Friday, October 25, 2019 - 11:40am