INFOGRAPHIC: BAT's Business Model and Value Chain
INFOGRAPHIC: BAT's Business Model and Value Chain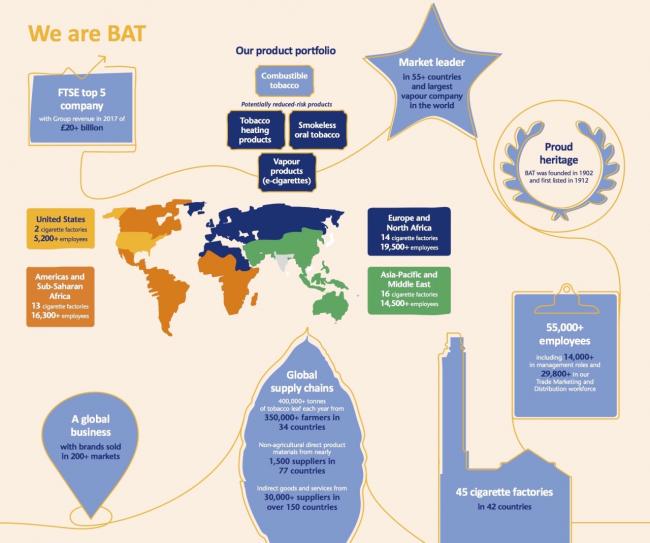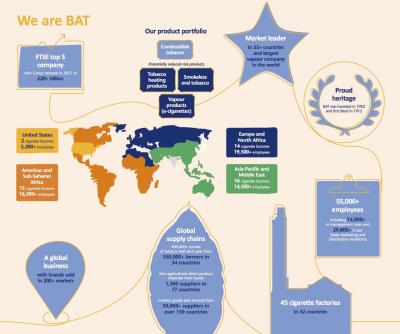 Friday, April 27, 2018 - 8:05am
At the centre of our business is the manufacturing and marketing of high-quality combustible tobacco products and potentially reduced-risk products – comprising Next Generation Products (NGPs), like vapour products and tobacco heating products (THPs), alongside oral tobacco products like snus and moist snuff. 
Our sustainable approach to sourcing, production, distribution and marketing helps us to create value for a wide group of stakeholders, from farmers to consumers.
We use our unique strengths, and employ our resources and relationships to deliver sustainable growth in earnings for our shareholders.
Our long-standing focus on sustainability and commitment to high standards has received notable independent recognition, including:
We were the tobacco industry leader in the 2017 Dow Jones Sustainability Indices (DJSI) and the only tobacco company to feature in both the Europe index and the prestigious World index.
BAT was just one of 13 companies to receive the prestigious Global Top Employer accreditation in February 2018. We were also recognised as a Top Employer in 35 countries.
For the second consecutive year, the Thomson Reuters Diversity & Inclusion Index ranked BAT as one of the most diverse and inclusive companies to work for.
In 2017, we received recognition from the PETA International Science Consortium Ltd for our significant contribution to help advance non-animal testing.