Durkan's dscvr and the Future of Hospitality Design
Durkan's dscvr and the Future of Hospitality Design
Meet Durkan's 2018 dscvr Student Design Competition winner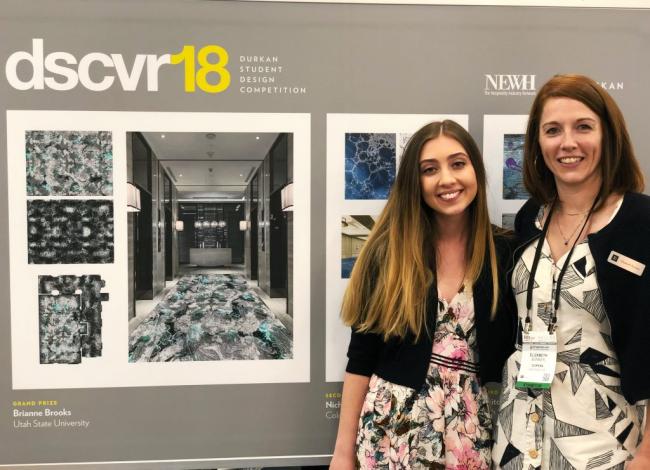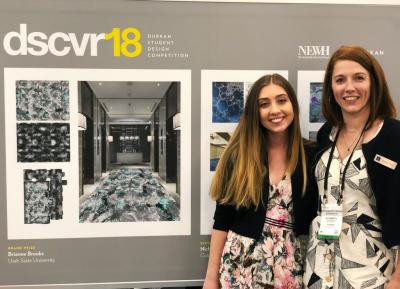 tweet me:
.@DurkanFloors' dscvr #StudentDesign Competition highlights student talent & supports the education of future designers. Meet the 2018 grand prize winner & be sure to enter by March 15: http://bit.ly/2Gr81Lj #hospitalitydesign @NEWHinc
Thursday, February 7, 2019 - 11:45am
Each year we look forward to highlighting the talent of designers in the hospitality field and supporting the education of future designers through the Durkan dscvr Student Design Competition. This year we are excited to showcase the stellar achievements of our 2018 grand prize winner, Brianne Brooks.
In partnership with NEWH, a leading networking organization for hospitality industry professionals, we called for submissions of original and imaginative hospitality flooring concepts, and Brooks' design, titled "Cosmo," rocketed to top honors.
Inspired by space exploration, Brooks focused on the drama of contrast between bright colorful nebulae and the dark void of deep space. The Utah State University senior says she hadn't envisioned flooring design as a career path until the dscvr competition.
"dscvr really helped me see something that I am good at," Brooks said. "In some of my projects this year, I have been able to incorporate some of my own original carpeting and wallcovering designs."
Brooks put her winnings to good use, applying the scholarship to pay for textbooks and other education expenses. In addition she was able to pursue LEED Green Associate certification and undertake an internship. Brooks plans to graduate in May with a degree in interior design and is now considering a career in hospitality design.
"Being a part of this contest, membership in NEWH, and then getting to go to HD Expo and meet different designers will help me make important connections as I start my career," she explained. "I encourage everyone to participate because the competition provides great opportunities and really helps you to see your worth as a young designer."
Elizabeth Bonner, creative design director for Durkan, says Brook's experience underscores the very essence of dscvr. "The competition is a wonderful collaboration with NEWH, where we get to discover and mentor the next generation of hospitality design talent. Through this program, we hope to show students the breadth of opportunities available, especially as they relate to flooring design and space planning."
More From Mohawk Industries
Wednesday, June 3, 2020 - 10:30am
Thursday, May 28, 2020 - 12:30pm
Tuesday, May 26, 2020 - 10:00am