3D Printing Factors Big in HP's Sustainability Game Plan
3D Printing Factors Big in HP's Sustainability Game Plan
HP is promoting 3D printing technology as part of its broader sustainability charter to reduce overall environmental impact.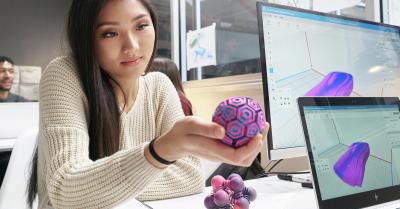 tweet me:
3D printing factors big in @HP's #sustainability game plan. Learn more here: http://bit.ly/2KPSm8M via @DEeditor
Friday, August 16, 2019 - 11:25am
By Beth Stackpole
3D printing will continue to play a key role in HP's mission to create a circular and low-carbon economy—a vision and set of initiatives benchmarked in its most recent 2018 Sustainable Impact Report.
In addition to a commitment to increase recycled plastic content in its Personal Systems and Print products to 30% by 2025, the technology giant also set a timeline to power its global operations with 100% renewable electricity by 2035.  On the recycled plastics front, HP announced it used 21,250 tonnes of recycled plastic in HP products, including more than 8,000 tonnes in its Personal Systems products (an increase of 3.5% from 2017), more than 4,700 tonnes in its printing products (a much more significant increase of 280% during the same timeframe), and more than 8,000 tonnes in its ink and toner cartridge portfolio.
More From HP, Inc.
Friday, January 15, 2021 - 4:15pm
Monday, December 14, 2020 - 11:50am
Thursday, December 10, 2020 - 3:20pm