Amgen Scholars Program
Made possible through a 12-year, $50 million commitment from the Amgen Foundation, Amgen Scholars allows undergraduates from across the globe to participate in cutting-edge research opportunities at world-class institutions. 17 leading institutions across the U.S., Europe and Japan currently host the summer program.
Undergraduate participants benefit from undertaking a research project under top faculty, being part of a cohort-based experience of seminars and networking events, and taking part in a symposium in their respective region (U.S., Europe or Japan) where they meet their peers, learn about biotechnology, and hear from leading scientists.
Learn more by visiting amgenscholars.com and following the #AmgenScholars hashtag on Twitter. 
Videos from this campaign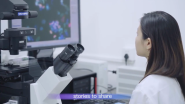 Content from this campaign