A Volunteer Opportunity Transforms More Than Cancer Care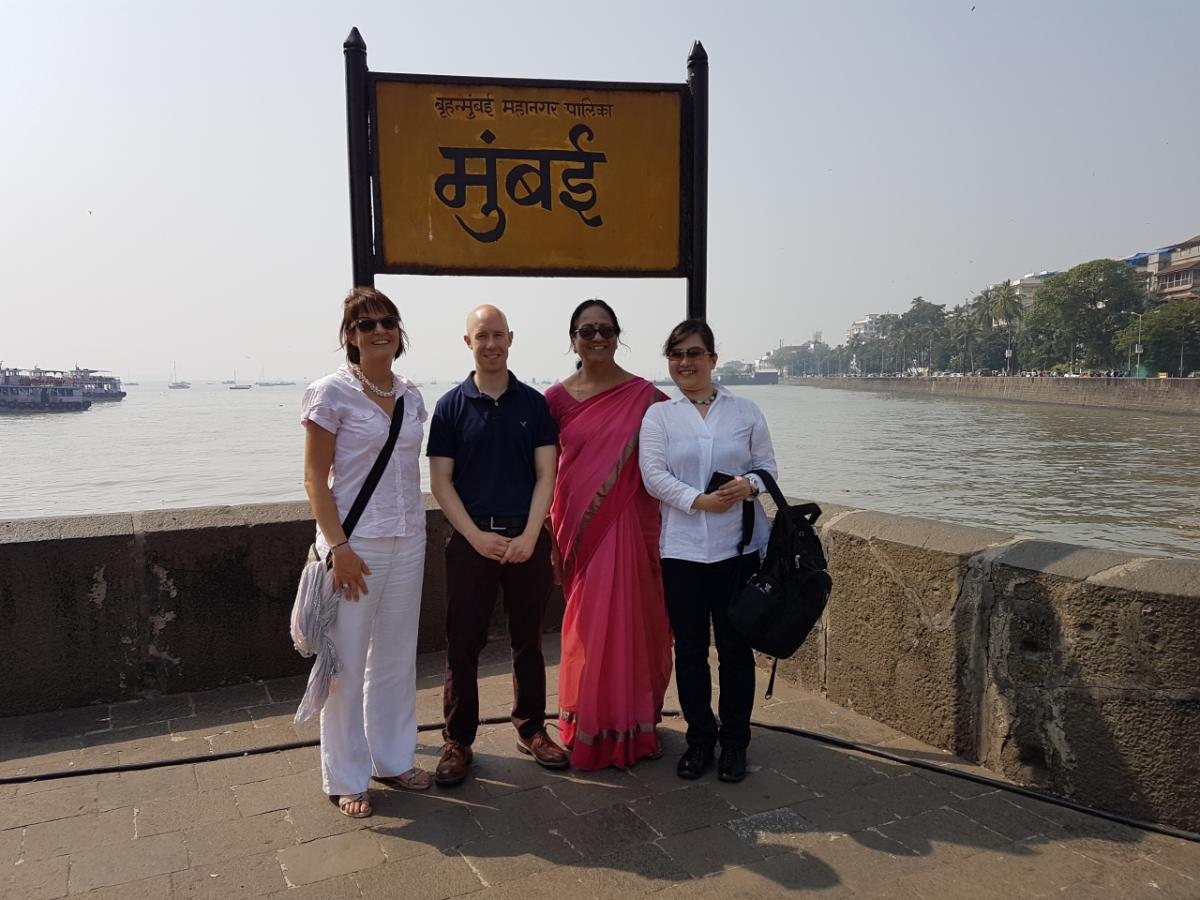 As Pfizer celebrates 15 years of skills-based volunteering through its Global Health Fellows and Teams volunteer programs, which deploy colleagues around the world to work with international development organization partners through long- and short-term assignments, a team member reflects on the impact the program had on his life.
Over the past 15 years, the Global Health Fellows and Teams have volunteered their skills with 70+ organizations. The partnerships fostered through the programs have included large international organizations as well as smaller country focused non-profit organizations, like V Care Foundation. Matt Webb, a member of a 2016 Global Health Team, completed his assignment with V Care, a voluntary support group in Mumbai, India dedicated to providing free-of-charge assistance to cancer patients and their families through outreach programs and services to improve their quality of life.
+++
By Matthew Webb, Oncology Lead, Czech Republic, Pfizer
I knew the oncology field, having spent nearly 10 years working in it, and had experience living and working abroad, having lived in four countries. So, I thought I knew what to expect when I set out for India in the fall of 2016, to help a cancer community support organization meet the growing demand for its services.
I was wrong. But the experience would be the single most impactful one of my career.
I was part of a group of three Pfizer colleagues assigned to work with V Care, a volunteer-run non-profit that provides free assistance and education to cancer patients and families in need. While V Care had entered its third decade with many accomplishments behind it, the organization needed a strategy that would help grow its impact and handle the increase in need from the community moving into the future.
In three weeks' time, our goal was to develop a multi-year plan that would strengthen and invigorate the organization. My colleagues and I were tasked with taking a close look at V Care's goals, metrics, infrastructure, and internal processes – areas that were well within my comfort zone and a part of my day to day work at Pfizer. However, there was a lot to accomplish in just three weeks and I was in unknown territory, working in a new country context with two Pfizer colleagues I just met from Japan and Belgium. My colleagues and I dove into our work, listening intently to the needs of the V Care staff and volunteers, and working with them collaboratively to develop solutions.
On a field trip to a cancer institute in Mumbai, the sheer volume of patients I saw gave me pause at first. But as I spoke to cancer patients and their families, I learned that they shared many of the same challenges that most cancer patients have – transportation issues, financial strain, and emotional toll. However, some of these issues were magnified for this community by the lack of resources we sometimes take for granted in developed nations. These patient interactions helped inform my approach for the rest of the assignment.
My team's immersive approach and V Care program visits helped us focus where we needed to most and consider the impact of our assignment on the community. Rather than think about our differences, we took advantage of our different strengths and experiences. This made for a very powerful group that approached our tasks collaboratively and compassionately. The result was a strategic roadmap and renewed focus for V Care that's helping to shape its progress. In fact, the organization is celebrating its 25th anniversary in 2019, a milestone that I am proud to have contributed to. My Pfizer team has stayed in touch with V Care leadership and volunteers, to lend an ear and expertise, but also to hear about their continued progress and impact in the community, and check in on some newfound friends. I am excited to see the V Care team again next February when I travel to Mumbai for the V Care 25th anniversary celebration. 
In the months that followed my GHT assignment, I have taken on a new role at Pfizer with the oncology team in the Czech Republic. My experience in India was both humbling and inspiring and prepared me for my new role with invaluable cross-cultural and cross-functional skills. Most importantly, it taught me to be a better manager and enriched my life. I am so grateful for the time I spent in India with V Care and look forward to seeing even more impactful work from Global Health Teams to come.
Visit Pfizer.com/IndividualVoices to learn more about Pfizer's global health programs and hear from Global Health Fellows and Teams.