Volkswagen Group of America Gives Back at 2017 National Urban League Conference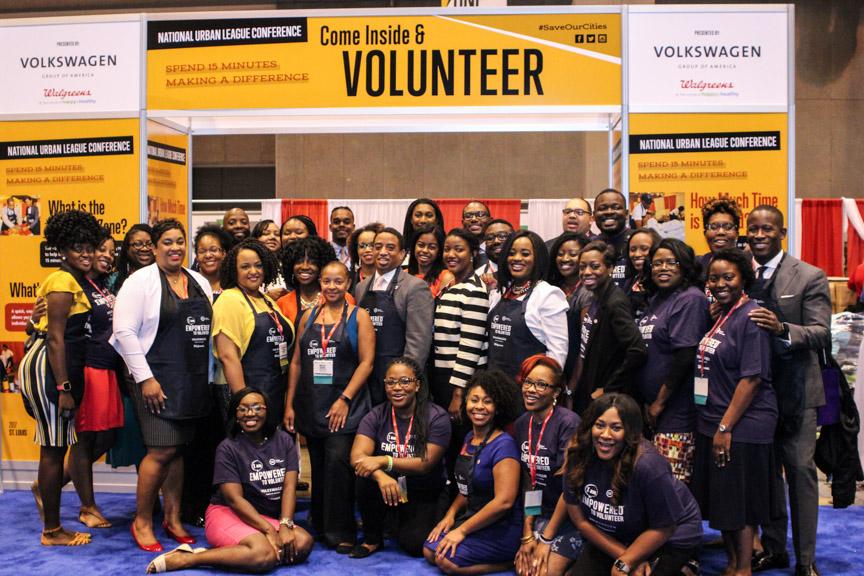 Lisha Woods, Business Process Analyst, VW Credit, Inc., and Lisa Brown, Sr. Diversity and Inclusion Specialist, VWGoA, posed with volunteers who stuffed backpacks with school supplies for St. Louis children.
Volkswagen Group of America Gives Back at 2017 National Urban League Conference
August 24, 2017 ​/3BL Media/ - Volkswagen Group of America, Inc. (VWGoA) employees and interns journeyed to St. Louis for four action-filled days to volunteer their time to support empowering causes at the 2017 National Urban League (NUL) Conference.
Behind VWGoA's impressive display, which included the all-new 2018 Volkswagen Tiguan, Audi A6, Audi A7 and Lamborghini Aventador, a VWGoA-sponsored Volunteer Zone encouraged Conference participants to stuff backpacks with school supplies for local students and assemble kits for St. Louis' homeless community. VWGoA colleagues, including Howard University and INROADS interns, as well as other Conference attendees made it possible for more than 10,000 schoolchildren to receive a backpack.
"I think it's important for us to have a presence at conferences like this because more and more the public is looking for corporations to have a positive impact in the community," said Machelle Williams, Sr. Director, Diversity & CSR, VWGoA. "Working with organizations like the National Urban League who are actively improving people's lives dovetails nicely with our mission and expands our impact into communities we might not otherwise reach."
Held at America's Center in downtown St. Louis, this year's NUL event featured the nation's most influential community leaders, together with top policy-makers, academicians, business leaders and artists. Community-building was the focus of the conference, which chose the emphatic rallying cry "Save Our Cities" to represent this aim.
"Through Volkswagen's support and collaboration, we have been able to give back to our Conference host city and share the spirit of our mission," said Marc Morial, President and CEO, National Urban League. "Volkswagen's commitment to lifting people up and strengthening communities is a powerful example of responsible corporate leadership."
VWGoA has proudly served as an annual sponsor of NUL conferences, the nation's largest civil rights and social justice conference, for over a decade.
About Volkswagen of America, Inc. 
Founded in 1955, Volkswagen of America, Inc., an operating unit of Volkswagen Group of America, Inc. (VWoA) is headquartered in Herndon, Virginia. It is a subsidiary of Volkswagen AG, headquartered in Wolfsburg, Germany. VWoA's operations in the United States include research and development, parts and vehicle processing, parts distribution centers, sales, marketing and service offices, financial service centers, and its state -of-the- art manufacturing facility in Chattanooga, Tennessee. The Volkswagen Group is one of the world's largest producers of passenger cars and Europe's largest automaker. VWoA sells the Atlas, Beetle, Beetle Convertible, CC, e-Golf, Golf, Golf Alltrack, Golf GTI, Golf R, Golf SportWagen, Jetta, Passat, Tiguan and Touareg vehicles through about 652 independent U.S. dealers. Visit Volkswagen of America online at www.vw.com or media.vw.com to learn more.