Volkswagen Of America Hits the Road With Endurance Runner Mimi Anderson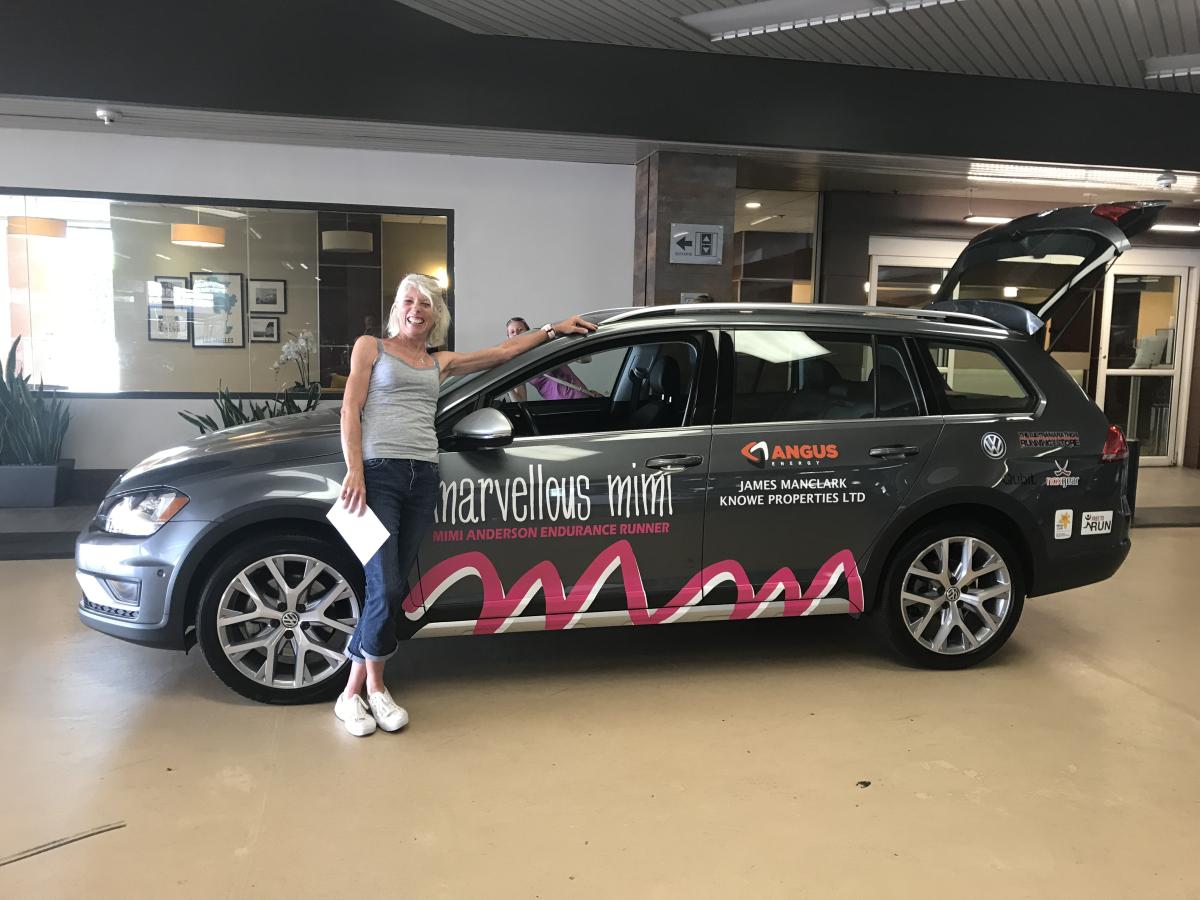 @MarvellousMimi and a specially wrapped 2017 Golf Alltrack
Volkswagen Of America Hits The Road With Endurance Runner Mimi Anderson
HERNDON, Va., September 12, 2017 /3BL Media/ - Volkswagen of America (VWoA) announces its support for endurance runner Mimi Anderson as she attempts to run across the USA for charity – and set a world record for the feat. Volkswagen will provide a 2017 Golf Alltrack and a 2017 Tiguan to support Mimi and her team throughout the journey.
"Volkswagen of America is proud to join Mimi Anderson as she embarks on her personal mission to raise awareness for worthy causes all while leaving her mark in the world of endurance racing," said Dr. Hendrik Muth, Senior Vice President of Product Marketing and Strategy for Volkswagen of America, Inc. "With the perfect road trip companions in a Golf Alltrack and Tiguan behind her as support vehicles, she can focus on the road ahead and the completion of this incredible feat while inspiring us all."
Anderson will try to cross the United States in 53 days from Los Angeles to New York, running an average of 54 miles per day through 12 states. The previous record was set in 69 days, 2 hours and 40 minutes. Anderson is an accomplished endurance runner and holder of several world records. The public is invited to follow Anderson's journey at www.mimirunsusa.com where one can also support her favorite charities and even plan to run with her at various locations along the way.
About Volkswagen of America, Inc.
Founded in 1955, Volkswagen of America, Inc., an operating unit of Volkswagen Group of America, Inc. (VWoA) is headquartered in Herndon, Virginia. It is a subsidiary of Volkswagen AG, headquartered in Wolfsburg, Germany. VWoA's operations in the United States include research and development, parts and vehicle processing, parts distribution centers, sales, marketing and service offices, financial service centers, and its state -of-the- art manufacturing facility in Chattanooga, Tennessee. The Volkswagen Group is one of the world's largest producers of passenger cars and Europe's largest automaker. VWoA sells the Atlas, Beetle, Beetle Convertible, CC, e-Golf, Golf, Golf Alltrack, Golf GTI, Golf R, Golf SportWagen, Jetta, Passat, Tiguan and Touareg vehicles through approximately 652 independent U.S. dealers. Visit Volkswagen of America online at www.vw.com or media.vw.com to learn more.
Notes: This press release and images are available at media.vw.com. Follow us @VWNews