VMware Publishes 2023 ESG Report Demonstrating Smart Impact Progress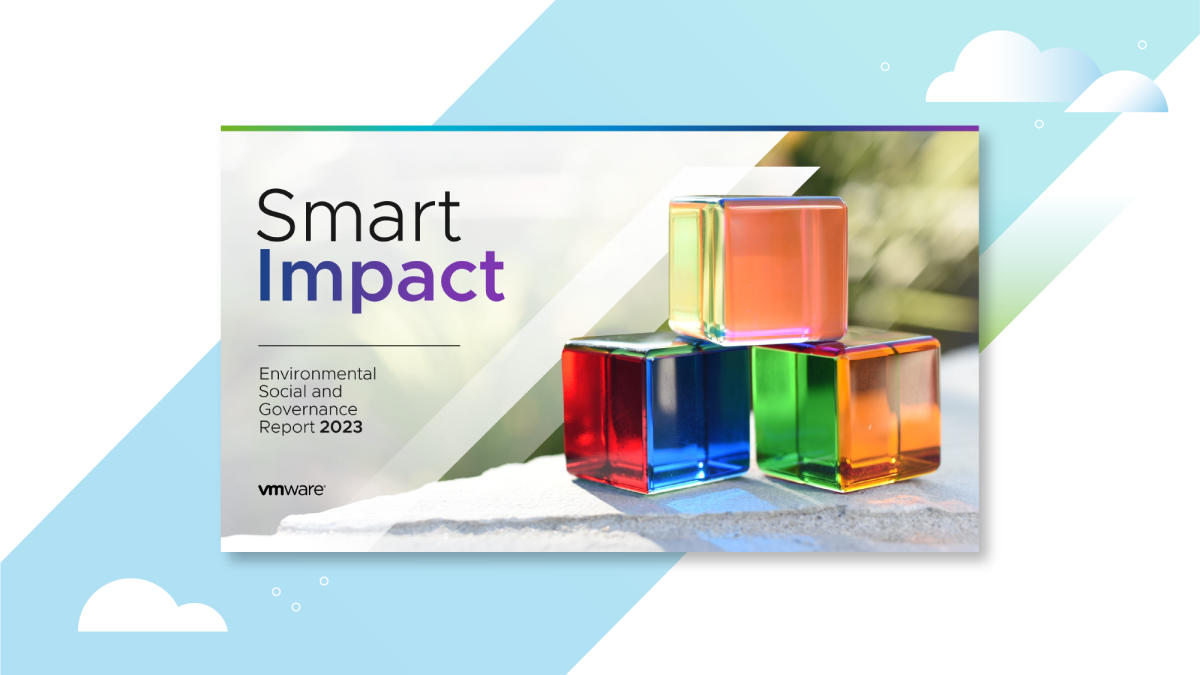 VMware released its 2023 Environmental Social and Governance (ESG) Report, sharing progress and demonstrating its commitment to creating a more sustainable, equitable and secure digital world. The report provides benchmarks toward the goals outlined in its 2030 Agenda, a decade-long ESG commitment that guides business actions across VMware.

As VMware's technology services and solutions have grown, so too has its commitment to driving ESG results, prioritizing smarter and more focused actions that can help achieve desired outcomes for employees, customers and all stakeholders. This includes engineering a more sustainable multi-cloud experience for our customers, reducing VMware's emissions to achieve net zero, empowering diverse and distributed workforces, and being a trusted supplier that ships secure, privacy-aware solutions built on a responsible supply chain.

"Throughout our ESG journey, we have continually pushed ourselves to implement a smarter, systemwide approach while staying true to our core intent of serving the needs of our customers while growing our own resiliency," shared Nicola Acutt, Chief Sustainability Officer and VP of ESG at VMware. "We remain laser-focused on achieving our 2030 commitments and continuing forward by prioritizing innovation and impact."

The theme of this year's report is 'Smart Impact', reflecting VMware's strategy to focus on where the company can deliver the most significant results and drive outcomes for customers, partners, employees and the world. Some of these results include:
Launched the Green Score feature in VMware Aria Operations Cloud, which provides recommendations for customers to further optimize energy and carbon in their cloud environments 
Expanded the VMware Zero Carbon Committed initiative by adding 24 VMware Cloud Services Provider™ partners committed to renewable energy, reaching a total of more than 50 partners
Enhanced VMware Anywhere Workspace solutions with VMware Workspace ONE® Mobile Threat Defense™ to provide customers with added security for their distributed workforce
Met near-term science-based targets as of fiscal year 2023 to reduce Scope 1 & 2 and Scope 3: Employee Commute absolute emissions
Improved diversity, equity and inclusion (DEI) representation with 33 percent of global hires self-identifying as a woman, and 16 percent of U.S. hires self-identifying as an underrepresented minority
Achieved a 100 percent malware protection score with VMware Carbon Black Cloud Endpoint™ Standard in an independent cybersecurity test by AV-Comparatives1
Added company-wide DEI goals as a component of funding for all bonus-eligible employees
Read VMware's full 2023 ESG Report
Media Contact: corporatepr@vmware.com

1 AV-Comparatives. "Business Security Test 2022 (March–June)." July 10, 2022.