Purpose, Promise & Innovation: Exploring VMware's 2023 ESG Report
By Kit Colbert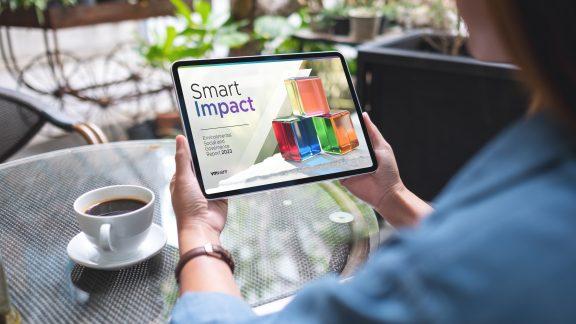 We often hear big promises from companies hoping to make a splash into sustainability. And while they're probably well-meaning, they quickly discover that promises are easy to make and much harder to keep. The proof is in the pudding, show me the receipts, pics or it didn't happen, and put up or shut up. These expressions all convey the same message: "Prove what you're telling me actually occurred."
So when VMware launched our 2030 Agenda in 2020, we committed to sharing progress towards our goals. Every year, we showcase our impact, partner, and customer stories, detailed information about our latest sustainability innovations, and of course, ESG data so our stakeholders can hold us accountable.
I recently wrote about the novel placement of our ESG Team inside of the Office of the CTO and how that positioning helped give our outcome-driven ESG strategy the fuel needed to influence the entire enterprise, driving what we call "Smart Impact" to deliver the most significant results for ourselves and our stakeholders. This is the time of year when that impact is on full display as we continue reporting on our 2030 Agenda progress, sharing meaningful ESG impact — and I couldn't be more excited about what we've accomplished.
Last week, VMware's Chief Sustainability Officer, Nicola Acutt, announced the publication of our 2023 ESG Report. I certainly encourage you to review the full report, but let me give you a quick TL;DR of our impact over the last year:
Launched the Green Score feature in VMware Aria Operations Cloud, which provides recommendations for customers to further optimize energy and carbon in their cloud environments 
Expanded the VMware Zero Carbon Committed initiative by adding 24 VMware Cloud Services Provider™ partners committed to renewable energy, reaching a total of more than 50 partners
Improved diversity, equity, and inclusion (DEI) representation with 33 percent of global hires self-identifying as a woman, and 16 percent of U.S. hires self-identifying as an underrepresented minority
Enhanced VMware Anywhere Workspace solutions with VMware Workspace ONE® Mobile Threat Defense™ to provide customers with added security for their distributed workforce
Achieved a 100 percent malware protection score with VMware Carbon Black Cloud Endpoint™ Standard in an independent cybersecurity test by AV-Comparatives
These five bullet points, though impressive, are just the tip of the iceberg. We know that more work lies ahead, and our dedication to transparency and accountability is unwavering. Every year, VMware continues to prove that our ESG goals are not just empty words but a driving force behind actions and innovations.
So, for those seeking proof of a company's commitment to ESG, here are "the receipts." VMware's 2023 ESG Report is a great example of what it looks like when you combine purpose, promise, and innovation, producing tangible and impactful results. And as we traverse a path in ESG innovation, we invite customers, partners, and all stakeholders to join us on a journey toward a more sustainable, equitable, and secure future. Please share your ideas and thoughts below.
Best,
Kit