The Value of Donating Your Skills for Social Change
The Value of Donating Your Skills for Social Change
Join Taproot's January webinar on making a difference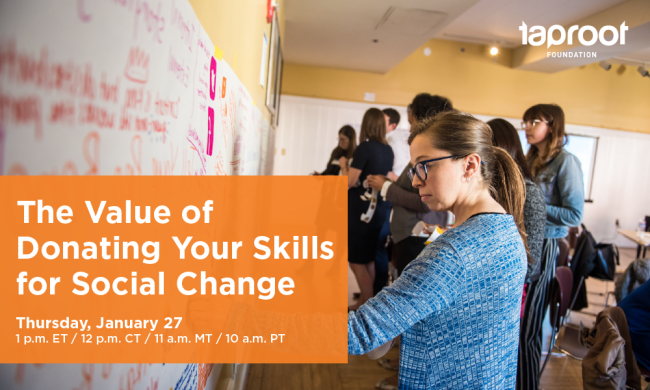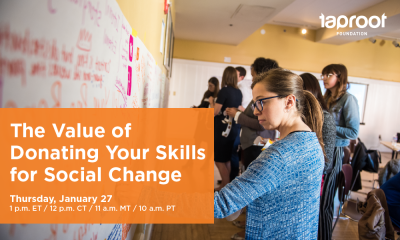 Friday, January 21, 2022 - 12:05pm
Thursday, January 27 at 1 PM ET / 12 PM CT / 11 AM MT / 10 AM PT  
Register now
95% of nonprofits report not having the resources to fully accomplish their missions. Your experience in HR, tech, operations, marketing, data, (the list could go on!), could be just the thing a resource-strapped social good organization needs in the New Year.
Join the Taproot team for their free webinar on Thursday, January 27 at 1 PM ET for everything you need to understand just how valuable your skills are to nonprofits in need—and how to start volunteering them! Webinar participants will leave with advice and inspiration from an experienced Taproot volunteer, pro bono project management best practices, a walk-through of how to find opportunities alongside great causes through the Taproot Plus online platform.
Register now for this free one-hour event! Bring your colleagues—there are plenty of volunteer opportunities to go around.
Access to this webinar and the Taproot Plus platform are free of cost for individual professionals across the US, Canada, UK, EU, and India. All registrants will receive a recording of the event.
Thursday, January 27 at 1 PM ET / 12 PM CT / 11 AM MT / 10 AM PT  
Register now