USGBC and IWBI Release Streamlined Certification Pathway for LEED and WELL
New process simplifies documentation requirements while maintaining the high standards required to achieve each certification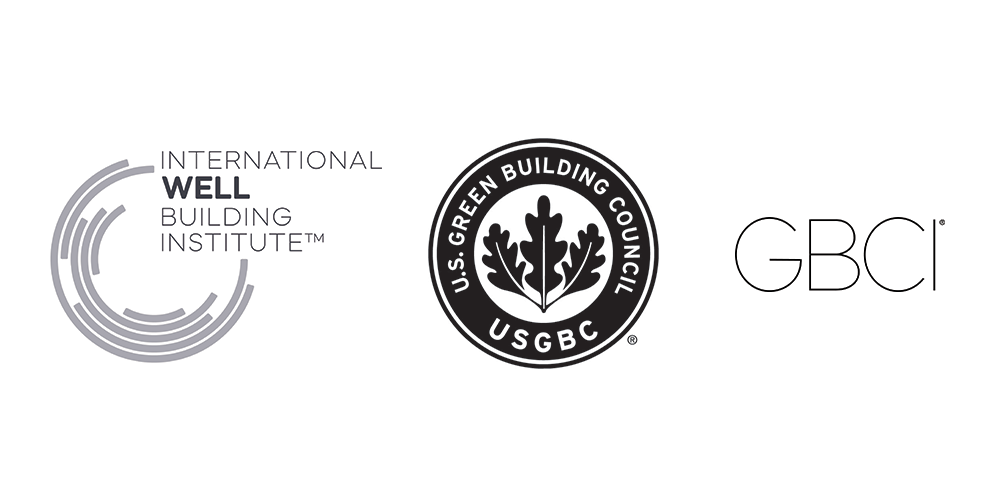 WASHINGTON, April 11, 2023 /3BL Media/ - Today, the U.S. Green Building Council (USGBC), Green Business Certification Inc. (GBCI) and the International WELL Building Institute pbc (IWBI) released a streamlined process for projects pursuing certifications for the LEED green building rating system and the WELL Building Standard.
The process streamlines documentation for projects that are pursuing both certifications at the same time or that have already earned one certification and are looking to add the other.
"USGBC's partnership with IWBI builds upon our shared commitment to driving positive health outcomes across the built environment," said Peter Templeton, president and CEO of USGBC and GBCI. "Improving human health has been a foundational component of LEED since its inception and is the goal of each of the 10 concepts within the WELL Building Standard. By creating a streamlined process for LEED and WELL certification, we are encouraging every building owner and project team to adopt best practices that maximize benefits to occupant and community health."
"Organizations are looking for actionable, efficient strategies to demonstrate meaningful impact on matters of climate change and human health," said Rachel Hodgdon, president and CEO, IWBI. "This new pathway strengthens synergies between LEED and WELL, supporting projects pursuing both gold standard certifications. This strategic partnership underscores that human health and planetary health are inextricably linked."
A new suite of tools and resources is available to applicants interested in pursuing LEED and WELL certifications, including:
LEED + WELL Crosswalk: This tool shows how individual LEED credits map to specific WELL features and vice versa. As buildings are being designed, project teams can use the crosswalk to identify where LEED and WELL are aligned and which strategies and initiatives support both programs.
LEED + WELL Submittal Form: This form is required for both LEED and WELL certification reviews. Project teams complete the form to identify which compliance paths are being utilized and communicate that information to the review team.
LEED + WELL Streamlined Certification Process Guide: This document outlines the process, requirements and implementation tools available to project teams.
FAQ / Help Center Questions: Found in the USGBC help center and the IWBI website, these FAQs speak to specific project questions and scenarios. The following versions of LEED are now eligible for streamlined certification with WELL v2:
More information on the program can be found here.
####
About USGBC 
The U.S. Green Building Council (USGBC) is committed to a prosperous and sustainable future through cost-efficient and energy-saving green buildings. USGBC works toward its mission of market transformation through its LEED green building program, robust educational offerings, an international network of local community leaders, the annual Greenbuild International Conference & Expo, the Center for Green Schools and advocacy in support of public policy that encourages and enables green buildings and communities. For more information, visit usgbc.org and connect on Twitter, Facebook and LinkedIn.
About Green Business Certification Inc. (GBCI) 
GBCI is the world's leading sustainability and health certification and credentialing body. Established in 2008, GBCI exclusively administers project certifications and professional credentials and certificates within the framework of the U.S. Green Building Council's Leadership in Energy and Environmental Design (LEED) green building rating systems, as well as the PEER standard for power systems, the WELL Building Standard, the Sustainable SITES Initiative (SITES), EDGE (Excellence in Design for Greater Efficiencies), TRUE certification for zero waste and Investor Confidence Project (ICP) for energy efficiency retrofits. Visit gbci.org.
About the International WELL Building Institute 
The International WELL Building Institute (IWBI) is a public benefit corporation and the world's leading organization focused on deploying people-first places to advance a global culture of health. IWBI mobilizes its community through the administration of the WELL Building Standard (WELL) and WELL ratings and certifications, management of the WELL AP credential, the pursuit of applicable research, the development of educational resources and advocacy for policies that promote health and well-being everywhere. More information on WELL can be found here.
Media Contact
IWBI
media@wellcertified.com
USGBC/GBCI
dverdinez@usgbc.org