Tupperware Europe Celebrates The "Shero" in Giving Tuesday Campaign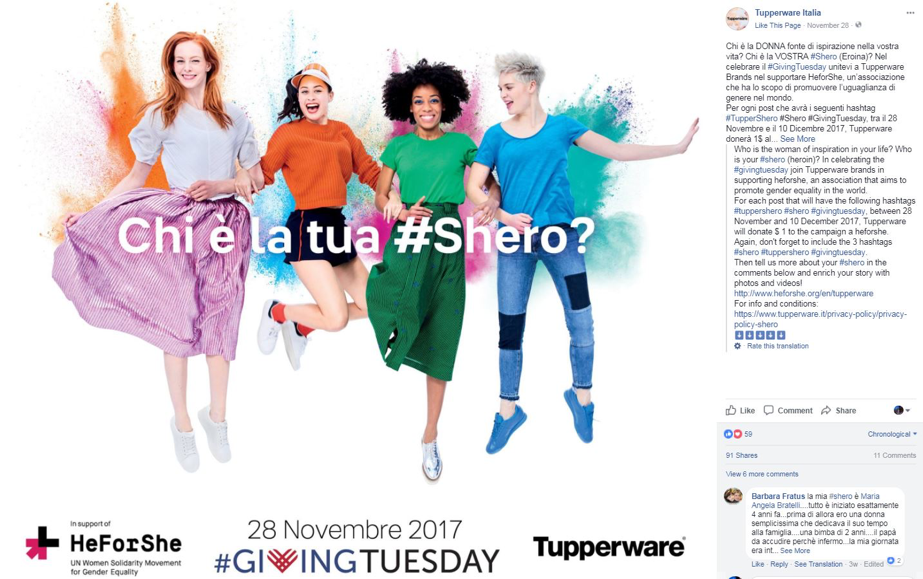 Who is your #Shero? - Image courtesy of Tupperware Italia
At Tupperware, we ignite a global community, especially women, to realize their best selves. #GivingTuesday is a global movement encouraging all of us to give. Give our time, our money, our goods and our voice. Tupperware leaders and friends are no strangers to those actions and with over 3 million sales force members worldwide, we see how those actions create confidence that radiates around the world.
With the vision to enrich, celebrate and uplift each other, up-and-coming leaders in Tupperware Europe created a #GivingTuesday campaign to celebrate our "Shero" – a woman regarded as a hero. Teaser posts leading up to Tuesday, November 28th included quotes from influential women and intrigued followers on Facebook.
On November 28th, the call to action posted on Facebook in France, Germany, Italy, the Nordics, Russia and Turkey encouraging followers and friends to comment about their "Shero."
The call to action saw comments, likes and shares from men and women who have a special "Shero" in their lives. Those uplifting relationships are why we love what we do.
Give your voice. Click on any link below and share a story about your #Shero.