The Time for Action Is Now, the Time for Trees Is Now
10 Takeaways for Facilitating Global Forest Restoration at-Scale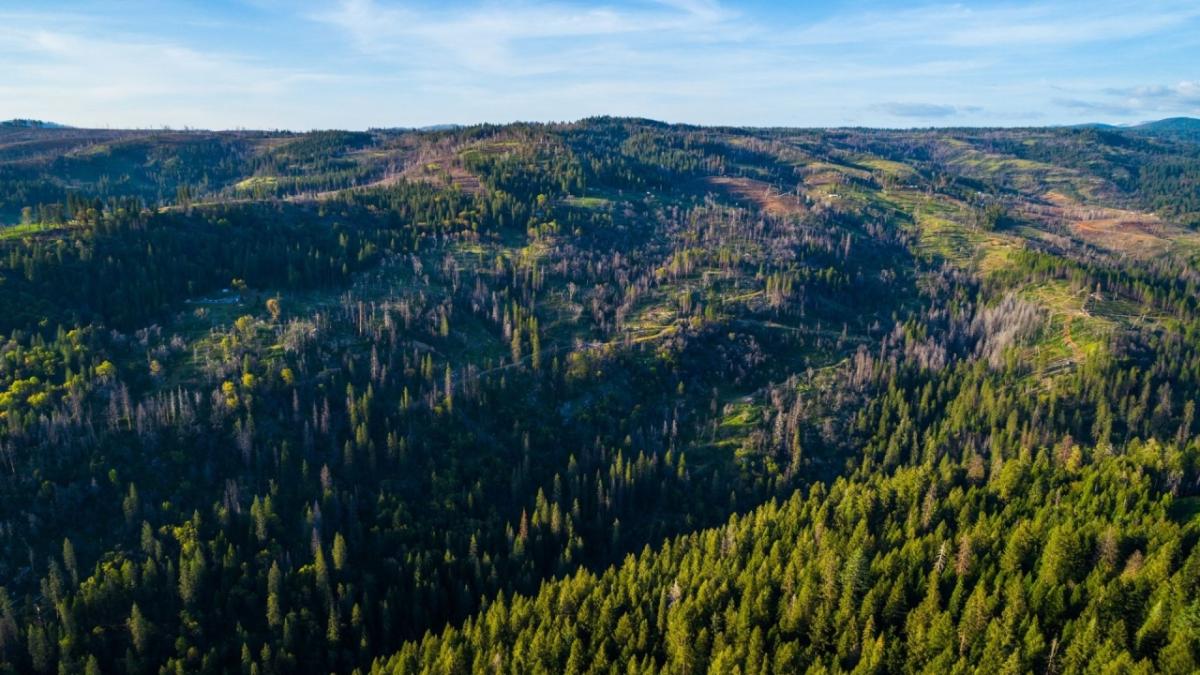 The Arbor Day Foundation hosted and participated in a large number of forestry events at the United Nations Climate Change Conference during the 25th Conference of the Parties (COP25) in Madrid, Spain. The Foundation's featured event at COP25 was Forest Restoration: Climate Offense for Business. With the negative impacts of climate change already being felt around the world and reported on daily, the theme of COP25 was "Time for Action." Listed below are 10 key takeaways the Foundation has distilled over the last few years, and discussed at COP25, that make forest restoration an essential part of the total climate solution for 2020 and beyond.
10 Takeaways for Facilitating Global Forest Restoration at-Scale
1. There is tremendous momentum for natural climate solutions (NCS) and reforestation in particular, with a proliferation of new global, regional, and local tree planting and forest restoration initiatives over the last few years - Bonn Challenge, African Forest Landscape Restoration Initiative, Trillion Trees, 1t.org and many more. Tree planting resonates with people. Scientifically, reforestation also has the most global climate mitigation potential in comparison to all other natural climate solutions. However, forest restoration is getting the least amount of investment. Protecting intact forest and wetland landscapes, improving forest management for working timberlands, and enhancing soil carbon in agriculture are vitally important defensive climate strategies to avoid additional carbon emissions and to maintain some balance in the global carbon cycle (forests and oceans currently absorb about half of global carbon emissions). Now, it is time to go on climate offense by utilizing forests' proven natural ability to remove and store carbon at-scale. It's a simple equation. The right trees in the right places equal more carbon stored.
"For the first time in 2019, we saw very clearly a significant uptick in demand for natural climate solutions, thanks in large part to a surge in corporate ambition. After nearly a decade and a half of Ecosystem Marketplace's tracking of carbon markets, we see forestry and land-use offsets – for example, transactions of tree planting offsets increased 342% from 2016 – push voluntary markets to near-record highs. We're past the point where reducing emissions is enough. We need negative emissions to stay below 1.5 degrees of warming. Natural climate solutions offer us that path."

-Stephen Donofrio, Director, Forest Trends' Ecosystem Marketplace and Supply Change Initiatives
2. Investments into forests must occur concurrently or in-addition-to decarbonizing the economy. To establish credibility and integrity, investments into natural climate solutions must be a part of a comprehensive strategy to reduce and avoid direct and indirect GHG emissions, while not being an excuse to continue business-as-usual.
"Reforestation, regeneration, and afforestation are going to play a crucial role in achieving nature's potential to be the planet's "superpower" to help deal with climate change – in addition to, and not instead of all the other hard and urgent work on decarbonizing the economy and our ways of living. Restoring landscapes doesn't just offer the potential to sequester significant amounts of CO2; it also will be a game-changer for rural livelihoods, watershed protection, and biodiversity."

-Duncan van Bergen, VP of Nature Based Solutions at Shell
(3) The work to restore forests and other critical ecosystems is just beginning. But a shared vision and ambition is becoming clearer because of science-based consensus building through our strategic partners like Forest Trends, NCS Alliance, IETA, and ICROA. The world is no longer searching for silver-bullet solutions. Instead, there is a clear pivot underway towards more holistic, practical collaborations that leverage a range of existing and emerging technologies.
"We have always tried to incubate a variety of different approaches to forest restoration in our projects around the world and be partnership-oriented and entrepreneurial, so projects are successful. We've done forest carbon offsets with the Surui indigenous community in Brazil, climate-smart cocoa in Ghana, and a water security-driven approach in Peru. We need to be able to design projects that are locally appropriate but understand how they roll up into the bigger picture in terms of global restoration."

-Michael Jenkins, CEO and Founding President, Forest Trends
(4) It is time to take the climate conversation beyond carbon neutrality and net-zero greenhouse gas emissions to emphasize all the other co-benefits forests provide; clean air and water to support all forms of life, restored habitats to promote biodiversity, economic empowerment to people living in rural parts of the world, improved human health outcomes, etc. How do we adequately price and attribute claims to all the other stacked benefits when trees are planted? Answers can be provided with the integration of unique monitoring, reporting, and verification technologies like Microsoft's AI for Earth and other commodity-centric traceability tools like Farm Trace. Nevertheless, we need to be social-conscious when implementing these technologies in developing parts of the world where people need economic opportunities, not robots and algorithms.
(5) Connecting people to trees and their environments. Forest restoration is not just about improving the environment. It must be about empowering people and revitalizing communities by reestablishing the connection people and communities intrinsically have to nature. When these fundamental connections are explicit and properly valued, it will ensure humanities' ability to create and nurture. Over 1.5 billion people directly depend on forests for their livelihoods. All humans depend on forests and nature to sustain human life.
The awesome power of public 'art plus purpose' can reconnect communities with nature's life-sustaining ecosystems. On the sidelines of COP 25 in Madrid, we painted two GreenPoint EARTH murals with artist Jorge Rodriguez-Gerada to inspire and guide local citizens and global audiences towards nature-based climate action through the beauty of forests and indigenous people. This work wouldn't have been possible without support from Arbor Day and other supporters, including NWF-International, UNFCCC, and the City and Community of Madrid."

- Stephen Donofrio, Founder, GreenPoint Innovations
(6) Climate change is a risk to the continuity of complex global supply chains, but there is also a societal risk to the bottom-line, which is the license to do business. Many industries, especially in the land-use sector, are already experiencing significant disruptions to their supply chains because of extreme fires, floods, droughts, etc. However, increasingly conscious consumers and employees are pressuring companies and brands to take more ambitious climate actions. Companies and brands that respond authentically are rewarded with customer loyalty and community respect. If sustainable business practices are not saving your business money or creating new market opportunities, you are doing it wrong. When your company or brand is doing the right thing, it is also important to let the world know about it to inspire others.
(7) The role of policy cannot be overlooked. Responsible, science-based public and private sector policy ultimately drive scale and can help soften large economic transitions in labor, land-use, education, and behavior. New policy can be a political risk initially. But it can also be an opportunity to economically empower rural parts of the world that have been left out of the story of economic prosperity that has grown over the last five decades. Genuinely lifting-up our fellow humans on the lower end of the economic ladder creates more prosperity and less conflict for us all.
"Forest Trends started looking at the policy side when we realized that great conservation projects have a very hard time competing against illegal logging and illegal forest conversion for agriculture because the latter are so lucrative. Illegal activities also usually come hand-in-hand with human rights abuses and corruption. Forest countries need to have strong policy, transparency, and civilian oversight in place, or the conservation piece won't work."

-Michael Jenkins, CEO and Founding President, Forest Trends 
(8) "Cooperation and collaboration" are key to addressing challenges of transitioning from a patchwork, individual project-level approach to a holistic landscape-level approach. Ashley Allen, Senior Manager-Climate and Land at Mars Incorporated, emphasized the importance of having harmony with the communities and individuals directly impacted by land degradation. From the start, when landscape interventions are designed, all stakeholders need to be at the table to decide how benefits will be shared. This holistic, humble approach may be slow initially. However, in the long run, this creates long-term security and prosperity for communities living in the landscape and for private sector supply chain commodities by balancing overall ecosystem needs with the present climate realities.
(9) Setting Science Based Targets (SBTi) help companies evaluate various options for restoring forests because the SBTi process forces companies to recognize what is material to business as it relates to sustainability. Science and business can coexist. Look at the growing list of profitable, innovative companies that are aligning their business goals to a low carbon future by setting science based targets. The Foundation works with our corporate and strategic partners to help influence and evolve how major corporate sustainability/climate disclosure and reporting platforms, like SBTi, Greenhouse Gas Protocol, CDP, etc., integrate the forestry carbon market and NCS value/supply chain investments into their frameworks.
(10) The worst thing we can do is wait. We are getting close to irreversible tipping points. Many experts and scientists think that we may have already done irreversible damage to ecosystems like the Amazon rainforest. If forest restoration is to fulfill its part of the total climate solution and be aligned to key Paris Agreement targets – 2030 (cutting global emissions in half), 2040 (cutting global emissions in half again), and 2050 (net-zero global emissions), we have to build out the infrastructure, plant, manage, and monitor in the 2020s. We are quickly running out of time to keep the Paris Agreement goals viable, and we only have one chance to get the forest part right. It is time to accelerate the restoration revolution.
Forest restoration work cannot happen without trusted and unique partnerships. The Arbor Day Foundation is grateful to have amazing partners and allies. It is time to heal the world's forests, wetlands, agricultural, and ocean assets. The healing that will come from these activities will not only restore natural ecosystems, but we will heal ourselves and the debilitating political, moral, economic, and social divisions that impede each human's pursuit of connection, belonging, and happiness. The time for action is now. The Time for Trees is now.
A very special thank you goes out to our COP25 event host, International Emissions Trading Association, and event panelists:
Stephen Donofrio - Director, Ecosystem Marketplace & Supply Change Initiatives at Forest Trends
Ashley Allen - Senior Manager, Climate and Land at Mars Incorporated
Jonathan Shopley - Managing Director at Natural Capital Partners
Rebekah Braswell - Chief Commercial Officer at Land Life Company
Margaret (Maggie) Kim - CEO at Gold Standard
Duncan van Bergen – VP, Nature Based Solutions at Shell