On Thanksgiving, 1 in 6 Children Wonder If They Are Going to Eat
By: Gerri Mason-Hall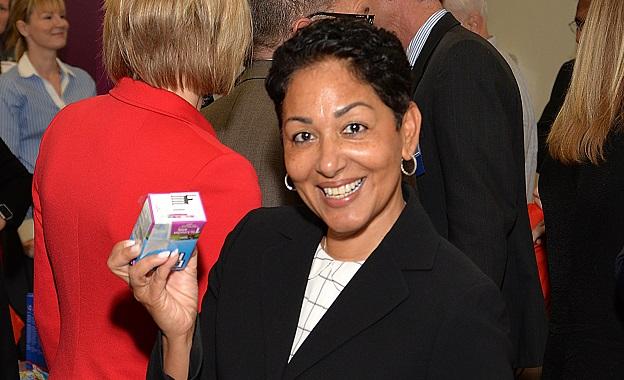 Gerri Mason Hall, President, Sodexo Stop Hunger Foundation, SVP & Chief Human Resources Officer, Sodexo North America
On Thanksgiving, 1 in 6 Children Wonder If They Are Going to Eat
Humbled and grateful. These are the two words – and feelings – that keep coming to me as I reflect on my experience with the Sodexo Stop Hunger Foundation. And it's these words that seem the best description of how I'm feeling this Thanksgiving as I step into my new role as President of the Foundation.
I recall learning about hunger for the first time as my elementary school classmates and I collected coins to help "the starving children in Africa and India." Then I became more aware of the need in my own community through my mother who, for years, prepared a weekly casserole for So Others Might Eat (SOME) in Washington, D.C. Previous Foundation leaders, Steve Brady and Bob Stern, helped me understand that children in many communities across the U.S. face similar challenges in having enough healthy food every day so that they can learn, play and thrive.
I'm overwhelmed, and humbled, when I think about what it takes to end childhood hunger, and what small part I can play. And then I'm grateful for the network of nonprofit partners, vendors, youth leaders and employees who've joined us in this effort because I know that childhood hunger is a problem too big for one organization to solve alone.
I'm grateful for the progress we've made since my elementary school days, especially on ending childhood hunger in the U.S. And with one in six children in the United States still hungry, we can't rest on the good we've done so far. That's why as Foundation president I will build on the legacy and lessons of the leaders before me to work smarter – and harder – to end childhood hunger. I'm especially excited about our commitment to address the root causes of hunger because it's not enough to feed a hungry child today if they're still at risk of being hungry again tomorrow.
At our annual dinner in June, I was honored to share the stage with our Heroes of Everyday Life and youth leaders – people who dedicate time and talent to ending hunger in their communities. I'm grateful to work for a company that invests in and celebrates their work – and that provides all of us opportunities to act on their inspiration. I believe that together we can end childhood hunger. And as I consider what I'm grateful for this Thanksgiving, I put the Sodexo Stop Hunger Foundation and my colleagues who contribute their time, talent and treasure to it at the top of my list.
Are you inspired to join the effort to end childhood hunger in the U.S? Visit http://us.stop-hunger.org to learn how you can help.