TakingRoot and Procter & Gamble's Family Care Brands Host Community Tree Planting in Celebration of NeighborWoods® Month
Arbor Day Foundation's month-long celebration will help beautify Pleasant Hill Academy and raise awareness for responsible forestry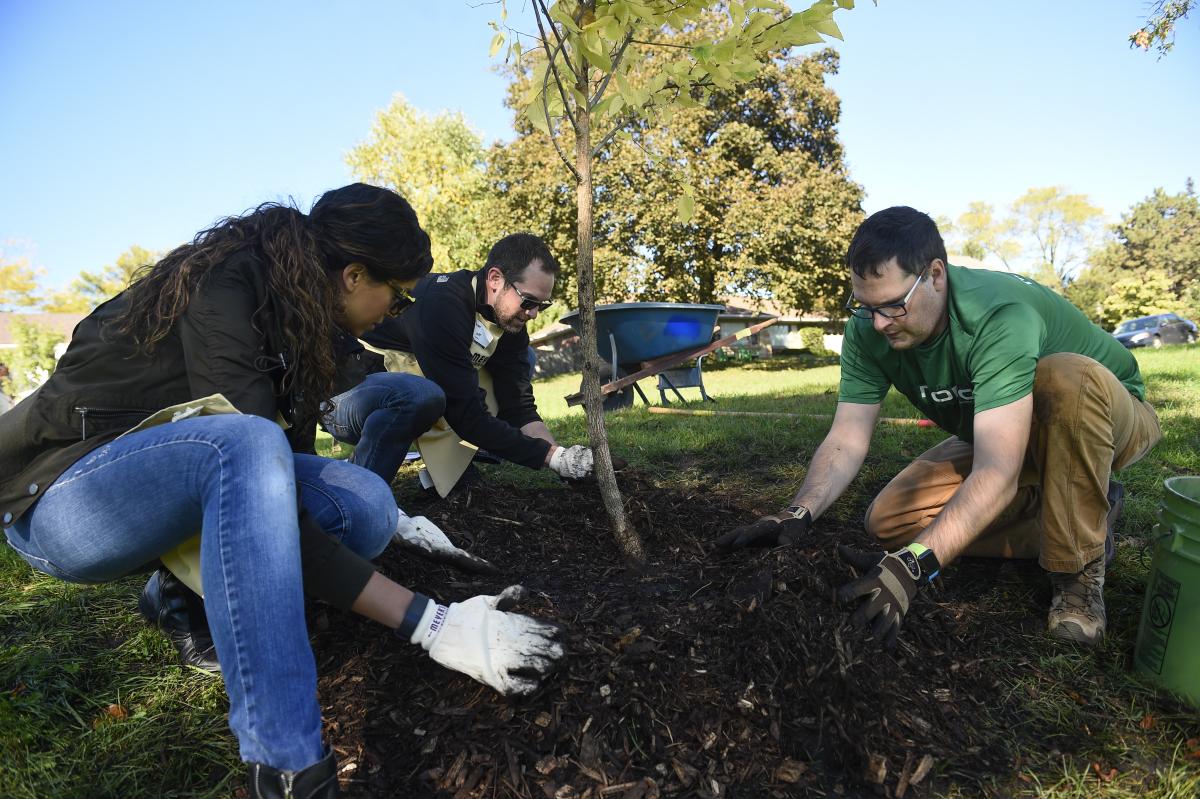 CINCINNATI, October 19, 2017 /3BL Media/– TakingRoot, a member of the Arbor Day Foundation's Alliance for Community Trees program, is partnering with Procter & Gamble's Family Care brands, Puffs, Charmin and Bounty, to plant 30 trees in celebration of national NeighborWoods® Month. The event will be held at Pleasant Hill Academy, a school with an emphasis on environmental science, as part of a new Outdoor Learning Lab for students and community members.
The event is part of NeighborWoods® Month, an annual nationwide celebration of communities, sustainability and trees. Every October, tens of thousands of volunteers take action to improve neighborhoods across the county by planting and caring for trees. NeighborWoods Month supports local tree planting organizations and their efforts to make neighborhoods cleaner, greener and healthier.
The tree planting will take place on October 27, 2017 from 8:30 –12:30 p.m. Local residents are invited to dig in the dirt with Pleasant Hill Academy students and Procter & Gamble volunteers.
"We are excited to partner with NeighborWoods and P&G to help beautify and green Pleasant Hill Academy", said Matt Stenger of TakingRoot. "The trees planted on Pleasant Hill's campus will not only add beauty, but also help to increase our city's tree canopy while providing students with an outdoor learning area."
To illustrate the importance of trees in our communities, the Alliance for Community Trees commissioned the 2017 NeighborWoods® Month Survey*, conducted by Wakefield Research.
Key findings include:
Trees bring benefits to not only community infrastructure but also the people who live there.
94 percent of Americans believe that having trees in their community makes them happier.
More than 60 percent of people surveyed believe having trees in their community inspires them to be active outdoors.
Nearly half (46 percent) of Americans say that trees in their communities help them relieve stress.
95 percent of people surveyed acknowledge shared benefits of having trees in their community including beautification, positive environmental impact and enticing birds and wild life to their areas.
"P&G is excited to co-host this event in order to provide a hands-on activity to share knowledge about responsible forestry practices and to be part of the beautification of this neighborhood school's campus," said Tonia Elrod, Director, P&G Sustainability Communications. "Our paper brands, Bounty, Charmin and Puffs have a longstanding commitment to responsible forestry, and this includes here in our own backyard in Cincinnati. Globally, for every tree harvested through our paper products, at least one is regrown. We are excited to put those words into action alongside our employees and community members."
NeighborWoods® Month volunteering opportunities across the country are made possible by NASCAR Green, MetLife Foundation, DoubleTree by Hilton, and Procter & Gamble's Family Care brands: Puffs, Charmin and Bounty.
To learn about how to get involved in additional NeighborWoods® Month events taking place in your area, please visit NeighborWoodsMonth.org.
###
For more information:
Danny Cohn
Arbor Day Foundation
dcohn@arborday.org
402-219-3645
About TakingRoot
Taking Root is a broad-based, collaborative campaign that aims to inspire and empower all to conserve and improve our region's unique and threatened tree canopy with the goal of mitigating its devastating loss and maintaining a vibrant tree canopy in the Greater Cincinnati tri-state region, now and for generations to come.
About Procter & Gamble
P&G serves consumers around the world with one of the strongest portfolios of trusted, quality, leadership brands, including Always®, Ambi Pur®, Ariel®, Bounty®, Charmin®, Crest®, Dawn®, Downy®, Fairy®, Febreze®, Gain®, Gillette®, Head & Shoulders®, Lenor®, Olay®, Oral-B®, Pampers®, Pantene®, Puffs®, SK-II®, Tide®, Vicks®, and Whisper®. The P&G community includes operations in approximately 70 countries worldwide. Please visit http://www.pg.com for the latest news and information about P&G and its brands.
About Alliance for Community Trees
Alliance for Community Trees, a program of the Arbor Day Foundation, is a national network of local nonprofit organizations dedicated to improving the health and livability of cities by planting and caring for trees. With member organizations and program partner organizations throughout the United States, Alliance for Community Trees engages volunteers to take action to improve the environment where more than 90% of people live. Learn more about Alliance for Community Trees and its member organizations at arborday.org/alliance.
*Methodological Notes
The Arbor Day Foundation Survey was conducted by Wakefield Research (www.wakefieldresearch.com) among 1,000 nationally representative U.S. adults ages 18+ between July 18 and 25, 2017, using an email invitation and an online survey. Quotas have been set to ensure reliable and accurate representation of the U.S. adult population 18 and older. Results of any sample are subject to sampling variation. The magnitude of the variation is measurable and is affected by the number of interviews and the level of the percentages expressing the results. For the interviews conducted in this particular study, the chances are 95 in 100 that a survey result does not vary, plus or minus, by more than 3.1 percentage points from the result that would be obtained if interviews had been conducted with all persons in the universe represented by the sample.