Support for Start-Up and Early-Stage Nonprofits
Learn how Taproot's skilled volunteers can increase your nonprofit's impact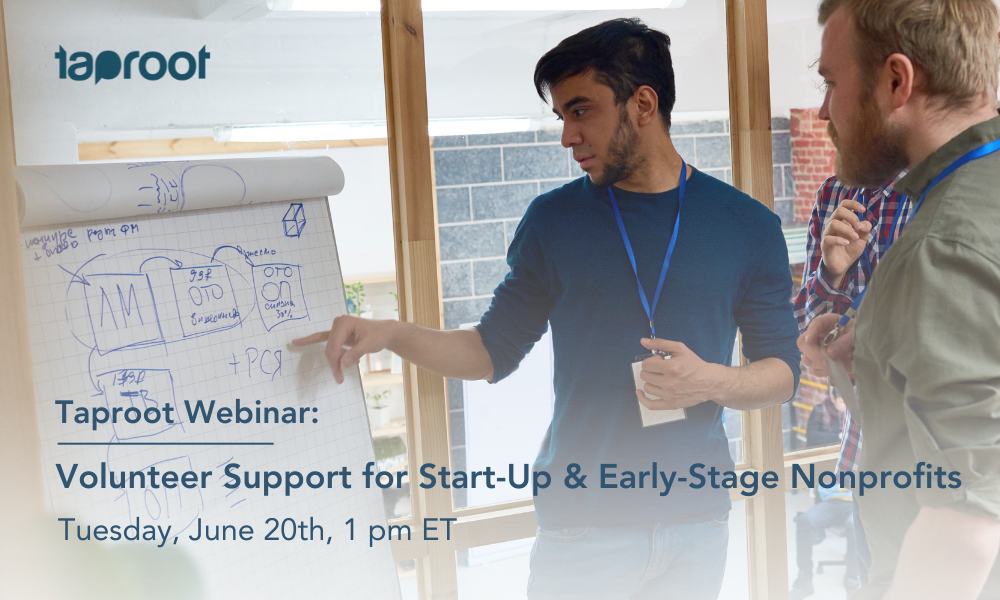 Tuesday, June 20 at 1 PM ET / 12 PM CT / 11 MT / 10 PT
Too often, nonprofit organizations in their early phases are left out of funding or support opportunities due to their budget size, length of operations, or small staff. Taproot doesn't believe in these restrictions. In fact, our staff members and volunteers are uniquely positioned to provide advice and resources for early-stage organizations building their IT, HR, marketing, business strategy, operations, and finance infrastructure for the first time.
During this free, one-hour webinar on Tuesday, June 20, Taproot's Nonprofit Success Coach and Senior Director of Community Engagement will dig into: 
Why Taproot's services are a perfect fit for start-up nonprofits looking to elevate their work 
Volunteer consultations and projects in marketing, tech, HR, strategy, operations, and finance that we've seen be especially impactful for early-stage organizations 
How to connect with support from Taproot's community of 150,000+ skilled volunteers 
Register now to join this nonprofit webinar! And invite friends or colleagues—Taproot's services are free to use and open to all mission-driven organizations, regardless of budget or staff size. We'll save time for live Q&A, so you're encouraged to attend live! If the timing doesn't line up with your schedule, sign up anyway and we'll share the recording with you as soon as it's available. 
This is a free Taproot Foundation event. Taproot Foundation is a US-based nonprofit that gets social good organizations the resources they need, for free, through connections with talented, passionate volunteers. If you are interested in joining Taproot's community, create your profile on Taproot Plus.