Students With Sustained and Innovative Hunger-Fighting Ideas Can Apply for Scholarships From the Sodexo Stop Hunger Foundation
Students With Sustained and Innovative Hunger-Fighting Ideas Can Apply for Scholarships From the Sodexo Stop Hunger Foundation
Applications for the 2018 Stephen J. Brady Stop Hunger Scholarships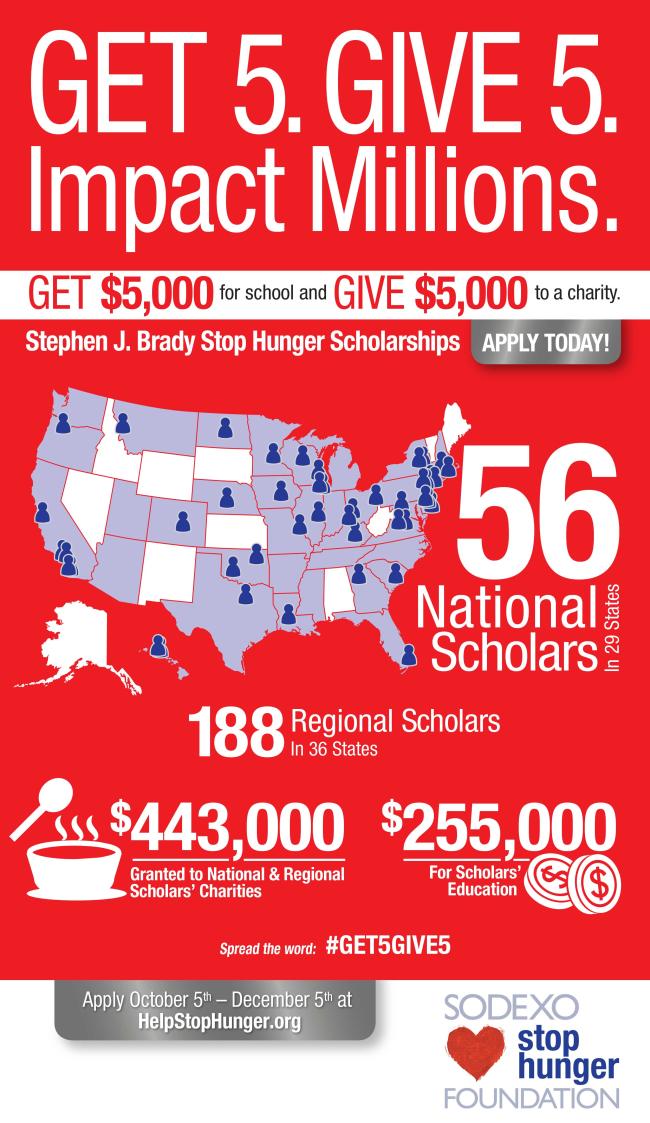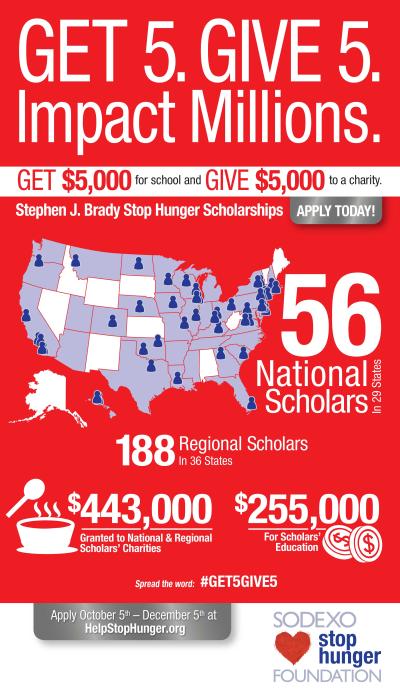 Friday, October 6, 2017 - 3:35pm
GAITHERSBURG, Md., October 6, 2017 /3BL Media/ - The Sodexo Stop Hunger Foundation today announced the opening of the application period for the 2018 Stephen J. Brady Stop Hunger Scholarships which will run from October 5 through December 5, 2017. The scholarship program urges students to apply to #Get5Give5 to help end hunger in their communities. Students from kindergarten through graduate school are eligible to apply for a $5,000 scholarship with matching $5,000 grant for the hunger-related charity of their choice. Visit HelpStopHunger.org to apply.
According to the U.S. Department of Agriculture, more than 41 million people living in the United States, including 13 million children, lack the means to get enough nutritious food on a regular basis. As a result, they struggle with hunger at some time during the year.  Sodexo Stop Hunger Foundation has an 11-year legacy of investing in young leaders and their innovative ideas because we believe they are the generation to end childhood hunger.
"Recognizing that youth-led initiatives provide innovative solutions, we strive to encourage and empower them to help end hunger today and tomorrow," said Gerri Mason Hall, chair, Sodexo Stop Hunger Foundation and senior vice president, human resources services for Sodexo North America. "These programs really impact the quality of life for children and families which is a core mission for our organization."
Up to five national scholarship recipients will be selected based on their ongoing work to end hunger. The Sodexo Stop Hunger Foundation will also recognize up to 20 Stop Hunger regional honorees with a $1,000 donation for their preferred hunger-relief charity.
To date, Sodexo Stop Hunger Foundation has recognized 188 regional honorees and 56 national scholarship recipients with grants totaling $443,000 for their hunger-relief charities and $255,000 in scholarships. To be eligible, students must be enrolled in an accredited education institution (kindergarten through graduate school) in the United States and be able to demonstrate an enduring commitment to end hunger in their community.
The deadline for 2018 applications is December 5, 2017. The 2018 Stephen J. Brady Stop Hunger Scholarship recipients will be announced on June 11, 2018 at the 19th Annual Sodexo Stop Hunger Foundation Dinner. For complete details and to apply, please visit HelpStopHunger.org.
Click to hear stories from previous award winners.
Visit Sodexo Stop Hunger Foundation on Facebook and follow us on Twitter @StopHungerUSA.
###
About Sodexo Stop Hunger Foundation:
Sodexo Stop Hunger Foundation, a not-for-profit organization, was created with the mission to ensure that every child in the United States grows up with dependable access to enough nutritious food to enable them to lead a healthy, productive life. Sodexo, Inc. funds all administrative costs for Sodexo Stop Hunger Foundation to ensure that all money raised helps those in need. Since its inception, the Foundation has granted nearly $30 million to alleviate child hunger.
About Sodexo USA
Sodexo USA is an American business that is part of a global, Fortune 500 company with a presence in 80 countries. Delivering more than 100 services across North America that enhance organizational performance, contribute to local communities and improve quality of life, Sodexo is a leading provider of sustainable, integrated facilities management and food service operations. It employs 123,000 Americans at 12,500 sites across the country and indirectly supports tens of thousands of additional U.S. jobs through its annual purchases of $9.2 billion in goods and services from small to large American businesses. In support of local communities across the U.S., the Sodexo Stop Hunger Foundation has contributed close to $30 million over the past 20 years to help feed children in America impacted by hunger.
Learn more about Sodexo at its corporate blog, Sodexo Insights.