Sodexo Stop Hunger Foundation Donates $1 Million to Food Banks Across the U.S.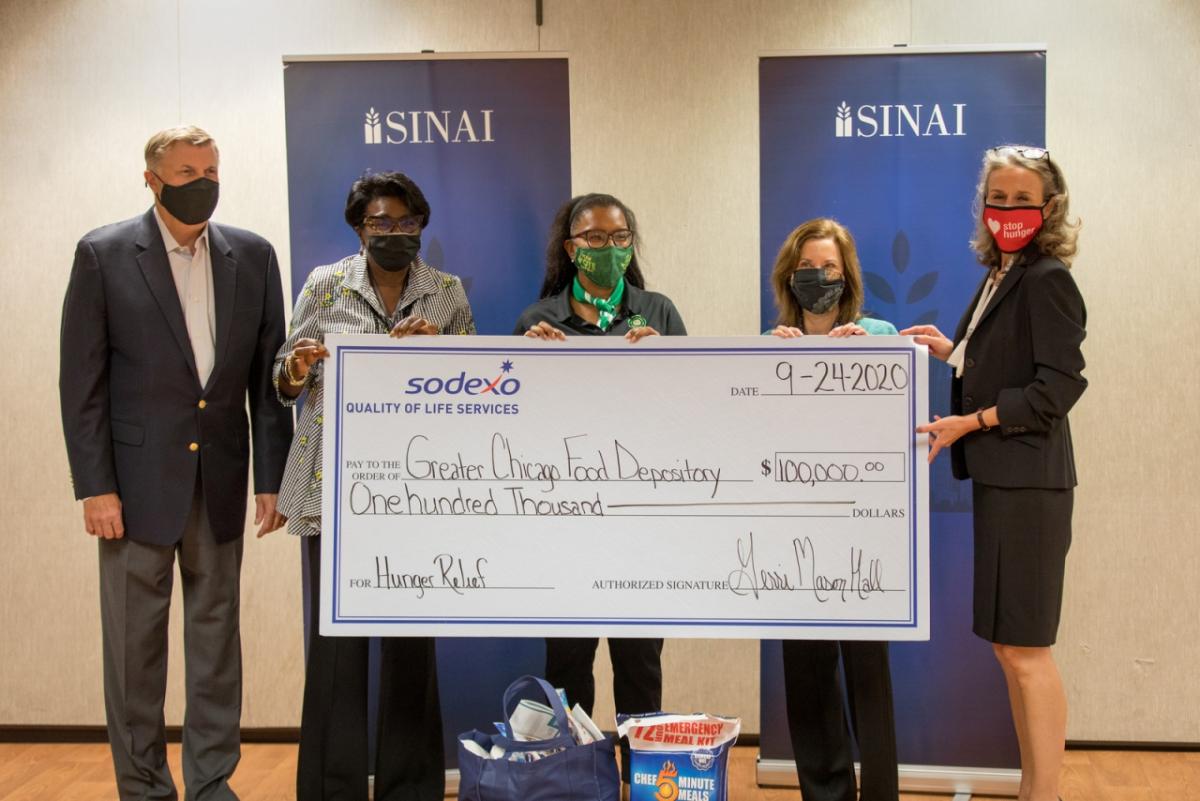 The Greater Chicago Food Depository accepts a $100,000 donation toward hunger relief from Sodexo.
GAITHERSBURG, Md. -- October 08, 2020 /3BL Media/– The Sodexo Stop Hunger Foundation announced today that a donation of $1 million from Sodexo's global Stop Hunger Endowment Fund was distributed to 27 food banks during Hunger Action Month. Areas included Atlanta, Baltimore, Chicago, Los Angeles, Louisville, KY, New York City, Washington, and more.
As a result of the pandemic, Feeding America reports that more than 54 million people may experience hunger, assistance from food banks has increased by 50 percent, and 8 billion meals will be needed to meet the increased demand.
"We could not be prouder of the work that has been done around the country that has helped to serve and feed millions," said Roxanne Moore, Executive Director, Stop Hunger Foundation. "We recognize that now more than ever families need resources and we are elated to have been able to serve those communities most in need."
Like many charities, the Foundation has been impacted this year due to the COVID-19 pandemic. Employees' fundraising efforts have been curtailed, and Sodexo's biggest annual fundraiser, the Foundation Dinner, was canceled this past June.
Nevertheless, Sodexo teams rallied as the lockdown set in, donating surplus food to local charities and Sodexo employees have continued to volunteer and raise funds, whether through food drives, logistics support, or virtual activities.
"The COVID-19 pandemic has dramatically increased hunger in the Chicago area. Since January, the Greater Chicago Food Depository has seen a 120 percent increase in the number of people turning to our partner food pantries," said Jim Conwell, Senior Director of Marketing & Communications at the Food Depository. "The support of Sodexo and the Stop Hunger Foundation comes at a vital time as we plan a sustained response to the growing need."
Sodexo Stop Hunger Foundation works to ensure that every child in the United States, especially those most at risk, grows up with dependable access to enough nutritious food to enable them to lead a healthy, productive life. Visit the Sodexo Stop Hunger Foundation on Facebook, Twitter, and Instagram.
About Sodexo North America
Sodexo North America is part of a global, Fortune 500 company with a presence in 72 countries. Sodexo is a leading provider of integrated food, facilities management, and other services that enhance organizational performance, contribute to local communities and improve quality of life for millions of customers in corporate, education, healthcare, senior living, sports and leisure, government, and other environments daily. The company employs 160,000 people at 13,000 sites in all 50 U.S. states and Canada and indirectly supports tens of thousands of additional jobs through its annual purchases of $19 billion in goods and services from small to large businesses. Sodexo is committed to supporting diversity and inclusion and safety while upholding the highest standards of corporate responsibility and ethical business conduct. In support of local communities across the U.S., in 2018, Sodexo contributed over 159,500 in volunteer hours, and since 1996, the Stop Hunger Foundation has contributed nearly $34.5 million to help feed children in America impacted by hunger. To learn more about Sodexo, visit us.sodexo.com, and connect with us on Facebook, Instagram, LinkedIn, Twitter and YouTube.