Sodexo Recognized by Hispanic Network Magazine
Hispanic Network Magazine Names Sodexo as a Top Employer, Top Diversity Employer, Top Disability Friendly Company, and Top LGBT-Friendly Company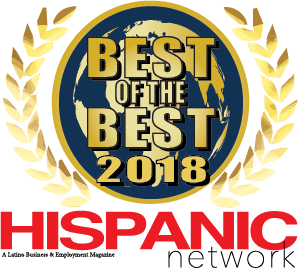 Sodexo recognized by Hispanic Network Magazine in the 2018 Best of the Best issue as a Top Employer, Top Diversity Employer, Top Disability Friendly Company, and Top LGBT-Friendly Company
GAITHERSBURG, Md., August 16, 2018 /3BL Media/ - Sodexo, a food services and facilities management company committed to improving Quality of Life, announced today that it has been recognized by the Hispanic Network Magazine in the 2018 Best of the Best issue as a Top Employer, Top Diversity Employer, Top Disability Friendly Company, and Top LGBT-Friendly Company.
"It's always an honor to be recognized for our continued commitment to creating a culture where all of our employees feel a sense of belonging, "said Rohini Anand, PhD, SVP, Corporate Responsibility & Global Chief Diversity Officer, Sodexo. "When diversity and inclusion is truly integrated into the organization like it is at Sodexo, everyone benefits."
Sodexo identifies and recruit top talent by using job boards that are aimed at diverse audiences, as well as through partnerships with the Hispanic College Fund, Unidos US (formerly National Council of La Raza), and the Mexican American Legal Defense and Educational Fund (MALDEF), among others.
Additionally, Sodexo supports the professional and organizational growth of Latinos within the organization. The organization's Hispanic employee resource group, Sodexo Organization of Latinos (SOL), provides professional development and fosters recruitment and retention of Latinos within the company.
Sodexo's commitment to diversity and inclusion has been widely recognized. Earlier this year, Sodexo was named to Bloomberg's 2018 Gender-Equality Index (GEI) – its first sector-neutral list of 104 global companies, and recognized on three of FORTUNE Magazine lists in 2017, including World's Most Admired Companies, Change the World and the FORTUNE 500.
The Hispanic Network Magazine compiled these lists from market research, independent research, diversity conference participation and survey responses that were performed by DiversityComm's agents and affiliates. The goal of these evaluations is to encourage active outreach and diversity policies among corporations and government agencies.
About Hispanic Network Magazine
HISPANIC Network Magazine's goal is to create an environment of teamwork in which Latin Americans and other minorities have access to all applicable business and career opportunities. HISPANIC Network Magazine is an information source designed to bring promising, talented people together with potential employers and customers throughout the business community. This includes up-to-date statistics on workforce diversity, as well as business-to-business trends. HISPANIC Network Magazine's offers both recruitment and business opportunities, along with accurate, timely conferences and event calendars. The magazine also spotlights inspiring role models and notable mentors.  HNM is a WBENC-certified company.
About Sodexo North America
Sodexo North America is part of a global, Fortune 500 company with a presence in 80 countries. Sodexo is a leading provider of integrated food, facilities management and other services that enhance organizational performance, contribute to local communities and improve quality of life for millions of customers in corporate, education, healthcare, senior living, sports and leisure, government and other environments daily. The company employs 150,000 people at 13,000 sites in all 50 U.S. states and Canada and indirectly supports tens of thousands of additional jobs through its annual purchases of $9.2 billion in goods and services from small to large American businesses. Sodexo is committed to supporting diversity and inclusion and safety, while upholding the highest standards of corporate responsibility and ethical business conduct. In support of local communities across the U.S., the Sodexo Stop Hunger Foundation has contributed close to $32 million over the past 20 years to help feed children in America impacted by hunger. To learn more about Sodexo, visit SodexoUSA.com, SodexoInsights.com and connect with us on Facebook, Instagram, LinkedIn, Twitter and YouTube. 
Contact: Heidi Marino, Sodexo, Inc., (301) 233-6658, Heidi.Marino@sodexo.com