Sodexo Provides More Than 1,000 Meals to Homeless Veterans at San Diego Stand Down Event
Sodexo participates in three-day event for third consecutive year, providing food and employment services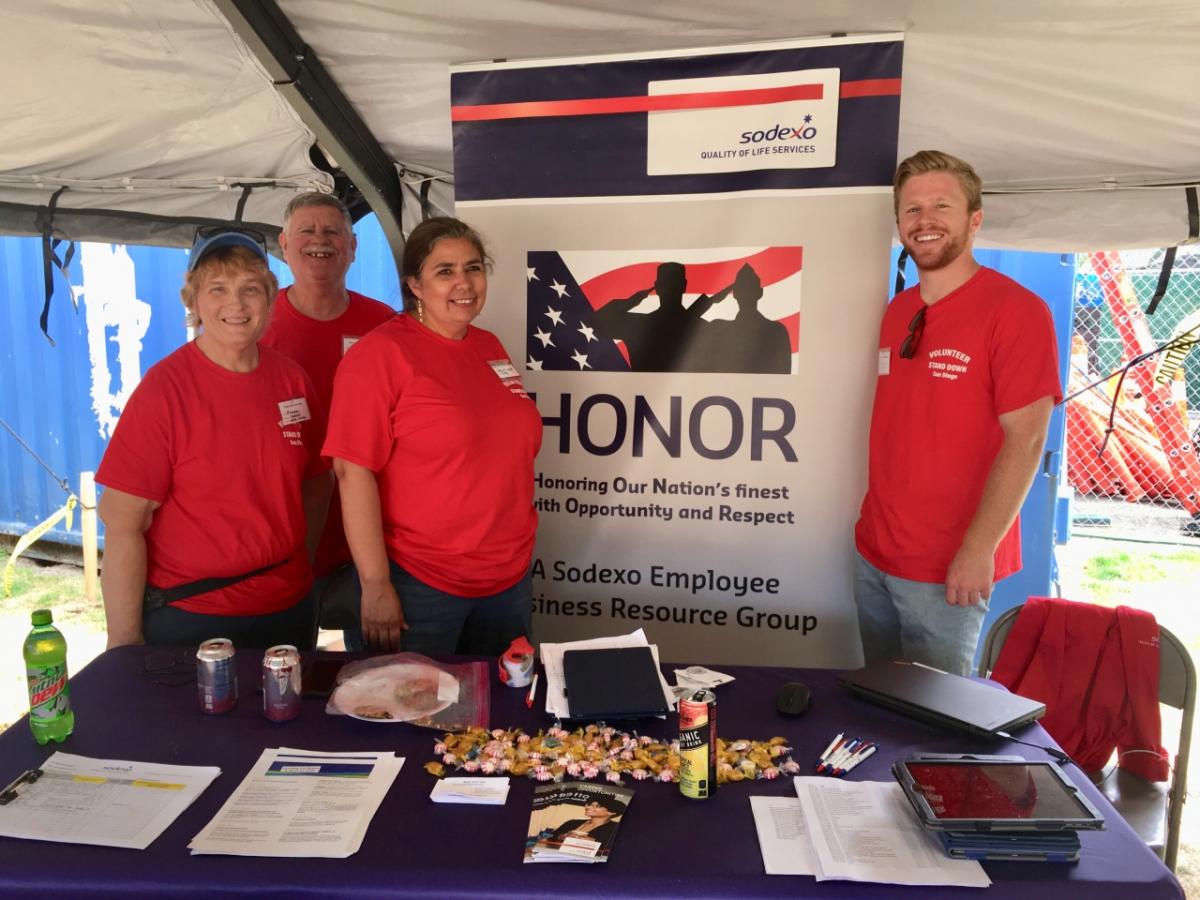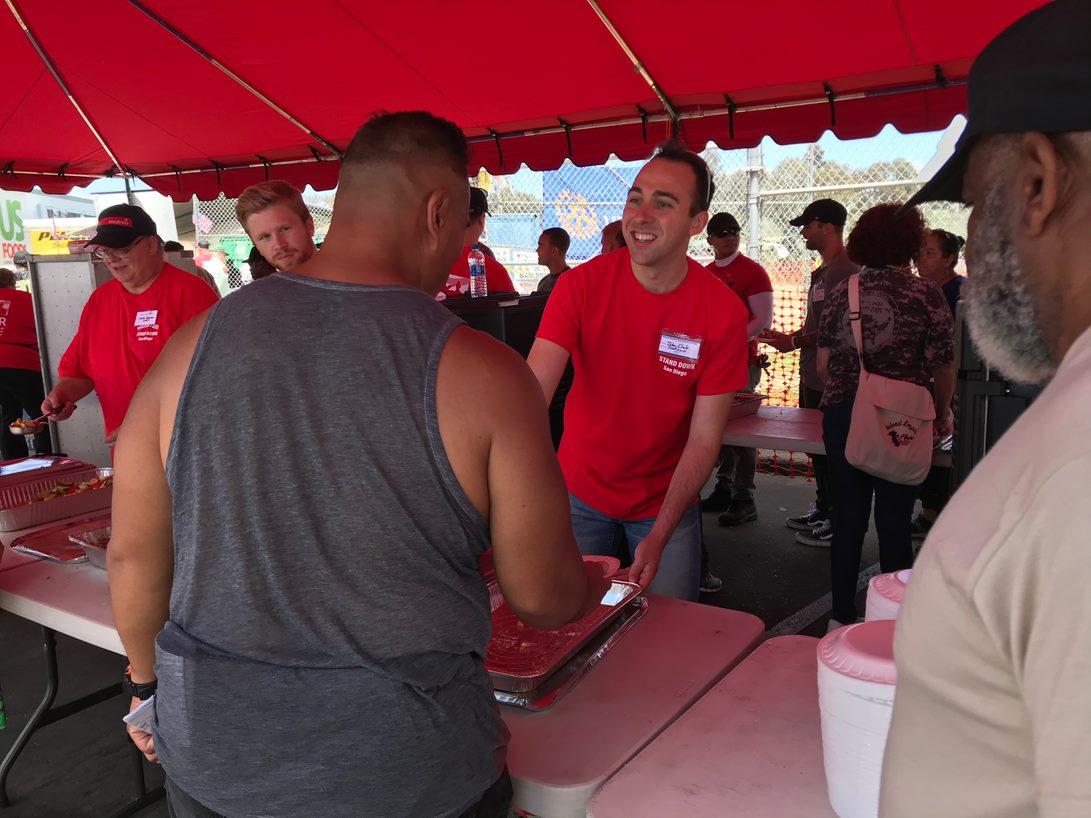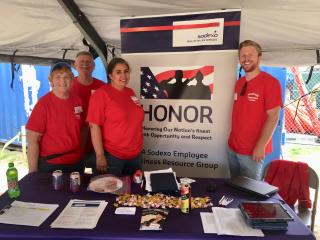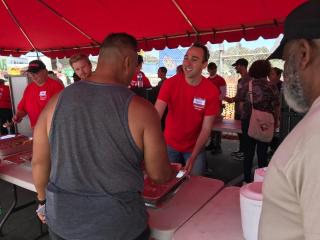 GAITHERSBURG, Md., August 15, 2018 /3BL Media/ - Sodexo, a food services and facilities management company committed to Quality of Life, provided more than 1,000 meals along with employment services for homeless veterans and support providers during the Stand Down event, June 29 through July 1 at San Diego High School in San Diego, CA. The 31st annual Stand Down program was hosted by Veterans Village of San Diego with support from the United States Marine Corps West Coast. Approximately 3,000 volunteers and 150 service providers assisted the 800 homeless veterans and families. More than 35 Sodexo volunteers hosted meals as well as offered employment services such as resume and job application assistance for the veterans.  
According to the U.S. Department of Housing and Urban Development, there were nearly 40,000 homeless veterans in the U.S in 2017 of which 1,067 are homeless veterans in San Diego.
"We are grateful for Sodexo's incredible support in the Stand Down event for the third consecutive year," said Darcy Pavich, Stand Down Program Director. "The company's partnership allowing veterans living on the streets to 'stand down' for the weekend is invaluable."
"The Sodexo organization is highly committed to supporting veterans," said Brett Ladd, Sodexo CEO of Government for North America. "We are proud to continue our meaningful work with Veterans Village of San Diego to help more than 800 veterans and families in need at Stand Down and to combat chronic homelessness in San Diego."
Sodexo's participation in the StandDown event was coordinated by its military employee business resource group, HONOR (Honoring Our Nation's finest with Opportunity and Respect), whose mission is to provide support, guidance and resources to employees and families connected to the military. "Sodexo seeks to help improve quality of life for veterans by providing forums to recognize veterans' contributions to our country, offering development opportunities and establishing partnerships with community groups that support veterans – like the one we have created with Veterans Village of San Diego," said Maria Martinez Gugliotti, Sodexo HONOR co-chair.
Sodexo Government is the nation's largest food-service contractor to the U.S. Government. Top clients include the U.S. Marine Corps, U.S. Army, U.S. Air Force and over 25 Federal Agencies. With more than 40 years of experience working with municipal, state, federal and military clients, Sodexo's Government segment and its nearly 3,000 employees provide 130,000 meals daily at more than 150 military and U.S. Federal Government locations in 26 states. Headquartered in the Washington, D.C. metropolitan area, Sodexo provides a variety of integrated food and facilities management solutions and is the nation's largest federal foodservice contractor – serving 45.6 million meals annually with a focus on wellness and nutrition.
About Sodexo North America
Sodexo North America is part of a global, Fortune 500 company with a presence in 80 countries. Sodexo is a leading provider of integrated food, facilities management and other services that enhance organizational performance, contribute to local communities and improve quality of life for millions of customers in corporate, education, healthcare, senior living, sports and leisure, government and other environments daily.  The company employs 150,000 people at 13,000 sites in all 50 U.S. states and Canada and indirectly supports tens of thousands of jobs through its annual purchases of $9.2 billion in goods and services from small to large American businesses. Sodexo is committed to supporting diversity and inclusion and safety, while upholding the highest standards of corporate responsibility and ethical business conduct. In support of local communities across the U.S., the Sodexo Stop Hunger Foundation has contributed close to $32 million over the past 20 years to help feed children in America impacted by hunger.  To learn more about Sodexo, visit SodexoUSA.com, SodexoInsights.com and connect with us on Facebook, Instagram, LinkedIn, Twitter and YouTube.