Sodexo Launches Upgraded User Experience for Universities Digital Platform
SodexoMyWay enhances student dining experience through upgraded digital engagement and e-commerce solution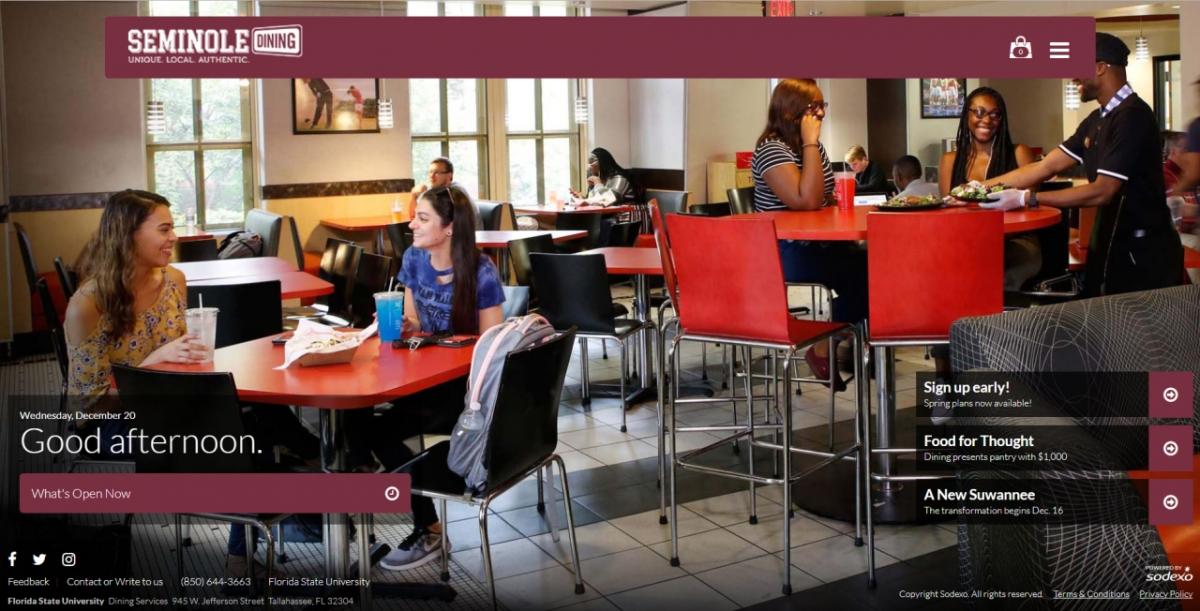 Florida State University is the first campus to partner with Sodexo and use the new website platform for their Seminole Dining website
GAITHERSBURG, Md., January 11, 2018 /3BL Media/ - Sodexo, world leader in Quality of Life Services, today announced the upgrade of SodexoMyWay, a digital platform enabling customer-driven e-commerce dining websites with dynamic content that will predict content for the user, enhancing their digital experience. The upgrade to the website platform includes an upgraded mobile-first technology for ease of access across multiple devices. Using the newly-released SDL/Tridion (Web 8.5) content management system, this upgrade across Sodexo's 700-site ecosystem marks the largest deployment of Web 8.5 in the world to date.  
"Consumers expect an intuitive web experience with easy-to-navigate sites that load quickly, whether they are using a desktop or mobile device," said Bonnie Fuson, Director of Digital Engagement Solutions, Sodexo Universities. "Our upgrade ensures that the site is optimized for website viewing and makes dining information easy for users to locate, view and process."
Florida State University is the first campus to partner with Sodexo and use the new website platform for their Seminole Dining website. The new platform not only builds a better brand experience for the University, but also makes accessing menus, nutrition and real-time information about campus dining operations easier and more engaging for students.
"As Sodexo is transforming campus dining for our students, faculty and staff and visitors, it's also revitalizing how our community interfaces with and conducts business with our dining services team," said Kyle Clark, vice president for Finance and Administration at Florida State University. "Students now access what's open, dining plans, menus, news and more, instantaneously on the devices of their choice through Sodexo's cutting-edge platform. This solution allows us to give our students the completely unique digital experience they expect from one of the nation's top universities."
The enhanced SodexoMyWay platform is built on a mobile-first strategy and incorporates extensive feedback and research findings to deliver a cutting-edge user experience. The platform now features:
A localized, photo-forward design that enhances the dining program's image value

Improved e-commerce functionality including a built-in shipping and tax solution for local and national products

Simplified and intuitive user interface, with responsive design focused on rich content

Capability to integrate with systems external to Sodexo that support the customer journey

Ensured ADA compliance
A recent Google survey shows 61 percent of users are unlikely to return to a site after having trouble navigating the pages during their mobile experience. The study found that students connect digitally by depending on reliable, real-time information to help stay engaged on and off campus.  Using research and user feedback from thousands of customers around the country, Sodexo and DC-based tech company Tahzoo collaborated on the design for the new solution. 
About Sodexo
Sodexo USA is an American business that's part of a global, Fortune 500 company with presence in 80 countries. Delivering more than 100 services across North America that enhance organizational performance, contribute to local communities and improve quality of life, Sodexo is a leading provider of sustainable, integrated facilities management and food service operations.
Sodexo employs 123,000 Americans at 12,500 sites across the country and indirectly supports tens of thousands of additional U.S. jobs through its annual purchases of $9.2 billion in goods and services from small to large American businesses.
In support of local communities across the U.S., the Sodexo Stop Hunger Foundation has contributed close to $30 million over the past 20 years to help feed children in America impacted by hunger.
Learn more about the company at its corporate blog, Sodexo Insights.
Contact: Dasha Ross-Smith, Sodexo, Inc., (301) 987 4893, Dasha.Ross-Smith@sodexo.com