Sodexo Healthcare Donates $103,000 Worth of Ready-to-eat Meals to the Community Foodbank of New Jersey With the Help of Move for Hunger and Total Quality Logistics
Sodexo's Stop Hunger Foundation Gifts an Additional $60,000 Donation to the Community FoodBank of New Jersey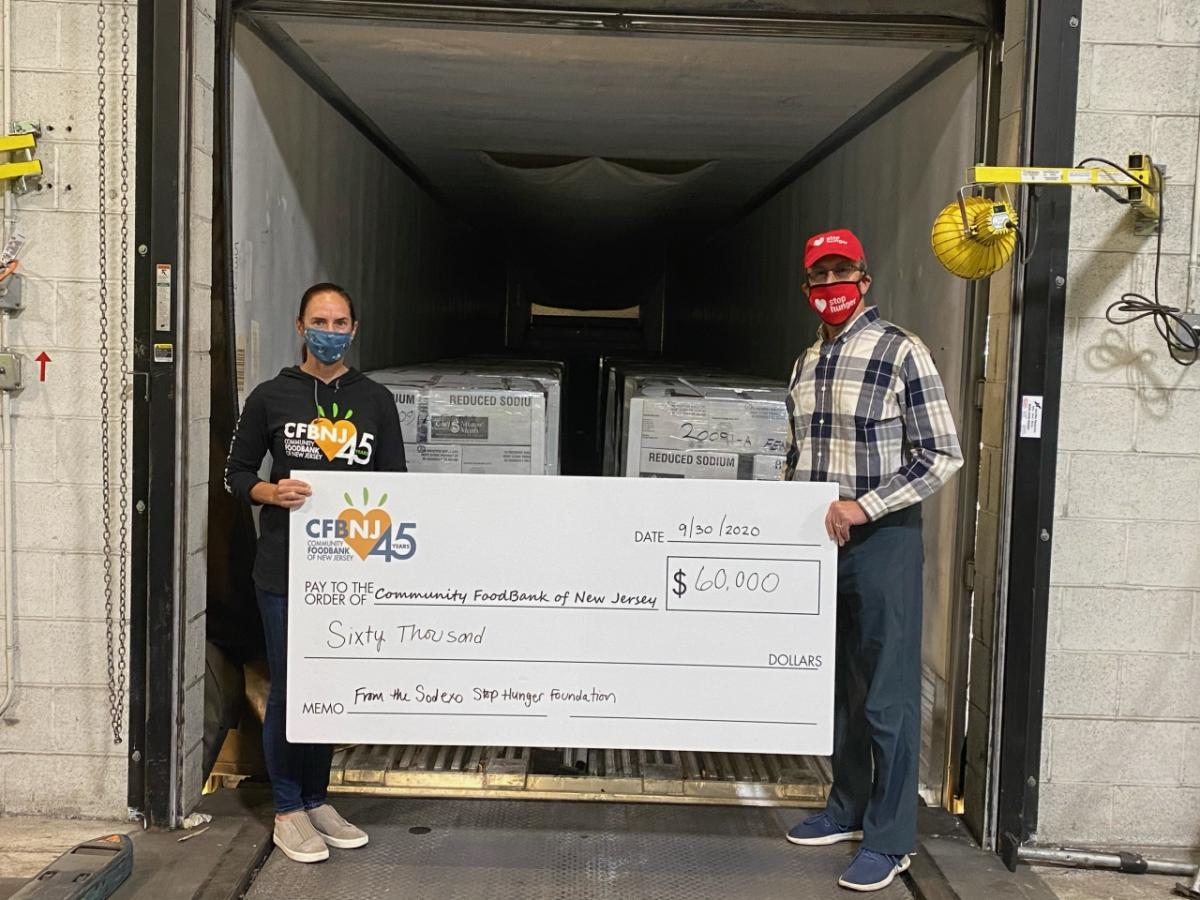 Sodexo Stop Hunger Foundation Board Member, Robert Stern (left) presents a $60,000 check to Karen Leies (right), Vice President of Resource Development at the Community FoodBank of New Jersey to boost their hunger relief efforts. CFBNJ also received a donation of over 10,000 ready-to-eat meal packages from Sodexo Healthcare coordinating the delivery of 20 pallets with Move-for-Hunger and Total Quality Logistics.
GAITHERSBURG, Md., October 9, 2020 /3BL Media/ – Sodexo has been mobilizing its resources and providing support to its clients and staff to help them stay safe and healthy amid the COVID-19 pandemic. Earlier this month, Sodexo Healthcare quickly rallied partners together to ensure a surplus of 20 pallets of emergency ready-to-eat meals from NY did not go to waste. In collaboration with Move For Hunger and Total Quality Logistics, the pallets were successfully transported to the Community FoodBank of New Jersey (CFBNJ).
"Leveraging the reach of our Sodexo Stop Hunger Foundation and our large footprint of clinical dietitians and nutrition services across the country, Sodexo's mission has always been to provide nutritious meals and help people live healthy lives," explained Catherine J. Tabaka, CEO, Sodexo Healthcare North America. "The COVID-19 pandemic has affected many and the resulting economic impact demonstrates how rapidly one can be at risk of hunger – especially in vulnerable communities – which is why we are making sure that no resources go to waste."
CFBNJ opened its doors to accept 20 pallets and is working to store and distribute the over 10,000 ready-to-eat meal packages to the local New Jersey communities they serve. In addition, the Sodexo Stop Hunger Foundation donated $60,000 to CFBNJ. As families are navigating various challenges resulting from the COVID-19 pandemic, these funds will aid CFBNJ in their tireless work to meet the unprecedented need as they continue to serve families nutritious meals across New Jersey. At CFBNJ, every dollar donated helps provide 3 nutritious meals, so the Sodexo Stop Hunger Foundation's generous $60,000 gift will support about 180,000 meals. 
"The combined efforts of Sodexo, Move for Hunger, and Total Quality Logistics in providing a truckload of nutritious food for our neighbors in need show the impact that collaboration can have in the fight against hunger," said Carlos Rodriguez, President & CEO of the Community FoodBank of New Jersey. "And the Sodexo Stop Hunger Foundation's generous monetary contribution comes at a time when it's needed most, as CFBNJ is facing an unprecedented increase in need due to COVID-19 coupled with higher-than-usual food prices." 
Food insecurity in New Jersey is projected to increase by about 56% as a direct result of COVID-19.  This is higher than increases nationally and in neighboring states. Child food insecurity is projected to increase by about 75% in New Jersey due to COVID-19. About 1 in 5 children in the state is expected to struggle with hunger. 
"The Sodexo Stop Hunger Foundation is proud to support the Community FoodBank of New Jersey and their programs aimed at ending hunger, particularly as more families are at risk due to the impacts of the COVID-19 pandemic in the communities they serve," said Robert Stern, Sodexo Stop Hunger Foundation Board Member.
With the help of Move For Hunger and their volunteer transportation partner, Total Quality Logistics, the 20 pallets were transported to CFBNJ.
"Our mission at Move For Hunger is to find sustainable ways to reduce food waste and fight hunger," Adam Lowy, Founder and Executive Director of Move For Hunger. "When Sodexo reached out, we quickly mobilized resources to ensure these meals were transported efficiently, knowing that many communities in New Jersey are continuing to see an escalating need for food."
"At TQL we realize we are in a unique position to use our logistics expertise to support great causes across the nation. We are proud to partner with Move for Hunger and Sodexo to get food to those who need it most," explained Kerry Byrne, TQL President.
###
About Sodexo North America
At Sodexo Healthcare we build trusted partnerships with health systems to support their care delivery mission. Leveraging science, insights and imagination, we provide solutions and contribute essential non-clinical services wherever care is delivered, to enhance patients' and caregivers' experience while improving our clients' financial health. Sodexo Healthcare's 35,000 employees provide human-centered care with food and nutrition, environmental and clinical engineering services that support healthcare teams and overall operations at over 1,500 sites in the United States.
Sodexo North America is part of a global, Fortune 500 company with a presence in 72 countries. Sodexo is a leading provider of integrated food, facilities management and other services that enhance organizational performance, contribute to local communities and improve quality of life for millions of customers in corporate, education, healthcare, senior living, sports and leisure, government and other environments daily. The company employs 160,000 people at 13,000 sites in all 50 U.S. states and Canada, and indirectly supports tens of thousands of additional jobs through its annual purchases of $19 billion in goods and services from small to large businesses. Sodexo is committed to supporting diversity and inclusion and safety, while upholding the highest standards of corporate responsibility and ethical business conduct. In support of local communities across the U.S., in 2019, Sodexo contributed over 151,500 in volunteer hours, and since 1996, the Stop Hunger Foundation has contributed nearly $34.5 million to help feed children in America impacted by hunger. To learn more about Sodexo, visit us.sodexo.com, and connect with us on Facebook, Instagram, LinkedIn, Twitter and YouTube.
About Sodexo Stop Hunger Foundation
Sodexo Stop Hunger Foundation works to ensure that every child in the United States, especially those most at risk, grows up with dependable access to enough nutritious food to enable them to lead a healthy, productive life. Visit Sodexo Stop Hunger Foundation on Facebook and follow us on Twitter @StopHungerUSA and Instagram @sodexostophunger.
About The Community FoodBank of New Jersey
The Community FoodBank of New Jersey (CFBNJ), a member of Feeding America®, has been delivering food, help and hope across the state for 45 years. Last year, CFBNJ provided nutritious food for over 66 million meals through its network of more than 1,000 community partners including pantries, soup kitchens, emergency shelters, mobile pantries, and child and senior feeding programs throughout the 11 New Jersey counties it directly serves (Atlantic, Bergen, Cape May, Cumberland, Essex, Hudson, Middlesex, Morris, Passaic, Somerset and Union). For our hungry neighbors, the Community FoodBank of New Jersey is the powerful agent of change that fills the emptiness caused by hunger and provides resources that are essential to earning a sustainable living. 
About Move For Hunger
Move For Hunger is a non-profit organization that mobilizes the relocation industry to fight hunger and reduce food waste. In addition to collecting food from people who are moving to new homes, Move For Hunger helps companies and individuals across the United States and Canada organize successful food drives. To date, they have collected more than 20 million pounds of food providing more than 17 million meals to those in need. For more information, or to find out how you can host your own food drive, visit www.MoveForHunger.org.
About TQL Moves That Matter:
Committed to using their logistics skills to better those in the communities they work and live. TQL pledges $1 million dollars in transportation costs, getting donated goods into the hands of those who need them most. Headquartered in Cincinnati, Ohio, Total Quality Logistics (TQL) is the second-largest freight brokerage firm in the nation with more than 5,000 employees in 57 offices across the U.S. Through its Moves That Matter program, the company has arranged transportation and covered the cost to move donated supplies and equipment to more than 60 nonprofits since 2014. Moves That Matter is just one component of TQL Cares, the company's robust community giving program through which the company and employees make the world a better place by donating thousands of volunteer hours and millions of dollars each year. Learn more at tql.com/movesthatmatter.