Sodexo Earns Perfect Score on the 2018 Corporate Equality Index
Sodexo's focus on LGBTQ diversity and inclusion among employees, clients, and communities has earned it a spot on the Human Rights Campaign Foundation's annual index once again.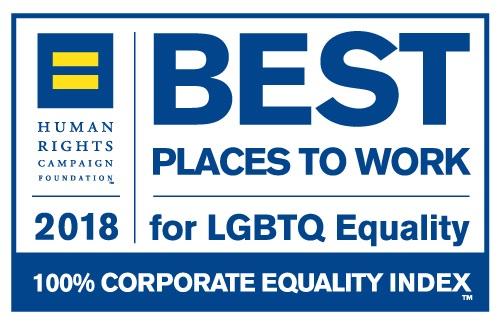 GAITHERSBURG, Md., December 14, 2017 /3BL Media/ - Sodexo, the world leader in Quality of Life Services, announced today that it received a perfect score on the Human Rights Campaign Foundation's 2018 Corporate Equality Index (CEI), a national benchmarking survey and report on corporate policies and practices related to lesbian, gay, bisexual, transgender and queer (LGBTQ) workplace equality.
"Sodexo strives to create a workplace that is diverse and inclusive for all, creating a better quality of life for our employees and communities," said Rohini Anand, Senior Vice President and Global Chief Diversity Officer. "We are proud to earn a perfect score on the Corporate Equality Index once again. It's important to us that every employee feels valued and feels comfortable bringing their whole selves to work each day."
To maintain its inclusive environment, Sodexo actively partners with several LGBTQ organizations to recruit new employees and sponsors the PRIDE employee business resource group, which discusses topics relevant to LGBT employees. The company also provides equivalent spousal and same-sex partner benefits, offers medical coverage for gender affirmation surgery, and recognizes sexual orientation and gender identity or expression in its Equal Employment Opportunity Policy.
A record-breaking 609 companies earned a perfect score on the CEI. Sodexo is proud to provide a welcoming workplace and to be a part of this movement for inclusion.
The 2018 CEI evaluates each organization's LGBTQ-related policies and practices including non-discrimination workplace protections, domestic partner benefits, transgender-inclusive health care benefits, competency programs and public engagement with the LGBTQ community. Sodexo satisfied all of the CEI's criteria, earning a 100 percent ranking and a designation as a Best Place to Work for LGBTQ Equality.
About the Human Rights Campaign Foundation
The Human Rights Campaign Foundation is the educational arm of America's largest civil rights organization working to achieve equality for lesbian, gay, bisexual transgender and queer people. HRC envisions a world where LGBTQ people are embraced as full members of society at home, at work and in every community.
About Sodexo USA
Sodexo USA is an American business that is part of a global, Fortune 500 company with a presence in 80 countries. Delivering more than 100 services across North America that enhance organizational performance, contribute to local communities and improve quality of life, Sodexo is a leading provider of sustainable, integrated facilities management and food service operations. It employs 123,000 Americans at 12,500 sites across the country and indirectly supports tens of thousands of additional U.S. jobs through its annual purchases of $9.2 billion in goods and services from small to large American businesses. In support of local communities across the U.S., the Sodexo Stop Hunger Foundation has contributed close to $30 million over the past 20 years to help feed children in America impacted by hunger.  To learn more about Sodexo, visit SodexoInsights.com and connect with us on Facebook and @SodexoUSA on Twitter.