Sodexo and Partner Campuses Fight Hunger in Local Communities by Making & Donating Tens of Thousands of Sandwiches
Hunger-Fighting Efforts are Part of World Kindness Day Celebrations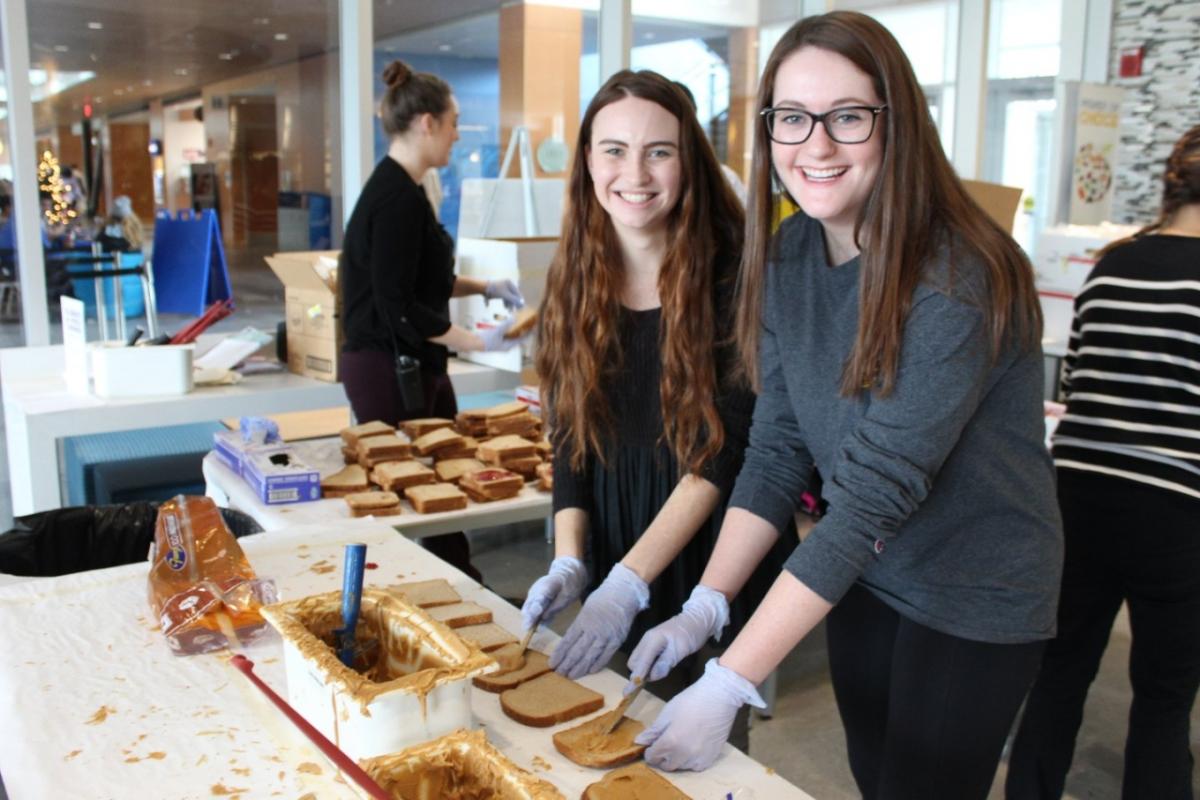 Students preparing PB&J sandwiches
GAITHERSBURG, Md. December 11, 2017 /3BL Media/ – During the season of giving, Sodexo-sponsored teams of volunteers at colleges and universities are giving back to others by assembling more than 37,000 peanut butter and jelly sandwiches for hunger-relief organizations throughout the western United States. This is part of the company's ongoing commitment to fighting hunger in the communities in which it operates.
The annual peanut butter and jelly sandwich drive was held during the month-long celebration of World Kindness Day on November 13. Throughout the month, more than 1,000 student and Sodexo volunteers participated in sandwich-making events across 29 campuses. Participating colleges included University of Idaho, Seattle Pacific University, Northern Arizona University, Western Wyoming Community College, New Mexico State University, Creighton University, and Gonzaga University.
Volunteers exceeded the previous year's total of 28,000. The sandwiches were donated to 53 hunger-fighting organizations, including Boys & Girls Clubs, Salvation Army centers, YWCAs, soup kitchens, shelters and many others, which distributed them to those facing hunger in the local area.
"With a strong commitment to hunger-fighting efforts, Sodexo is proud to partner each year with enthusiastic and compassionate university students who want to make an impact in their local communities," said Pam Smith, Vice President, Operations, Sodexo Universities.
This is the third consecutive year that Sodexo dining teams have hosted this event, donating all ingredients and supplies. The company is a long-time supporter of hunger-fighting efforts, both through local events and through larger initiatives, such as the Sodexo Stop Hunger Foundation. In 2016, the Foundation distributed the equivalent of nearly 5.7 million meals to people in need and raised $4.6 million to help fund innovative projects to fight hunger in 2016.
About Sodexo
Sodexo USA is an American business that is part of a global Fortune 500 company with a presence in 80 countries. Delivering more than 100 services across North America that enhance organizational performance, contribute to local communities, and improve quality of life, Sodexo is a leading provider of sustainable, integrated facilities management and food service operations. It employs 123,000 Americans at 12,500 sites across the country and indirectly supports tens of thousands of additional U.S. jobs through its annual purchases of $9.2 billion in goods and services from small and large American businesses. In support of local communities across the U.S., the Sodexo Stop Hunger Foundation has contributed close to $30 million over the past 20 years to help feed children in America impacted by hunger.
Learn more about Sodexo at its corporate blog, Sodexo Insights.
###