Qualcomm Leverages Mobile Technology to Economically Empower Women
By: Angela Baker, Director, Qualcomm Wireless Reach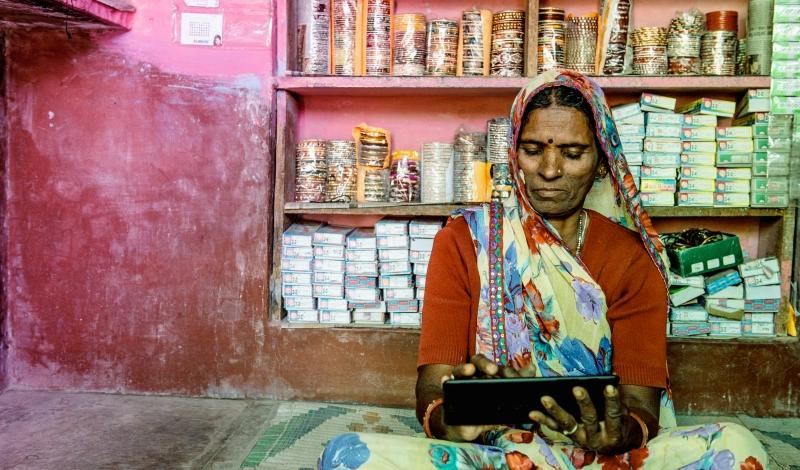 For a growing number of women worldwide, particularly those in underserved communities, the road to economic empowerment starts with a mobile device. Women who have traditionally faced barriers to entrepreneurial success are discovering how they can use powerful, handheld devices and an internet connection to gain access to the business skills, technology, markets, networks or capital they need in order to participate in the global economy and improve their lives.
Over the last 12 years, Qualcomm has been bringing wireless technology to underserved communities globally through Qualcomm® Wireless Reach™, our strategic social responsibility initiative. Wireless Reach collaborates with a wide range of public- and private-sector organizations to create sustainable programs that strengthen economic and social development in the areas of education, entrepreneurship, health care, the environment and public safety.
In The Global Gender Gap Report 2017, The World Economic Forum (WEF) notes a strong correlation between gender parity in economic development and "the growth, competitiveness and future-readiness of economies and businesses worldwide." The report states that closing the gender gap in economic participation by about 25 percent could boost global Gross Domestic Product by an estimated USD $5.3 trillion by 2025. WEF calls for businesses "to prioritize gender equality as a critical economic and moral imperative."
Many of our programs are designed to empower women and align with Goal 5 of the United Nations Sustainable Development Goals: gender equality and empowerment of all women and girls.
Through the Hapinoy Mobile Money Hub Program in the Philippines, women who run small, home-based convenience shops are generating a new revenue stream by using smartphones to provide valuable mobile financial services in their communities. Entrepreneurial women participating in the Mentoring Women in Business Program in Malaysia use mobile technology to connect and learn from business professionals around the world. Social enterprises, including those focused on women at the base of the pyramid, use the TaroWorks mobile CRM platform to support and broaden opportunities for microentrepreneurs, enhancing their ability to earn new income.
In emerging economies, financial independence can give women greater control over their lives and their children's lives. It enables them to feed their families, pay for school and health care services, and save for long-term stability. Economic security earns them respect and a more influential voice in tackling injustice and discrimination in their communities and society at large.
Our programs also help to achieve the social and economic priorities of governments, from which women stand to benefit. For example, investment in Information and Communications Technology has been central to Malaysia's economic growth. It is also vital to Prime Minister Najib Razak's Digital Malaysia agenda, which seeks to transform the nation into a digital economy by 2020. The Wireless Reach-funded mentoring program in that country is helping to bring women into the equation.
Some Wireless Reach programs provide participants with mobile devices and connectivity. In others, participants use their own devices. Many of the storeowners participating in our mobile money program in the Philippines already had their own smartphones. But now, they're using their devices in a commercially sustainable business model that's improving their lives and contributing to the growth of their communities.