Pfizer's Vaccine Research & Development Program Applies Transformative Science to Help Protect People of All Ages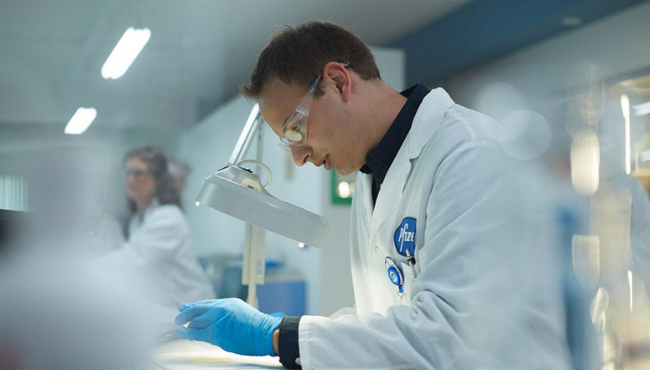 At Pfizer, we discover and develop novel vaccines that help protect people around the world from deadly viruses and bacteria. In 2018, we focused on rational vaccine design — understanding the structure of proteins enabled by high-tech tools like cryo-electron microscopy as a basis to design and produce those proteins for use in vaccines.
In 2018, we recognized various milestones in our vaccine development program, including:
Two of our vaccines were awarded Breakthrough Therapy designations by the U.S. Food and Drug Administration (FDA): our 20vPnC vaccine candidate and our Meningococcal Group B Vaccine.
We worked to advance a late stage vaccine candidate that targets disease-causing toxins produced by Clostridium difficile, which has been recognized by the World Health Organization (WHO) as a significant medical problem and was designated as a priority pathogen by the U.S. Centers for Disease Control and Prevention (CDC). C. difficile is becoming a growing concern worldwide as cases have been increasingly reported beyond hospitals doors in the general community. If successful in clinical trials and approved, our vaccine candidate may help prevent disease in older adults who are at higher risk of infection, and potentially, could further address urgent antimicrobial resistance threats worldwide.
Began a clinical trial to investigate an experimental vaccine to protect against respiratory syncytial virus (RSV), a virus that kills approximately 120,000 infants a year and is responsible for a substantial disease burden in adults.
We are optimistic about the scientific progress we have achieved in our vaccines pipeline in 2018 as we work to develop licensed vaccines with the potential to have a vital global impact in protecting people from the suffering and fatalities caused by vaccine-preventable infectious diseases. Learn more at www.pfizer.com/annual.