People of Pro Bono: How Jessica Nelson Made a Difference in a Challenging Year
"I would absolutely encourage people to apply for pro bono work, no matter where you are in your professional journey." - Jessica Nelson,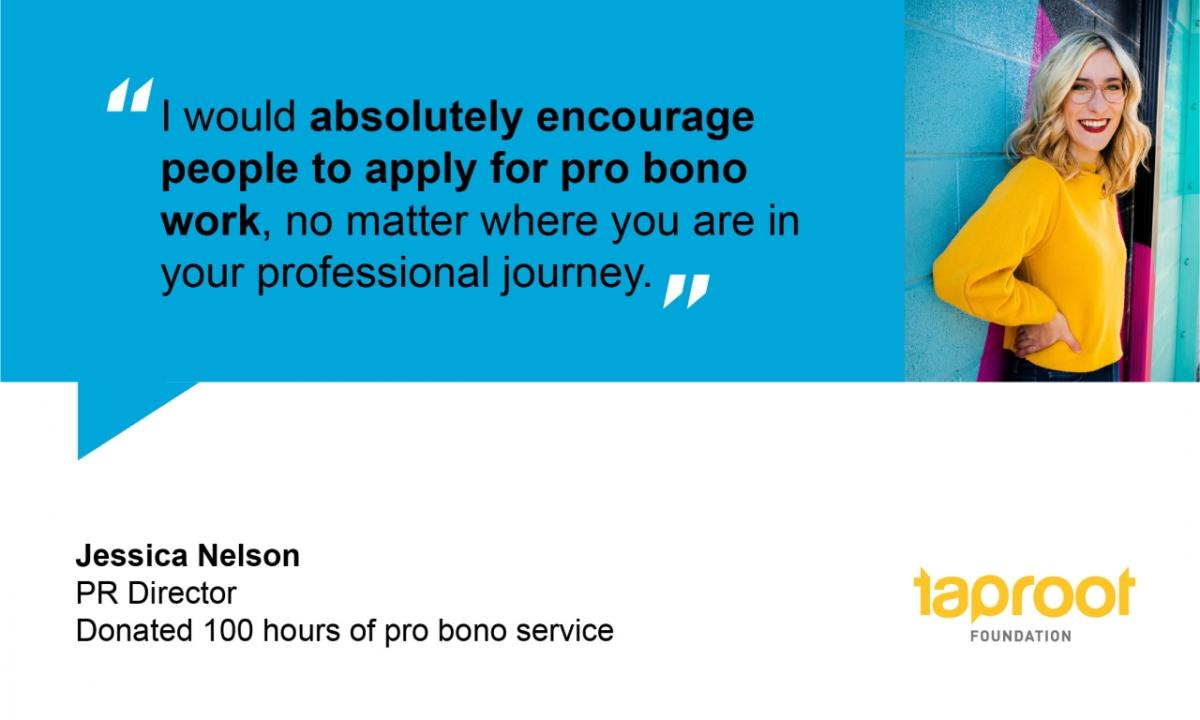 This Pro Bono Week, Taproot Foundation is highlighting nonprofits, volunteers, and companies that are making a difference in the world through the power of pro bono.
The world has been in upheaval in 2020—the COVID-19 pandemic has forced nonprofits and volunteers alike to change how they work together. Here at Taproot, we saw an immediate flood of requests from people reaching out for ways they could help. The sudden pivot to virtual work paired with waves of layoffs and furloughs left many skilled professionals with new-found time at home—time they wanted to donate to the nonprofits working to heal and rebuild our communities. After being laid off due to COVID-19, PR Director Jessica Nelson did just that by connecting with Harlem Film House through Taproot Plus.
Making a Difference in a Challenging Year
Harlem Film House is a nonprofit that produces year-round workshops, theatre productions, live events, and film and music festivals. They also offer services and resources to filmmakers and content creators in underserved communities interested in building careers in film, theatre, and related pursuits.
During the pandemic, Harlem Film House was looking for a skilled PR professional to assist them in getting mainstream media coverage around their business initiatives and fifth annual Hip Hop Film Festival. "I found Harlem Film House through Taproot and saw that they were looking for PR services," Jessica told us. "I quickly connected and clicked with their team and got to work almost immediately promoting their organization and the festival."
Enabling a Festival's Pivot to Virtual
The Hip Hop Film Festival is the only festival in the world to focus on writers, directors, and producers who grew up in the culture of Hip Hop. But of course, the pandemic presented major challenges for this year's event. Nonprofits have had to make an impossible event-planning choice this year: cancel their events outright or postpone them indefinitely. Both options would of course have a dramatic impact on fundraising capacity (in a year when many have been struggling to keep their organizations running).
Faced with this challenge, many nonprofits, including Harlem Film House, opted to move their events to the virtual space. But this option came with its own difficulties, especially for a film festival that included screenings as well as live DJ battles, musical performances, master classes, and private watch parties. This newly remastered version of the festival required innovative promotions, and Harlem Film House set out to find a PR expert interested in pitching in. "I was able to assist them with press materials, messaging, and pitching as well as securing coverage with outlets like IndieWire, Forbes, Evening Standard, Bloomberg, and more," Jessica explained. That additional PR support helped get the word out about the festival, which in turn helped more people discover it and get excited about attending the event.
"I am so proud of the passion, dedication, and hard work that Harlem Film House puts into everything they do. I'm so thankful to be a part of their team and hope I can continue doing pro bono with them for a long time."
Jessica's Advice on Trying Pro Bono for the First Time
In a year so full of unpredictable changes, Jessica shared that what surprised her most about doing pro bono was "that it can be really fun, and it doesn't have to feel like work!" The chance to collaborate with a nonprofit that's looking for your professional skills can be exciting, playful, and an opportunity to learn from another organization's perspective.
"I would absolutely encourage people to apply for pro bono work, no matter where you are in your professional journey," Jessica recommended. "There is always something to learn and something you can teach others."
Are you interested in sharing your skills pro bono?
Join Jessica and our social good community on Taproot Plus
.
Learn more about Pro Bono Week
and how we're celebrating service this year!