No Internet? No Problem: HP's New Solutions to Bridge the Digital Divide
by Nate Hurst, Chief Sustainability and Social Impact Officer, HP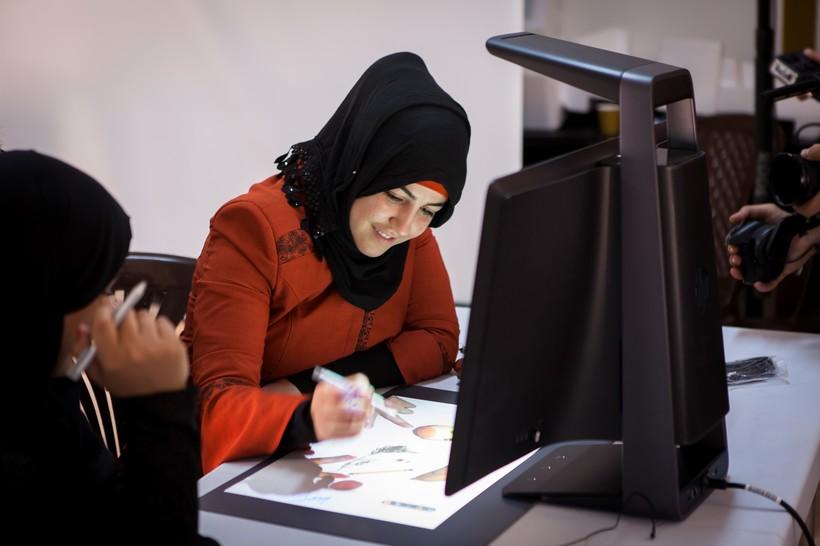 Students learning at an HP Learning Studio in Jordan. ©INZONE/GEORG SCHAUMBERGER
Originally published on HuffPost
In developed countries, classrooms increasingly embrace accelerating innovation. Schools are adopting technologies like AR/VR devices, 3D printing and massive online open courses (MOOCs). Advancements in technology help students collaborate and create like never before, and allow educators to individualize lesson plans and monitor progress with unprecedented insight – ultimately preparing their pupils for success in the digital age.
However, as technological innovation rapidly accelerates, the gap dividing those with access to technology and those without is widening. Forget VR headsets and 3D printers – today, approximately 264 million children and youths around the world do not have access to basic educational resources (think Internet and textbooks). As the rest of the world goes digital, these children are left behind.
Education in the cloud
Approximately four billion people in the world do not have Internet access, leaving millions of school children without an essential resource many in developed nations take for granted. Today during Global Citizen Week in New York City, HP announced the launch of the HP School Cloud featuring the HP Open Learning Platform – a device that will provide students, teachers and adults in rural and poor communities across the globe access to educational materials.
The HP School Cloud is a hybrid cloud appliance, meaning it brings an Internet-like service to those most in need through an advanced wireless router and state-of-the-art file and content server. Each device will leverage a range of free, open source educational material from OpenStax—with more Open Education Resource partners to be announced later this fall. Using the HP School Cloud is easy: simply install the device, turn it on, and let students dive into millions of e-textbooks and thousands of lessons on reading, science, mathematics, and more.
These resources – which will all be aligned with international curricular and instructional standards from UNESCO, OECD and others – will help students in impoverished areas break the cycle of poverty by giving them the skills needed to succeed in our hyper-connected, digital age.