Nestlé Waters North America's Stanwood, Mich., Bottling Facility Achieves Alliance for Water Stewardship Gold Certification
Certification by independent entity SCS Global Services reaffirms company's water stewardship efforts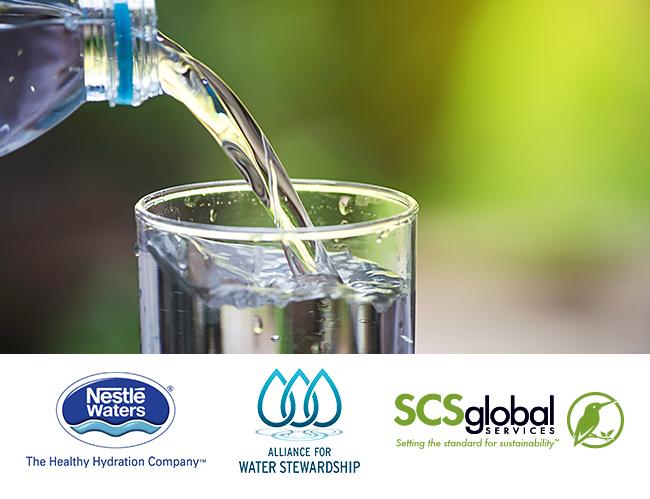 Nestlé Waters Michigan bottling facility earns AWS Gold Certification with SCS Global Services
STANWOOD, Mich., August 30, 2019 /3BL Media/ –  Nestlé Waters North America (NWNA) is pleased to announce that its Stanwood bottling facility in Michigan has received Gold certification under the Alliance for Water Stewardship (AWS) International Water Stewardship Standard, the company's second facility awarded this certification. Achieving advanced-level certification recognizes the additional effort and positive water stewardship outcomes that go beyond core requirements of the AWS Standard. NWNA remains the only company in North America with Gold-certified facilities. As the eighth Nestlé Waters facility to achieve AWS certification in the North America, and the 19th to receive certification globally, this is part of the company's commitment to certify all of its sites to the AWS Standard by 2025.
AWS is a global, member collaboration, comprised of businesses, non-governmental organizations and public sector groups, which is committed to local water resources through the adoption and promotion of a universal framework for the sustainable use of water. The AWS Standard is the first of its kind globally to promote best practices in water stewardship that benefit communities and preserve local watersheds, which are key priorities for Nestlé Waters North America.
"Nestlé Waters continues to set the bar for excellence in water stewardship performance. AWS Gold certification for their Stanwood site signifies their commitment to helping to ensure that the benefits of water stewardship reach the communities in which they operate," said Matt Howard, Director for the Alliance for Water Stewardship North America. "It's commendable that their water efficiency ratios at this plant are industry-leading, and the ground water modeling and water quality monitoring they do for the Mecosta region helps to ensure that their water stewardship performance creates shared value for stakeholders.
As part of the AWS certification process, auditors look at a number of factors within the catchment where a facility is located, such as water quality, the availability of existing water sources, and the health of water-related areas in the region. Additionally, AWS auditors identified and interviewed internal and external community stakeholders, as well as individuals within NWNA's Stanwood factory.
Learn more about AWS Certification