NAEM Recognizes the Best in EHS and Sustainability Leadership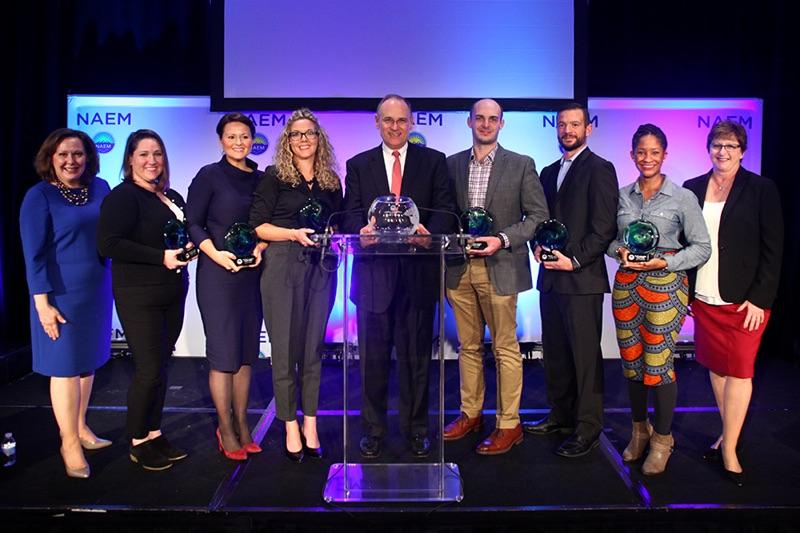 The 2018 Recipients of the NAEM Excellence Award
LOUISVILLE, Ky., October 26, 2018 /3BL Media/ - This week the National Association for Environmental Management (NAEM) recognized the achievements of seven EHS and Sustainability leaders during a luncheon ceremony at the 26th Annual EHS & Sustainability Management Forum in Louisville, Ky.
The event was the first in NAEM's new Excellence Awards Program, which was developed to honor those whose leadership has achieved a demonstrable impact on their organizations. NAEM Executive Director Carol Singer Neuvelt said the program is a vital piece of the association's mission to support those who are leading transformational change from within companies.
"EHS&S professionals make invaluable contributions to worker health and environmental sustainability, but their influence is sometimes hard to discern," she said. "Our Excellence Awards are an opportunity for us to celebrate these unsung heroes for creating a healthy workplace and a healthier planet."
More than 550 EHS&S professionals attended the ceremony where Sandy Nessing, President, NAEM Board of Directors announced one Lifetime Achievement Award recipient and six NexGen Leaders Award recipients.
The 2018 NAEM Lifetime Achievement Award honored:
Wayne Balta, Vice President, Corporate Environmental Affairs and Product Safety, IBM Corp.
The 2018 NAEM NexGen Leaders Awards were presented to the following emerging leaders:
Budd Batchelder, Senior EHS Manager, Comcast Cable
Lesley Clarke, Environmental Performance & Compliance Lead, Walker Industries
Janet Evans, Corporate Process Safety Manager, CF Industries Inc.
Drena Howard Director of Global Retail Environmental Affairs and Safety, The Estée Lauder Companies, Inc.
Max Rutz, Managing Director for Safety Strategy and Optimization, Delta Global Services
Rachel Warman, Environmental Programs Manager, Schneider Electric USA Inc.
 
About the NAEM Excellence Awards
The NAEM Excellence Awards recognizes outstanding achievements in the field of environment, health and safety and sustainability management. Recipients are nominated by a peer, mentor or colleague and evaluated by an independant panel of judges. Neither NAEM nor its sponsors influence the selection of award recipients. For more information or to submit a nomination, visit www.naem.org. 
About NAEM
The National Association for Environmental Management (NAEM) empowers corporate leaders to advance environmental stewardship, create safe and healthy workplaces, and promote global sustainability. As the largest professional community for EHS and sustainability decision-makers, NAEM provides peer-led educational conferences, benchmarking research and an active network for sharing solutions to today's corporate EHS and Sustainability management challenges. Visit NAEM online at www.naem.org. 
###