MentorcliQ Recognizes Principal Financial Group's Miriam Lewis As 2022 "Diversity ChangeMaker of the Year"
MentorcliQ Recognizes Principal Financial Group's Miriam Lewis As 2022 "Diversity ChangeMaker of the Year"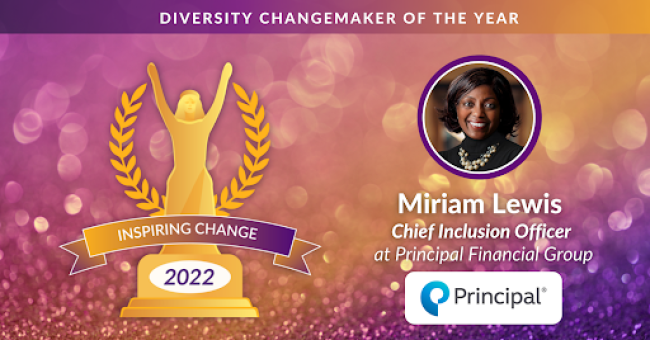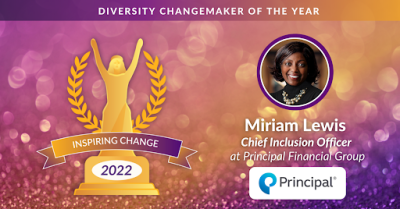 Friday, June 10, 2022 - 9:00am
MentorcliQ, the leader in employee mentoring software, announced that Miriam Lewis, Chief Inclusion Officer at Principal Financial Group®, is the MentorcliQ 2022 Diversity ChangeMaker of the Year. The award is presented to an individual who has leveraged mentoring within their organization to create a greater sense of acceptance, belonging and community for all employees. MentorcliQ seeks to recognize executives who are fostering positive social change and embody the idea that all workplaces should promote diversity, equity, and inclusion (DEI) for the benefit of everyone.
"Miriam is a true changemaker in the field of inclusion and we are honored to recognize her for her success in supporting DEI imperatives in the workplace, business and community," said Phil George, Co-founder and CEO of MentorcliQ. "Her adoption of mentoring as a way to better support employees, while developing their talent and fostering a positive and diverse working environment, showcases the power of this platform and we're thrilled to name her our 2022 Diversity ChangeMaker of the Year."
Lewis has focused her career on raising awareness and driving meaningful change in the DEI space across multiple organizations. Under her direction, Principal® started a global mentoring program that is accessible to its entire workforce of more than 18,000 employees. This program was created to enhance engagement and retention as well as drive professional development through the cultivation of effective mentoring relationships to achieve the specific goal of creating a more inclusive culture. As a result of its early adoption and success, Principal added three more programs to support inclusion across leadership and skills development.
"A large part of our inclusion strategy includes the power of listening - including working to open up to others, hear unique ideas and perspectives, and further the conversation to create truly impactful strategies," said Lewis. "Mentoring is one of the leading ways to enhance collaboration, employee development and retain institutional knowledge. Our global mentoring program expands to 17 countries and has cast a very long shadow. It is beneficial from both business and personal perspectives, including helping our employees think more strategically, work inclusively, and navigate careers and unprecedented times. Behind every successful employee is a mentor."
The benefits of mentoring extend beyond DEI as a recent MentorcliQ report shows that 90% of U.S. Fortune 500 companies with women CEOs have mentoring programs and experienced significantly better than average profits during the COVID-19 pandemic. To learn more about MentorcliQ and its platform that supports enhanced employee development and inclusion, visit https://www.mentorcliq.com/
About MentorcliQ
MentorcliQ is the gold standard in employee mentoring software. Our enterprise platform and mobile app leverages scientific matching and an award-winning approach to consistently deliver 20X ROI to our global clients. MentorcliQ powers innovative talent strategies for global Fortune 1000 and DiversityInc Top 50 organizations who are building inclusive cultures and delivering unmatched employee engagement, development and retention through mentoring. With a proven track record of delivering high-quality program experiences, MentorcliQ's results-driven approach combines cutting-edge technology with mentoring best-practice expertise to improve employee engagement and increase employee retention by as much as 75 percent, allowing our client to fulfill their global talent strategies. To learn more about how MentorcliQ can help deliver results to your organization, visit https://www.mentorcliq.com/
About Principal Financial Group®
Principal Financial Group® (Nasdaq: PFG) is a global financial company with 18,500 employees (1) passionate about improving the wealth and well-being of people and businesses. In business for more than 140 years, we're helping more than 54 million customers (1) plan, protect, invest, and retire, while working to support the communities where we do business, and build a diverse, inclusive workforce. Principal® is proud to be recognized as one of America's 100 Most Sustainable Companies (2), a member of the Bloomberg Gender Equality Index, and a Top 10 "Best Places to Work in Money Management (3)." Learn more about Principal and our commitment to building a better future at principal.com.
(1) As of March 31, 2022
(2) Barron's, 2022
(3) Pensions & Investments, 2021