Lab Grown Diamonds From Ukrainian Producer Meylor Global Earn Sustainability Rated Certification
First HPHT Lab Grown Producer Accredited under SCS-007 Program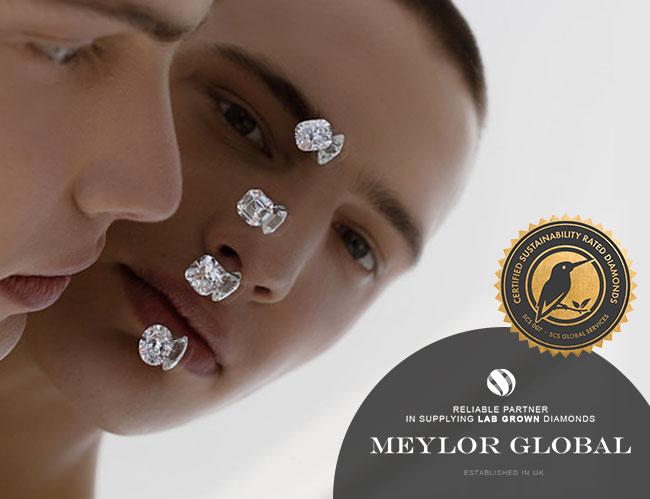 KYIV, Ukraine, August 16, 2022 /3BL Media/ - Meylor Global, an international producer and supplier of high pressure, high temperature (HPHT) laboratory grown diamonds, announced that it has been accredited under the SCS 007 Jewelry Sustainability Standard – Sustainability Rated Diamonds, and that its laboratory grown diamonds are now certified as sustainability rated. Each certified diamond will come with a unique Certificate of Sustainability that describes its sustainability journey and achievement.
Meylor Global, with facilities based in Kyiv, earned this achievement after meeting all the relevant requirements of the standard, which spans five major pillars of sustainability: origin verification, climate neutrality, ethical stewardship, sustainable production, and sustainability investments. Meylor's accreditation involved audits, inspections, interviews, documentations, empirical diamond testing, and life-cycle assessments of their diamonds.
Yuliya Kusher, CEO of Meylor Global, said, "Before the war broke out, we worked with SCS Global Services, the third-party certification body, to ensure that these diamonds were produced in accordance with the SCS 007 standard. We are proud of our achievement as accredited producers of A+ Sustainability Rated diamonds and look forward to bringing these Ukrainian diamonds to our customers. Their support is especially important to us during these difficult times."
"SCS commends Meylor Global for proving its commitment to sustainability, transparency, environmental, social and governance accountability, even under the most severe challenges," said Stanley Mathuram, Executive Vice President at SCS Global Services. "We congratulate them on this achievement and their hard work as innovators in the jewelry industry who are listening to the needs of their customers and bringing sustainability rated premium diamonds to the marketplace."
The certification standard was developed under an international, multi-stakeholder process facilitated by SCS Standards, a leader in sustainability standards development. This groundbreaking standard satisfies consumer demand for diamonds that meet the highest level of ethical and environmental responsibility, fully backed by third-party certification. SCS-007 Jewelry Sustainability Standard – Sustainability Rated Diamonds is the first truly comprehensive sustainability standard developed for the global diamond market.
About Meylor Global
Meylor Global, a British company with facilities based in Kyiv, Ukraine, is an international supplier of lab grown diamonds. Their warehouse contains over 15,000 lab grown product units of varying quality, color, shape and size (from 1 mm up to exclusive gems). The main range Meylor Global offers is jewelry-quality polished diamonds represented by sizes from 0.01 to 20.00 ct. Meylor Global's saturated Fancy Blue, Yellow and Pink colors 100% coincide with the natural color due to their own developed technology. The technological process is based on the latest developments of the НРНТ (High Pressure High Temperature) method. Meylor Global has the largest HPHT diamond in the world - 20.23 Ct (Fancy Vivid Yellowish Orange, VS1).Their Colorless and Fancy Color lab grown diamonds are graded to the same specifications as natural diamonds and accompanied by Diamond Grading Reports from leading independent laboratories such as IGI and GIA.
About SCS Standards Development
SCS Standards Development is a non-profit committed to the development of standards that advance the United Nations Sustainable Development Goals. Standards are developed in alignment with best practices and guidelines provided by internationally recognized bodies to ensure a robust, transparent, and collaborative approach. For more information, visit www.scsstandardsdevelopment.org. SCS Standards is the official standards development body for Scientific Certification Systems, Inc., a chartered benefit corporation, which provides internationally recognized third-party certification as SCS Global Services, a global leader in third-party environmental and sustainability certification headquartered in Emeryville, California, with representatives and affiliate offices throughout the Americas, Asia/Pacific, Europe and Africa. Additional information is available at www.scsglobalservices.com/services/certified-sustainability-rated-diamond.
Media Contact
Josephine Silla-Afuwape
Director, Digital Marketing & Special Projects
jsilla@scsglobalservices.com