Join a Conversation With Experienced Skilled Volunteers!
Taproot Foundation hosts a panel discussion with skilled volunteers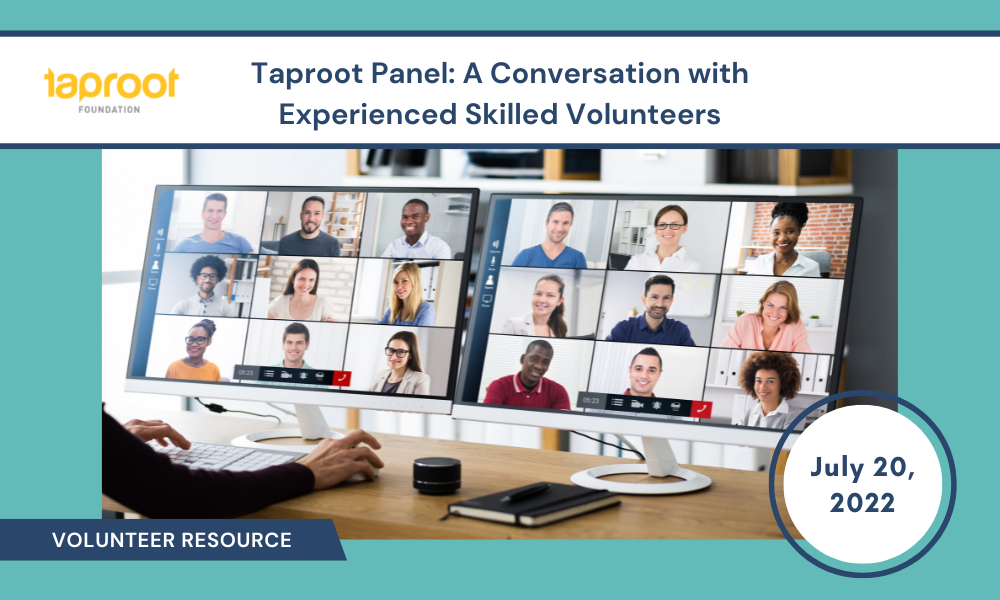 Join a Conversation with Experienced Skilled Volunteers!
Wednesday, July 20 at 1 p.m. ET / 12 p.m. CT / 11 a.m. MT / 10 a.m. PT
Learn about skills-based volunteering from a panel of experts! Taproot is bringing together a group of our most experienced volunteers for an open discussion of the impact of giving back in this special way, tips for overcoming challenges in consulting with nonprofits, and the joy that pro bono can bring.
Join this free Wednesday, July 20th Zoom event at 1 p.m. ET/10 a.m. PT and bring your questions! This will be an open conversation—come ready to listen, learn, ask questions, and connect with fellow Taproot volunteers. This event is the perfect fit if you are:
A business professional curious about volunteering your skills
Looking for advice on consulting with nonprofits
Interested in making connections with fellow skilled volunteers
Register now to join the conversation! Your friends or colleagues are welcome—please feel free to share this event with folks in your network. We'll see you there!
This is a free Taproot Foundation event. Taproot Foundation is a US-based nonprofit that gets social good organizations the resources they need, for free, through connections with talented, passionate volunteers. If you are interested in becoming a Taproot volunteer, create your profile here: https://bit.ly/3xN3FIx
Wednesday, July 20th, at 1 p.m. ET / 12 p.m. CT / 11 a.m. MT / 10 a.m. PT
Access to this webinar and the Taproot Plus pro bono platform are completely free of cost for nonprofits, public schools, and fiscally social good organizations in the US, UK, EU, Canada, and India. Select Taproot Plus services are also accessible to US-based small businesses.