IWBI's WELL Health-Safety Rating Honored in Spaces, Places and Cities Category of Fast Company's 2021 World Changing Ideas Awards
IWBI's WELL Health-Safety Rating Honored in Spaces, Places and Cities Category of Fast Company's 2021 World Changing Ideas Awards
The 5th annual awards honor bold new products, technologies, concepts, companies, policies and designs that are pursuing innovation for the good of society and the planet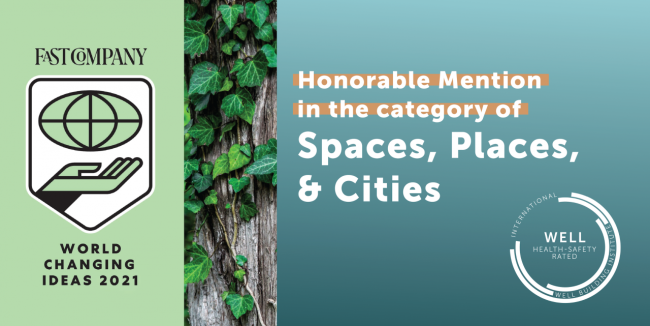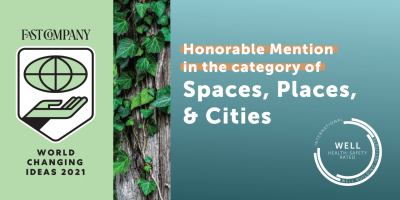 Tuesday, May 4, 2021 - 4:50pm
NEW YORK, May 4, 2021 /3BL Media/ — The International WELL Building Institute (IWBI) today announced that its WELL Health-Safety Rating, which is being deployed across more than one billion square feet of real estate, has been selected as an Honorable Mention in Fast Company's 2021 World Changing Ideas Awards. The WELL Health-Safety Rating was recognized in the Spaces, Places and Cities category for playing an important role in building a better world – now and as we emerge from the COVID-19 crisis.
The winners of Fast Company's 2021 World Changing Ideas Awards include the businesses, policies, projects and concepts that are actively engaged and deeply committed to pursuing innovation when it comes to solving health and climate crises, social injustice or economic inequality.
"We believe that in the midst of the current global public health crisis, organizations must rise to the occasion and proactively address the health, safety and well-being of their most valuable asset—people," said IWBI President and CEO Rachel Hodgdon. "Working collaboratively with our global community and the IWBI Task Force on COVID-19, we developed the WELL Health-Safety Rating to accelerate global adoption of strategies that consider our buildings to be on the frontline of defense in the immediate battle against COVID-19 and that can help companies move toward a long-term commitment to healthier places."
"By offering the reassurance of a practical, staged process that can create a third-party verified route to re-opening for millions of businesses, it is the rating to meet the moment," she added.
The WELL Health-Safety Rating helps organizations instill confidence that the spaces people enter are putting their health first. The validated and third-party verified rating focuses on key strategies to address global health challenges now and into the future. By focusing on operational policies, maintenance protocols, emergency plans and stakeholder engagement, the rating empowers all organizations to prioritize the health of their staff, visitors and stakeholders.
Developed in response to the COVID-19 pandemic and customer demand, the rating draws on strategies from IWBI's flagship WELL Building Standard (WELL) to address today's health and safety needs, and invites organizations to embark on the WELL journey. The uptake has been exceptional, with the billion square foot milestone reached in just nine months, and landmark spaces ranging from Yankee Stadium and the Empire State Building to major consumer brands in banking, hospitality and retail signing on.
Hodgdon continued, "The people first approach of the WELL Health-Safety Rating is flexible and applicable to accommodate all types of organizations and spaces – from iconic office skyscrapers, sports arenas and historic entertainment venues to the hotels, schools and shops found in every neighborhood. By achieving the WELL Health-Safety seal, buildings and organizations signal a visible commitment to evidence-based solutions that support human health and well-being in a crisis and beyond."
Now in its fifth year, the World Changing Ideas Awards in 2021 saw the largest number of entries ever received for these awards. They showcase 33 winners, more than 400 finalists and more than 800 honorable mentions—with Health and Wellness, AI and Data among the most popular categories. A panel of eminent Fast Company editors and reporters selected winners and finalists from a pool of more than 4,000 entries across transportation, education, food, politics, technology, and more. Plus, several new categories were added, including Pandemic Response, Urban Design, and Architecture. The 2021 awards feature entries from across the globe, from Brazil to Denmark to Vietnam.
In addition, IWBI, alongside a cohort of leading organizations, helped support BuildUp2030, a concept that was also recognized by Fast Company as a World Changing Ideas finalist in the Spaces, Places and Cities category. BuildUp2030, a dynamic policy action plan focused on accelerating a new era in which buildings sustain the world around them and the people inside them, was developed in collaboration with the Institute for Market Transformation, Emerald Cities Collaborative, Architecture 2030, New Buildings Institute, Urban Sustainability Directors Network and Wickham James.
"There is no question our society and planet are facing deeply troubling times. So, it's important to recognize organizations that are using their ingenuity, impact, design, scalability, and passion to solve these problems," says Stephanie Mehta, editor-in-chief of Fast Company. "Our journalists, under the leadership of senior editor Morgan Clendaniel, have discovered some of the most groundbreaking projects that have launched since the start of 2020."
Alongside the WELL Health-Safety Rating, Fast Company's Summer 2021 issue showcases some of the world's most inventive entrepreneurs and companies tackling exigent global challenges, including: a lifesaving bassinet; the world's largest carbon sink, thanks to carbon-eating concrete; 3D-printed schools; an at-home COVID-19 testing kit; a mobile voting app; and the world's cleanest milk.
About the International WELL Building Institute
The International WELL Building Institute (IWBI) is a public benefit corporation and the world's leading organization focused on deploying people first places to advance a global culture of health. IWBI mobilizes its community through the administration of the WELL Building Standard (WELL) and the WELL Health-Safety Rating, management of the WELL AP credential, the pursuit of applicable research, the development of educational resources, and advocacy for policies that promote health and wellbeing everywhere. More information on WELL can be found here.
About the World Changing Ideas Awards
World Changing Ideas is one of Fast Company's major annual awards programs and is focused on social good, seeking to elevate finished products and brave concepts that make the world better. A panel of judges from across sectors choose winners, finalists, and honorable mentions based on feasibility and the potential for impact. With the goals of awarding ingenuity and fostering innovation, Fast Company draws attention to ideas with great potential and helps them expand their reach to inspire more people to start working on solving the problems that affect us all. #FCWorldChangingIdeas
International WELL Building Institute pbc is a wholly owned subsidiary of Delos Living LLC. International WELL Building Institute, IWBI, the WELL Building Standard, WELL v2, WELL Certified, WELL AP, WELL Portfolio, WELL Portfolio Score, The WELL Conference, We Are WELL, the WELL Community Standard, WELL Health-Safety Rating, WELL Health-Safety Rated, WELL Health-Equity, WELL and others, and their related logos are trademarks or certification marks of International WELL Building Institute in the United States and other countries.
Media contact:
media@wellcertified.com