Incorporate Storytelling in Your Grant Writing
Join Taproot's free webinar on grant writing and building funder relations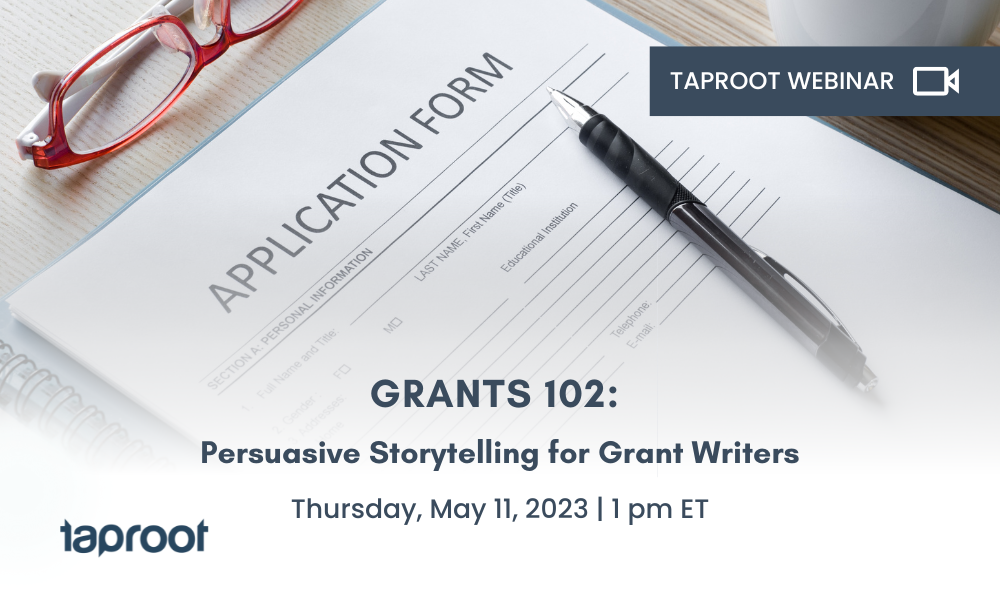 Thursday, May 11 at 1 PM ET / 12 PM CT / 11 MT / 10 PT
Are you looking for a fresh approach to capture the interest of potential donors? Or maybe you want to take your funding relationships to the next level? Incorporating persuasive storytelling elements into your grant writing can help you better educate current funders about your nonprofit's work—and engage potential new ones.
Join our 30-minute webinar on Thursday, May 11, at 1 pm ET, where we will explore how storytelling techniques can increase the persuasiveness of your grant request. In this webinar, you will learn:
The role of narratives in persuading your reader (aka donors!)
Where to incorporate storytelling in your grant proposal and reporting
How to use storytelling to support your nonprofit's clients
Did you miss "Grants 101 – Plan Your Grants Calendar to Build Long-term Funding Relationships" or need a refresher? Watch it on demand!
After the webinar, connect with a Taproot volunteer to work on your storytelling and grant proposals. Sign up on Taproot Plus.
Access to this webinar and the Taproot Plus pro bono platform are completely free of cost for nonprofits, public schools, and fiscally social good organizations in the US, UK, EU, Canada, and India. Select Taproot Plus services are also accessible to US-based small businesses.