How to Run With the Sustainable Development Goals
By Leon Kaye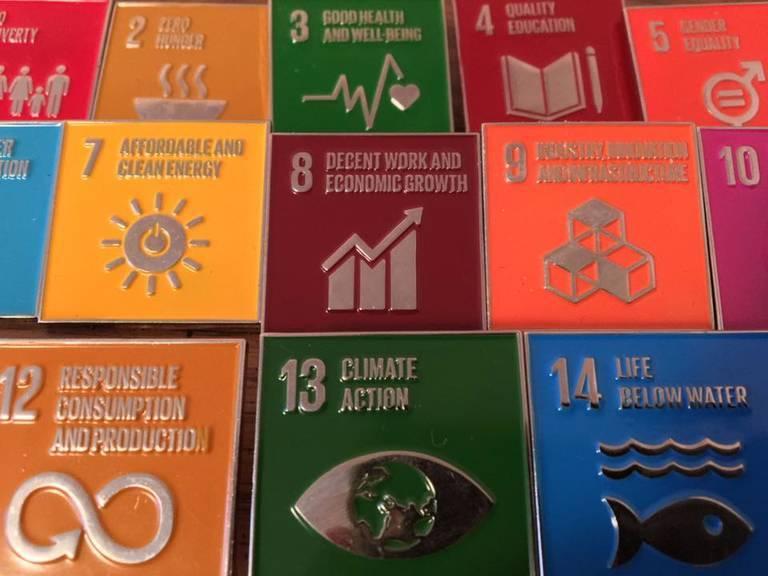 Originally published on TriplePundit
The United Nations' Sustainable Development Goals (SDGs, also known as the Global Goals) are not just for the environmental or social impact sector. In fact, they are designed for everyone as they can serve as inspiration for every person, company and NGO that seeks to do their part to transform our world. The SDGs apply to government and the private sector, cities and rural areas, and while they may at first seem tailored for emerging economies and the developing world, the SDGs are also relevant to the world's more industrialized and wealthier societies.
"The SDGs are not just about India, Africa or Latin America," quipped Kim Polman, founder of United Kingdom-based Reboot the Future.
During the Idea Forum at last week's Dreamforce in San Francisco, Polman was among several leaders who offered attendees ideas on how to take action, measure their work against the SDGs and motivate the next generation to become involved.
For Polman, embracing the SDGs starts by embracing a timeless principle, one that transcends many cultures and religions.
"We can do that by promoting the Golden Rule," Polman said during an interview last week with TriplePundit. "The Golden Rule empowers us to take actions though a modernized action of treating others how you wish to be treated, and to remember to reflect on the effects that our actions have on people and the planet."
Reboot the Future has been working to send that message both by promoting this idea at high-profile events such as the World Economic Forum in Davos as well as embedding these principles in schools and universities across the globe. During its first year, the organization set a goal to reach 250,000 educational institutions.
The group has also launched programs to ensure that the Golden Rule's applicability to the SDGs is entrenched across society. For example, Reboot the Future wants to nip any anxiety about how the surge of artificial intelligence could have on society by working with technology companies to embed the Golden Rule in algorithms. Meanwhile, the group is also "shouting from rooftops" to ensure the world's largest businesses also instill this way of thinking.
"Investors are a crucial part of the economy, and they need to step up and take a stand on social responsibility issues," Polman told an audience during the Idea Forum at Dreamforce.
For Piers Bradford of Project Everyone, the organization responsible for the vivid color-block icons that showcase and communicate the SGDs, companies would be wise to follow how governments and NGOs are implementing these goals.
"There is a $12 trillion business opportunity in pursuing the SDGs," said Bradford while sharing a state with Polman and other leaders last week in San Francisco. "Pursuing profit or the SDGs is not an either/or proposition."
Those opportunities could be in climate change mitigation, with obvious ones in clean energy technologies such as solar or electric vehicles. In addition, Bradford insisted businesses did not have to search too hard as more governments enact policies in tandem with the SDGs.
Bradford also explained that the SDGs allow new alliances to emerge. One key stakeholder group is citizens who at first may be overwhelmed by the 17 goals and the 169 targets. But the beauty of the SDGs, offers Bradford, is in their inspiration and how easy it is for the ordinary citizen to pick up on them. The trick is to distill this complicated UN agenda into something tangible to which ordinary people can relate and feel passionate about as well.
"This is simply a plan for the planet, and the people on it," continued Bradford. "If we can achieve the goals, this will be the last generation to live in extreme poverty, the most determined generation to end inequalities, and the first generation to not be threatened by climate change."
During an interview later in the day with TriplePundit's Nick Aster, Bradford offered other ideas on how citizens can take action in alignment with the SDGs:
"Once you start understanding this universal nature of how many different issues are incorporated within the goals, you realize that everything you're campaigning for, everything that you're really passionate about – whether it be better education for your kids or the worst effects of climate change – there will be something within the goals that reflects what you're campaigning for and what you're passionate about."
On that point, more evidence suggests that proponents of the SDGs can also benefit by grooming a more successful and sustainable organization from economic, cultural and performance perspectives.
An example of an organization that says it is taking such an ethos to heart is John Lewis, a chain of department stores in the United Kingdom that dates back to the mid-1800s (and also owns the supermarket chain Waitrose). "Bringing quality to life" is the company's mantra, and according to Eva Cullen, the company's head of delivery, the chain's seven guiding principles is in lockstep with the SDGs.
"Our definition of success is to make enough profit to run a sustainable business to run the next 150 years," Cullen told the Dreamforce audience. She explained that the company's commitment to sustainability starts with the supply chain. Furthermore, it also is important for an organization to engage its employees – a call to order that appears to be working well for John Lewis as Cullen explained it is common for employees of the company to stay with the firm for decades.
In the end, whether it is a 150-year-old company such as John Lewis, or someone starting a new social enterprise, Bradford reminded the Dreamforce audience of the task at hand: "Starting this journey of awareness and moving people to action is critical to scaling up the SDGs."
Image credit: Leon Kaye
Based in Fresno, California, Leon Kaye has written for TriplePundit since 2010. He has lived across the U.S., as well as in South Korea, Abu Dhabi and Uruguay. Some of Leon's work can also be found in The Guardian, Sustainable Brands and CleanTechnica. You can follow him on Twitter (@LeonKaye) and Instagram (GreenGoPost).