Finalists Named for Orlando's 2017 Cox Conserves Heroes Program, Public Asked to Vote
Program to donate $20,000 to environmental nonprofits in Orlando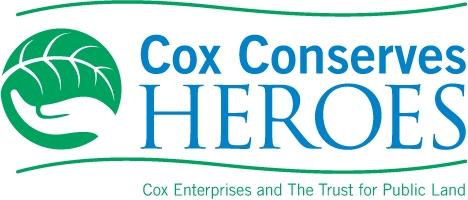 ORLANDO Fla., November 7, 2017 /3BL Media/ - WFTV Channel 9, and The Trust for Public Land are recognizing volunteers who are creating, preserving or enhancing shared outdoor spaces. Finalists for Orlando's Cox Conserves Heroes program were announced today, and the public is being asked to vote for the winner now through November 20. To vote, visit CoxConservesHeroes.com and select the Orlando area. A total of $20,000 will be donated to local environmental nonprofits on behalf of the three finalists.
Finalists have already secured a $5,000 donation for their environmental nonprofits of choice and are now competing for an additional $5,000 – bringing the total award to $10,000 for the winner's nonprofit of choice.
Orlando's 2017 Cox Conserves Heroes Finalists
Mick Karolick has spent his retirement years giving back to the community. He volunteers with organizations like the Florida Wildlife Hospital and Sanctuary (FWH), Florida Trail Association (FTA) and Habitat for Humanity. He dedicated 14 years to the FWH, where he leads the volunteer crew, supervised the construction of numerous building and utilizes his knowledge to reduce the organizations' expenses. He also volunteered with the FTA for 30 years, maintaining trails, building bridges and serving as a Trails Coordinator for the local area. His nonprofit of choice is the Florida Wildlife Hospital and Sanctuary.
Jennifer Ferrell created the LESA garden at Lawton Elementary School in Oviedo several years ago. The robust garden includes a vegetable, herb and flower garden, along with a chicken coop, bat house and a pond, which is home to turtles, frogs, and other wildlife. Ferrell, along with several volunteers, conducts educational programs for the school, teaching students about the importance of caring for the earth. Her LESA garden recently qualified for the Bright Future's Volunteer Program, which now allows the garden and its learning program to be accessible to high school students as well. Her nonprofit of choice is LESA Garden.
Audrey Swindal is known locally as "Mother Nature" to generations of campers, counselors and volunteers at the Florida Federation of Garden Clubs – Wekiva Youth Camp (FFGC). Swindal was dubbed "Mother Nature" because of her extensive knowledge of flora, as well as her vivid storytelling ability. She has served the camp for more than 40 years and played an instrumental role in the development of the environmental camp located in the Wekiva Springs State Park. Not only does she lead by example in environmental stewardship, but she also takes time share knowledge and legislative updates within the conservation community. Her nonprofit of choice is Wekiva Youth Camp.
Chuck O'Neal and Shanta Barton-Stubbs are previous recipients of Orlando's Cox Conserves Heroes award. 
The national Cox Conserves Heroes program has donated nearly $800,000 to environmental nonprofits and nearly 200 volunteers have been honored. Cox Conserves Heroes also takes place in Arizona, California, Georgia, Louisiana, Massachusetts, Virginia and Washington and is part of the company's national Cox Conserves sustainability program that is celebrating its 10th anniversary.
For more information, visit CoxConservesHeroes.com or Facebook.
Social Media: #CoxConservesHeroes and #CoxConservesHero
# # #
About Cox Media Group Orlando:
Cox Media Group Orlando is a converged market of trusted radio and television brands, including WFTV (ABC) and WRDQ (Ind), News 96.5, K92.3, WMMO 98.9, Star 94.5, Power 95.3, 107.3 Solo Exitos, ESPN Orlando 580 a.m. CMG Local Solutions and Cox Events Group. No other media company matches COX Media Group Orlando's combined TV, radio, and digital footprint in Central Florida.
About Cox Media Group:
Cox Media Group is an integrated broadcasting, publishing, direct marketing and digital media company. The company's operations currently include 14 broadcast television stations and one local cable channel, more than 60 radio stations, seven daily newspapers and 11 non-daily publications; and more than 100 digital sites and services, like Rare.us, Clark.com, Dawg Nation, SEC Country, Hookem.com, Mundo Hispanico, Southern Kitchen and All22. Additionally, CMG operates the National Advertising Platform businesses of CoxReps - the country's biggest television rep firm - Gamut, and Videa. CMG currently operates in more than 20 media markets and reaches approximately 52 million Americans weekly, including more than 31 million TV viewers, more than 3.5 million newspaper readers, and nearly 15 million radio listeners.  For more information about Cox Media Group, please check us out online at www.coxmediagroup.com.
About The Trust for Public Land:
The Trust for Public Land creates parks and protects land for people, ensuring healthy, livable communities for generations to come.  Millions of people live within a one-half mile walk of a Trust for Public Land park, garden, or natural area, and millions more visit these sites every year.  To support The Trust for Public Land and share why nature matters to you, visit www.tpl.org.
About Cox Conserves:
Launched in 2007 by Chairman Jim Kennedy, Cox Conserves is Cox Enterprises' national sustainability program. Cox Conserves focuses on reducing waste and energy consumption, as well as conserving water. The program engages each of the company's major subsidiaries (Cox Communications, Cox Automotive and Cox Media Group) and encourages Cox Enterprises' 60,000 employees and their families to engage in eco-friendly practices.
Media Contacts