Exclusive: Dr. Jane Goodall Needs Your Help on Her Most Crucial Mission Yet
The ethologist and conservationist turns her passion and voice to Trees for Jane, a grassroots effort to plant and protect one of Earth's most precious resources.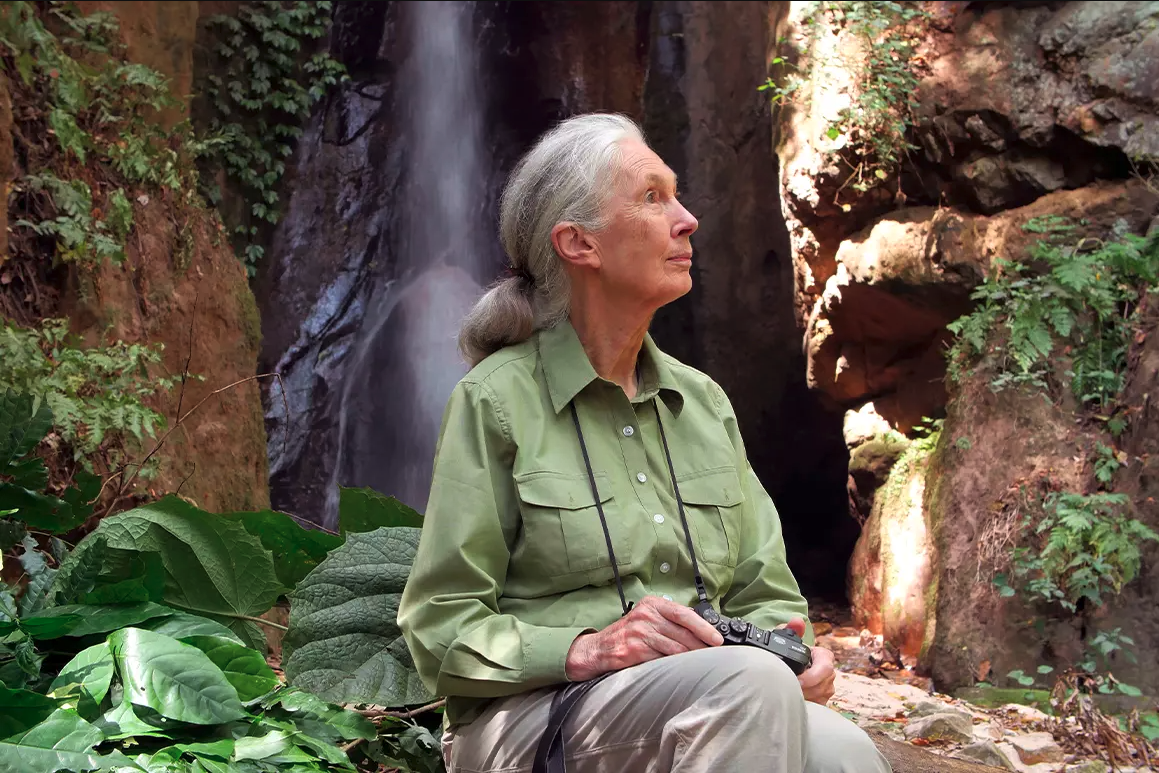 By Angela Matusik
When Dr. Jane Gooddall was a little girl growing up in Bournemouth, England, one of her best friends was a beech tree in her yard that she would climb, read stories to, and share secrets with. It was from its branches that she first dreamed of living in the forest. After dedicating her life to studying and protecting endangered animals around the world, the 87-year-old primatologist is now using her voice and platform to protect, preserve, and nurture that early love of hers—trees.
Trees for Jane is a new global initiative launched earlier this year, with HP as a proud founding partner. With Giving Tuesday kicking off the global giving season, the campaign makes it incredibly easy for everyone who is able to get involved, either by planting a tree and registering it, or donating funds to help replant trees in the places that need them the most. 
A grassroots extension of 1t.org's Trillion Trees campaign, Trees for Jane is an urgent call for individuals to get involved in the movement. The goal, explained in A Trillion Trees, a short film narrated by Goodall, is to help plant that number of trees by 2030, which is what is needed to help offset most of the carbon dioxide produced from emissions that are causing the planet to overheat.
Though the call to action is immediate, the results will be a legacy that Goodall dreams of. "If we plant now," Dr. Goodall said in an interview with People magazine, "the hope is that in 20 years, all these trees will be growing because of Trees for Jane." 
Innovation connected with Dr. Goodall about her new mission and why there is not a moment to spare in joining her in her efforts.
Why are trees and forests so vital for protecting our world?
Protecting and restoring forests is one of the most effective ways to reduce the most severe negative effects of climate change. No technology is more effective than trees and forests when it comes to absorbing carbon dioxide, preventing water loss and erosion, and maintaining resilient biodiverse ecosystems that benefit people, animals, and the climate. It buys us a little more time as we push to accelerate the transition from fossil fuels to cleaner energy and implement other beneficial changes to solve the climate crisis.
You must have seen an incredible variety of trees in your life. Do you have a favorite?
I do not have a favorite type of tree. There are individual trees that I specially love—my own beech, of course, my childhood friend. But I love the gnarled and ancient trees, giant forest trees, very old trees that have been protected in cities, benevolently providing shade and roosting sites for birds. 
A trillion trees—it is hard to imagine how many that is. Can you help us understand what that would look like and what it means to reversing climate change?
A trillion trees is an approximate number that reflects the magnitude of the problem and the scope of the solution. Where once our planet was home to six trillion trees, only three trillion remain. And half of that loss has just occurred in only the past 100 years—barely the blink of an eye considering the millions of years it took to create Earth's biodiverse landscapes. Trees for Jane serves as a call to action for everyone, everywhere around the world, to help plant and protect a trillion trees over the course of this decade. A daunting task, but one that must be done.
"Where once our planet was home to six trillion trees, only three trillion remain. And half of that loss has just occurred in only the past 100 years—barely the blink of an eye."
How crucial is it that companies like HP and others join in this effort?
Initiatives such as Trees for Jane need corporations to help make real change. Grassroots efforts can be very successful, but companies really help. Combined, it can be a game changer! We want to offer our heartfelt thanks to Enrique Lores, CEO of HP Inc., and the HP company for their generous support of Trees for Jane. Not only do initiatives like Trees for Jane rely on their financial support, they need their help inspiring their networks and communities to take action, allowing them to reach far greater audiences.
We respect HP's longstanding commitment to climate action and conservation of forests.
Can you share a personal experience of witnessing successful forest restoration? Can previously devastated areas come back to life and thrive?
When I arrived [in Tanzania] to start my study of chimpanzees in 1960, Gombe National Park was part of the great equatorial forest belt that stretched to the west coast. When I looked down from a small plane in the late 1980s, I was horrified to see the park was an island of forest surrounded by bare hills—the only trees remaining were in the steepest ravines. Local communities had cut down the trees in their desperate effort to find land for growing food or to make money from timber or charcoal. It hit me then that unless we could help the local communities to find ways of making a living without destroying their environment, we could not save chimpanzees or anything else. In 1994 the Jane Goodall Institute instigated a community-led holistic program that included restoring fertility to overused farmland; providing microcredit opportunities for people to start their own small, environmentally sustainable businesses; and improved health facilities and family planning information. What began in 12 villages is now operating in 104 throughout the range of chimpanzees in Tanzania. The people understand that protecting the forest is for their own future, not just for wildlife, and they have become our partners in conservation. If you fly over Gombe today, you will no longer see bare hills. Trees have returned.
What can we do on an individual level to support this effort?
We encourage everyone to visit TreesforJane.org to learn ways to support the protection and restoration of trees and forests. Donations of every level truly help those on the ground who are doing the hard work! The website also offers the option to plant your own tree or trees. Beyond helping the environment, inspiring people to care for trees is incredibly important to our personal health, especially in urban areas where trees clean the air while bringing beauty, joy, shade, and so many other benefits.