Every Step Together: Introducing IWBI's 2021 Annual Report
Every Step Together: Introducing IWBI's 2021 Annual Report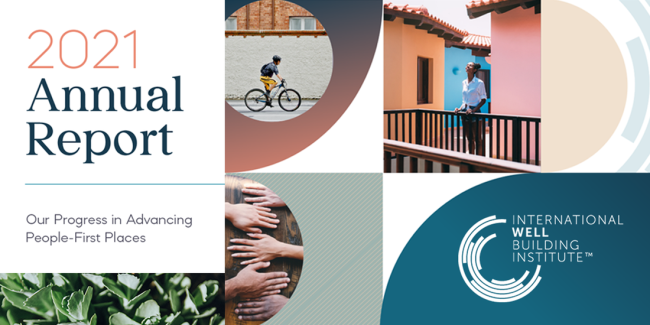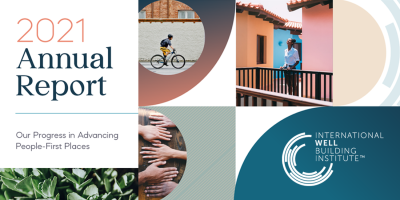 Tuesday, May 3, 2022 - 11:10am
Throughout 2021, as we all grappled with the many challenges associated with the prolonged fight against a global pandemic, we sought to embrace and support our global community, helping fuel our collective work to drive market transformation and advance our mission of people-first places.
Together, we demonstrated the ever-increasing value of investing in human health. We enrolled more than 3 billion square feet in WELL (and counting). We supported those in need and inspired action through new initiatives, campaigns and partnerships. From launching our WELL Equity Advisory to deepening our commitment to Investing for Health to engaging with policymakers, we worked collaboratively to grow and accelerate the healthy building movement.
And we lifted each other up along the way.
In 2021, we mobilized and rallied around our goal to make people-first places accessible to everyone, everywhere. Together, we weathered the pandemic and made headways to an equitable recovery through a health-focused approach to buildings, organizations and communities.
Ultimately, as the opening letter from our President and CEO Rachel Hodgdon suggests below, 2021 showed us what we can accomplish when we work together, and how far we can go.
Every Step Together
If you want to go fast, go alone. If you want to go far, go together.
—African proverb
Our movement has always stood for people.
For more than 10 years, our team at the International WELL Building Institute has worked to transform our buildings, organizations and communities in ways that help people thrive. Our fulcrum for change are the places around us. But as we've rallied these past two years in this historical moment to fight back against COVID-19, each day has taken on new urgency. It's about delivering people-first places to help enhance people's health, but also protect it.
That's why, as I look back on 2021, I am grateful for each and every step we took because we took it together. In the face of an unrelenting pandemic and its wake of global trauma and grief, we show up and we stand up, united by our movement and resolute in our mission.
Here, in our inaugural 2021 Annual Report: Our Progress in Advancing People-First Places, we take a moment to share with you the story of our collective journey. It tracks the arc of this unprecedented year as our global community banded together around the common purpose of elevating health and well-being in all our places—whether in schools, stadiums, offices, hospitals or across entire organizations.
In this journey, I've never been more proud and more inspired by the work we do together. It's truly remarkable what we've been able to accomplish.
Adoption of WELL offerings in 2021 eclipsed 3 billion square feet of space in 109 countries. Today, WELL is utilized by a fifth of the Fortune 500. The ranks of our global community of WELL AP credential holders and exam registrants has swelled to more than 20,000 people from 117 countries. We also launched a new WELL Enterprise Provider (WELL EP) designation for organizations to help deliver WELL solutions at scale. We forged dozens of new partnerships that helped strengthen, amplify and expand our work and reach. We created several significant resources, most notably our special report on Prevention and Preparedness, Resilience and Recovery, a culminating resource of IWBI's Task Force on COVID-19 and Other Respiratory Infections, that lays out research approaches and specific operational strategies as well as policy and investment considerations as the world continues to respond to the COVID-19 pandemic and prepares for acute health threats in the future. We doubled down on innovation and launched new efforts to lay the groundwork for the development of the WELL Equity Rating and the WELL Performance Rating.
That is just a small sample of the year's highlights. What also shines brightly in the pages of this report is all of you—the spirit, compassion and support of all the purpose-driven people who power our movement. We're grateful to be locked in arms with you and everyone across our growing community of practitioners, advocates and volunteers who embrace our mission with such unwavering dedication.
And, yes, we have more to do and further to go. I know the path ahead won't be easy and continues to be fraught with uncertainty. But I'm comforted knowing every step we take, we take together.
In gratitude,
Rachel Hodgdon
Read the full 2021 Annual Report: Our Progress in Advancing People-First Places
View original content here.