Disrupting Cooling Technology: Accelerating the Path to Net Zero
By: David Wilson, Chief Innovation Officer | Tam Nguyen, Corporate Manager for Sustainability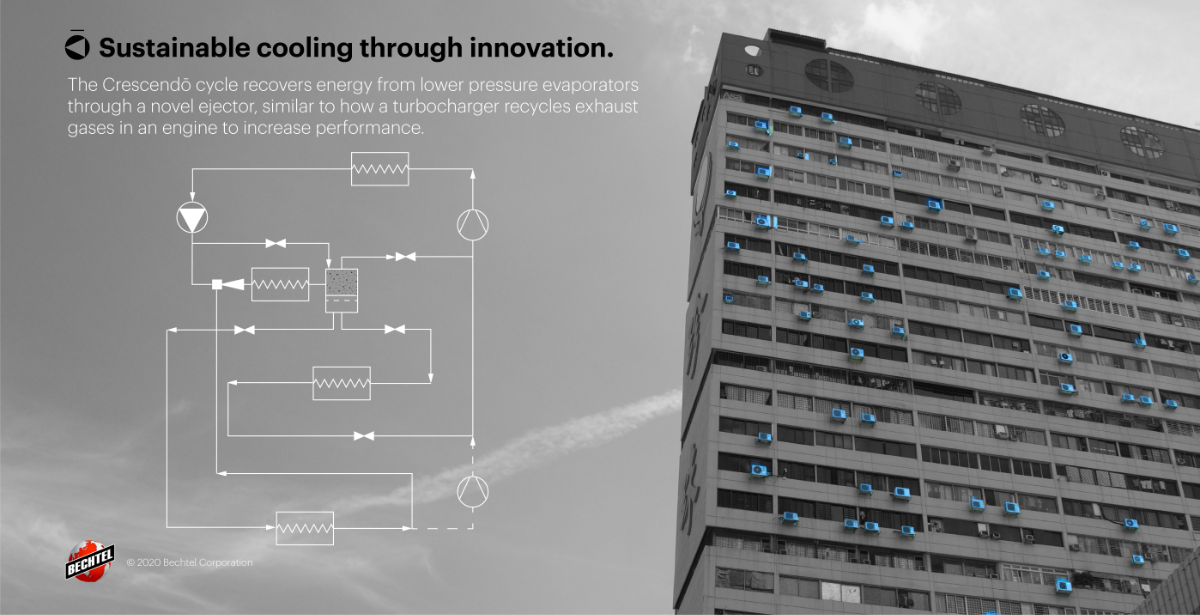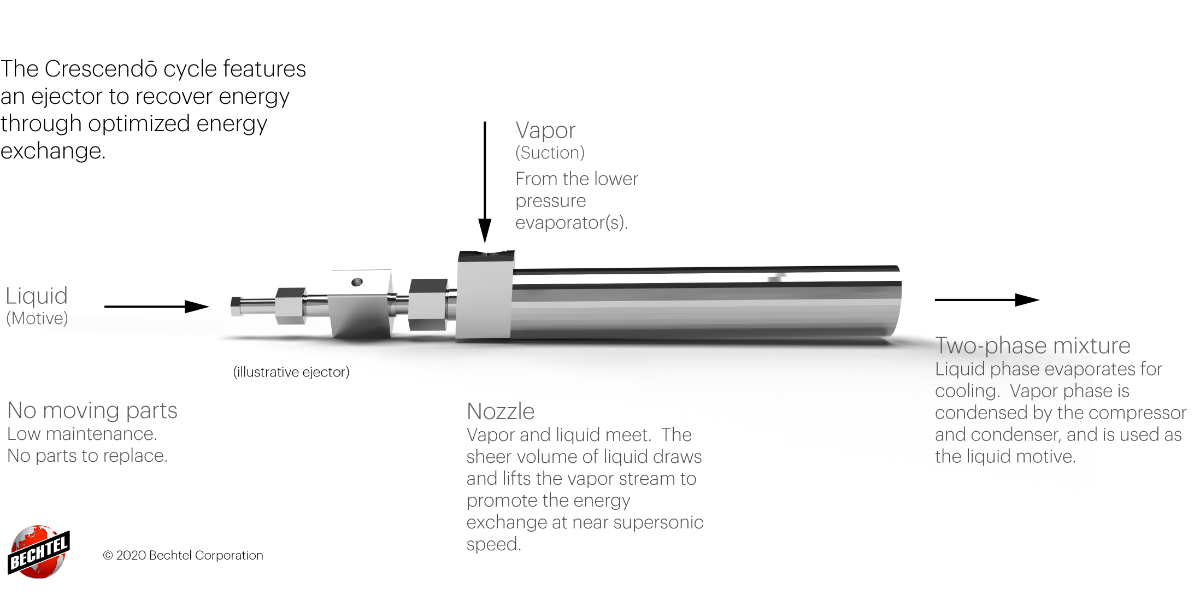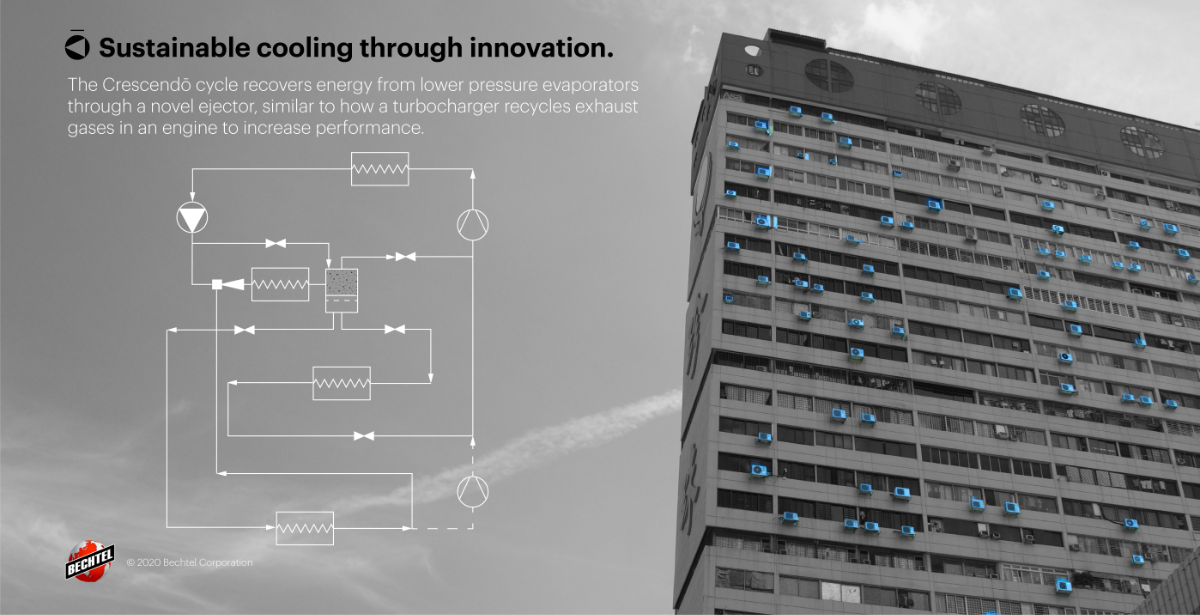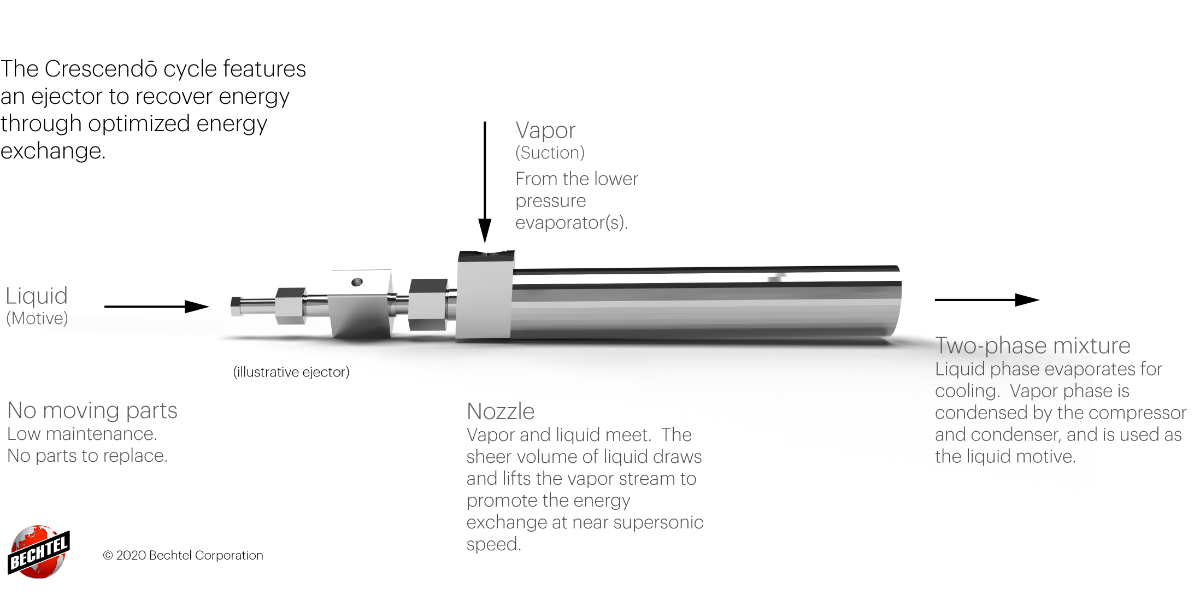 Bechtel is disrupting cooling fundamentals with our novel cycle technology. Crescendō targets improved cooling performance with its breakthrough architecture, commanding greater energy and cost efficiencies to meet growing demands globally.
Increased cooling demand and energy consumption driven by continued economic development and population growth in some of the most extreme climates on earth is a key challenge to meeting global Greenhouse Gas reduction targets. According to the International Energy Agency, over 2,000 TWh is consumed globally by space cooling, equivalent to nearly 7% of the world's electrical power generation.1
Adding to the challenge, The Economist Intelligence Unit forecasts that industrial and transport refrigeration sectors will grow the fastest through 2030, driven by a growing need for cold storage chains to preserve food and support pharmaceutical applications. Immunizing a global population against the ongoing COVID-19 pandemic will further drive demand for low-temperature, high-efficiency refrigerated vaccine storage needs.2
One way of addressing the growing demand for cooling is through the adoption of emerging cleantech. Crescendō cooling technology is one such cleantech. Through ongoing innovation, Bechtel colleagues are improving the cooling cycle performance and increasing energy efficiency by leveraging a revolutionary ejector to provide electricity-free compression. The process has undergone testing and independent validation by a leading research institute, resulting in a refined cycle architecture capable of outperforming other solutions. Further development to improve scalability and broaden the industry applications is ongoing. 
 
The higher energy efficiency will have a meaningful impact on reducing worldwide energy consumption in many sectors, with potential cooling applications in aerospace, automotive, commercial buildings, data centers, process facilities, and healthcare.
The technology's use of natural refrigerants such as carbon dioxide (CO2) and propane (R290) has the potential to make cooling more accessible in developing nations and communities, and further support our customers' carbon reduction targets. 
Looking to the future, the growing trends in artificial intelligence and quantum computing are driving a need for increased, energy-efficient cooling solutions for data centers and high-performance computers. With the Crescendō technology, data center operators could pursue locations that today are harder or more expensive to cool, as well as potentially benefit from more efficient and cost-effective chilling in existing locations. Moreover, integrating the cycle into liquefied natural gas facilities has the potential to create reductions in energy consumption while maintaining production levels. 
Demonstration of the technology is ongoing, and we are working to optimize early applications to accelerate implementation. Our ultimate goal is to deliver a cleantech solution our customers can leverage to increase their energy efficiency and meet their sustainability goals.  
This technology represents our commitment to helping our customers become carbon-neutral and to help meet the United Nations' 2030 Sustainable Development Goals.  
Watch for the disruptive Crescendō cooling technology to be presented at GL2020, the 14th IIR-Gustav Lorentzen Conference on Natural Refrigerants.
For additional queries, please Contact Us Here.
1 The Future of Cooling, IEA 2018. BP Statistical Review of World Energy 2020.
2 COVID-19 Vaccination Program Interim Playbook for Jurisdiction Operations, CDC