Innovation and Partnership Deliver 29,600 Masks for Kenya
By LeeAnne Lang, Bechtel Group Foundation operations manager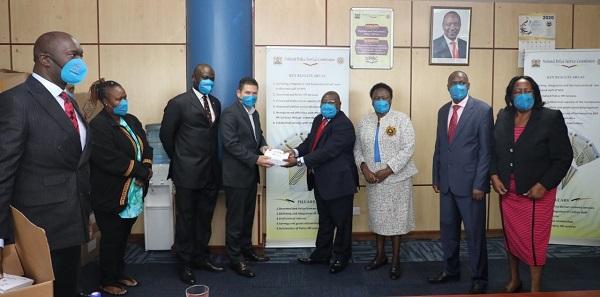 Public safety workers in Nairobi are among the first recipients of the new USA Marafiki masks. Here, Bechtel's Muthoni Koinange (second from left), Thomas Yongo (third from left), and U.S. Ambassador Kyle McCarter (fourth from left) deliver supplies to the country's National Police Service Commission leaders, including CEO Joseph Onyango (first from left), Chair Eliud Kinuthia (fifth from left), Deputy Chair Dr. Alice Otwala (sixth from left), Commissioner John Ole Moyaki(seventh from left), and Commissioner Lillian Kiamba (eighth from left)
In Kenya, a partnership between business leaders and a local social enterprise organization is creating affordable, re-useable masks for the country's fight against COVID-19.
The Kenyan government began requiring face coverings in April, but the high cost of masks was a hurdle for many in the East African nation. In addition, most masks were designed for one-time use, an approach that didn't mesh with the country's sustainability goals. 
This challenge inspired U.S. and Kenyan business leaders in Nairobi, along with U.S. Ambassador to Kenya Kyle McCarter, to partner with Uungwana Institute, a local social enterprise organization.
Together, the group brainstormed a mask that is breathable, washable, and non-permeable to moisture particles. Just as important, it can be made in Kenya by Kenyans, creating much-needed jobs as the country copes with economic hardships tied to the pandemic.
Each mask is packaged in an envelope printed with public health information. The product bears the name USA Marafiki (USA Friendship) to honor the collaboration of the U.S. and Kenya businesses.
As part of the brainstorming team, Bechtel funded production of 29,600 of the masks for use by the Kenya's National Police Service Commission officers, who are handling contact tracing, securing hospitals, and escorting sick and vulnerable people. Bechtel also purchased 5,000 cloth face coverings for the officers from one of the country's textile mills.
These donations add to the tens of thousands of pieces of personal protective equipment (PPE) that the company has donated to hospitals and first responders in project and office communities in Chile and the U.S.